Job offers in the dark web professions have been multiplying for months now. But the many benefits of these offerings should not overshadow the risks associated with this illegal activity.
Employees are recruited not only by catering, transport or medicine enterprises. Dark web jobs are also looking for workforce, and for a wide variety of jobs. Developers, testers or hackers: over 200,000 job openings posted between January 2020 and June 2022 have been analyzed by Kaspersky Lab's specialized site to understand what the job market looks like on the dark web.
Thus, between 15,000 and 20,000 new job offers are posted in this little-known market each semester. The peak was also recorded in March 2020, during the first detention due to the COVID-19 pandemic, when some workers were looking for additional income.
Salary up to $20,000 per month
Among the most in-demand professions, we find developers at the top. 61% of the analyzed vacancies offered this type of work. Cyber ​​attack specialists or designers are also in high demand.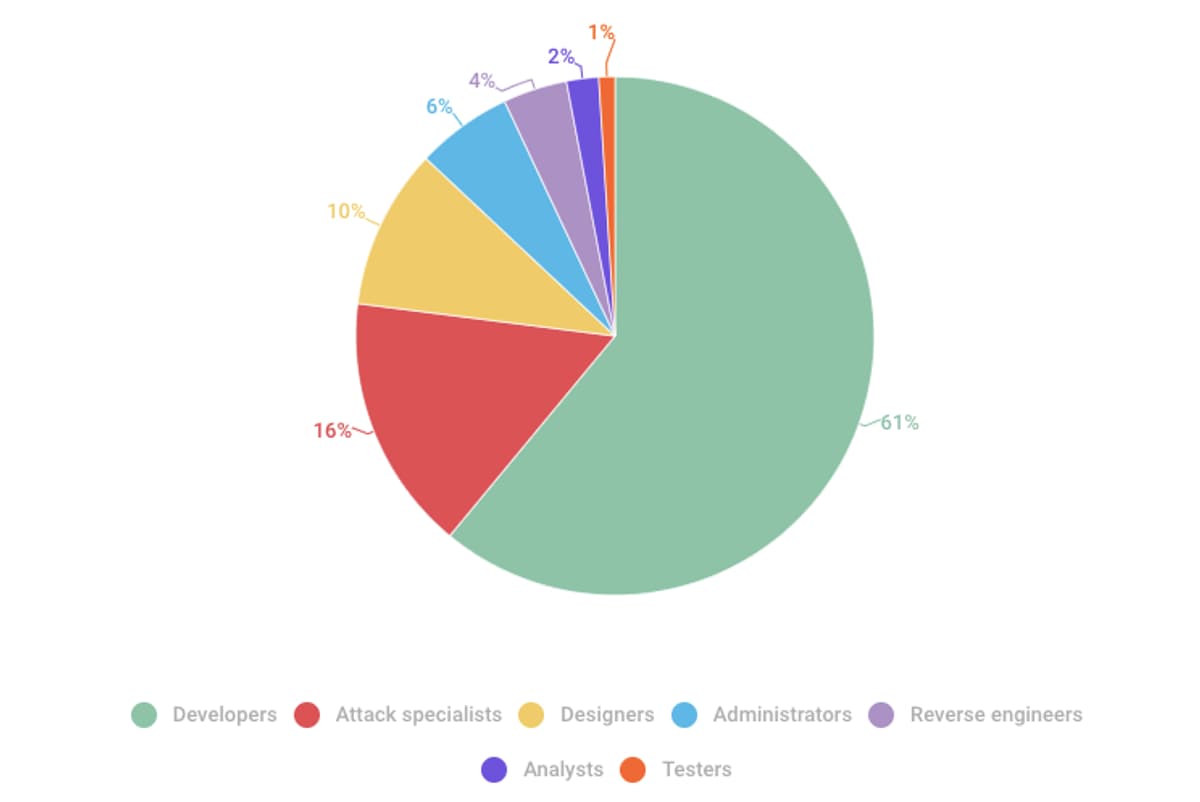 Different types of jobs offered on the dark web © Kaspersky
As for wages, the figures are very variable. The average monthly salary for a hacker is around $2,500. Developers are paid an average of $2,000. Reverse engineering jobs (which consist of studying a system to understand how it works internally) are the ones that make the most money on average per month with a $4,000 salary. But some offers can sometimes be even more attractive. A job offer as a programmer was offered, for example, for $20,000 a month.
Flexible working conditions
In addition to wages, working conditions for darknet workers are also very flexible. 45% of the analyzed vacancies offered potential employees 100% work from home. 34% offered full-time and 33% flexible hours. Most dark web companies also allow their employees to take as many days off as they want, with most of them being freelancers.
Job interviews also look exactly the same as job interviews. In addition to the resume and portfolio normally sent out, a series of tests may be requested to assess the candidate's skills. The only slight difference is that the trial period can sometimes be paid in bitcoins.
Significant risks
However, Kaspersky rightly notes that these job offers lead to illegal or semi-legal activities. And the number of job openings for developers or hackers could particularly indicate that the number of cyberattacks could increase in the future.
"It is important to note that the risks associated with working on the dark web always outweigh the benefits. The absence of a legally binding employment contract relieves employers of any liability. An employee may not receive a salary or be involved in a fraudulent scheme," the specialized site points out.
And the associated risks can be far-reaching, with lawsuits leading to jail time. Please note that going to the dark web is not dangerous. But from the moment when illegal transactions or actions are committed, the criminal code can apply to many situations.