At the annual meeting, Elon Musk presented both the results and the prospects for Tesla, as well as answering questions from shareholders, not all of which were easy to handle. Here's what we took from there.
Tesla held its annual shareholder meeting on August 4, 2022 at the Gigafactory in Austin. After the voting phase, Elon Musk took the floor to present some of the highlights of Tesla's evolution before starting a question and answer session with shareholders.
In front of a red-hot audience, Elon Musk shared some fairly relevant information about the future of the brand. Amidst long hesitation, embarrassed laughter and waiting for the applause to stop, here are 8 things that really stood out for us.
100 million Tesla in 10 years? Why not according to Elon
Tesla has just crossed the milestone of producing its 3 millionth car. In 10 years, the brand has grown from just under 3,000 vehicles (Tesla Roadster and the first Model S) to 3,000,000 vehicles. Along with an exponential curve worthy of a pipe business plan, Elon Musk was pleased to achieve such a result.
Elon Musk represents the rise of Tesla. // Source: Live Tesla Screenshot
When asked about the prospects for the next decade, a member of the audience offered a suggested answer: 300 million Tesla. Elon Musk thought and answered in the negative, but 100 million, according to him, is not impossible.
New Gigafactory to be announced soon
The location of this new XXL factory has not yet been determined. Announcements will be made a little later this year, but most likely this Gigafactory will concern the North American continent. In the states of the North or near the Mexican border, nothing is excluded, not even the possibility of installing a Gigafactory in Canada.
Elon Musk did not hide the fact that there is still a lot to be done at the existing Gigafactories to improve them. We have to solve 10,000 little problems that are still slowing down the growth of sites like Austin or Berlin. However, factories in Shanghai and Fremont are given as examples. Elon Musk expects the various manufacturing sites to be able to produce between 1 million and 2 million vehicles each, but new sites will be needed to meet the desired growth targets.
Tesla has already surpassed 1.5 million vehicles produced in a year and aims to reach 2 million by the end of 2022.
FSD: autonomous cars that act like elevators?
For Elon Musk, Full Self Driving is already working well. But there is still a lot of improvements ahead, and the teams are working hard on it.
Elon Musk compared the car of tomorrow to an elevator: "You push a button and the elevator goes where it's supposed to go." He is working to achieve the same with cars. Everything will be conceived by improving the safety of passengers on board.
Currently, 100,000 users have access to these advanced features in the US. By the end of the year, Elon Musk would like anyone who wants to test FSD on their Tesla to be able to do so.
A detailed discussion of IA and Optimus will take place on September 30th.
Among the interesting things to remember about the Optimus robot is the fact that Elon doesn't understand why the public doesn't believe him. In his opinion, "the Optimus robot in the long run can bring much more profit than cars."
If the robot was initially limited to performing repetitive tasks, over time it could open up other possibilities. Elon Musk invites us to attend IA Day on September 30, 2022 to learn more about his robot. If the robot looks like the illustration of the event, it might be interesting to follow.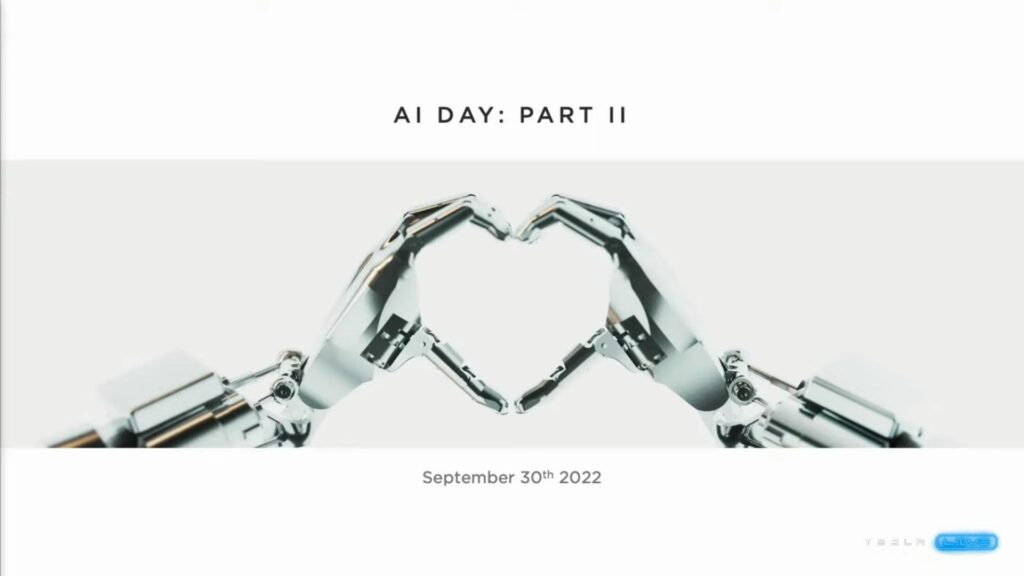 AI Day. // Source: Live Tesla Screenshot
Cybertruck prices will be much higher than announced in 2019
In 2019, Tesla announced prices for the Cybertruck that the brand would eventually be unable to meet. We expected this. "Specifications and price will be different, I know this is bad news," Elon Musk added.
Therefore, prices will be much higher both due to inflation and as a result of many technical changes in the model, but Elon Musk assures him that this will be an extraordinary car.
This confirms the specified production period, which will begin in mid-2023, it remains to find out the new prices for the car. We must resolve this issue in the coming weeks.
US versus China Situation: Peace and Respect
Shareholders did not hesitate to ask particularly sensitive questions. The question of how Tesla views the geopolitical situation between the US and China has somewhat confused Elon Musk.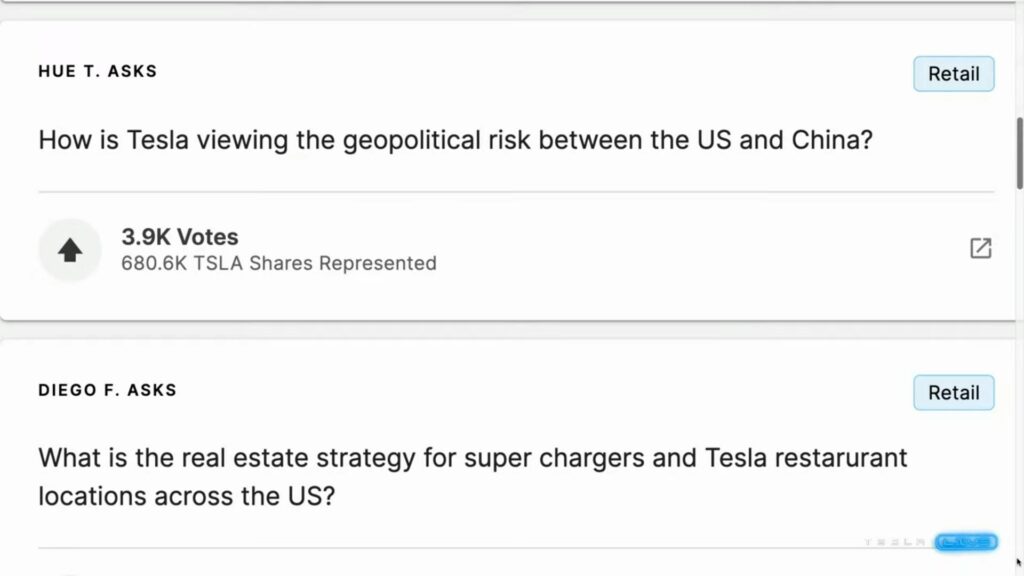 Shareholders are asking tough questions. // Source: Live Tesla Screenshot
A question he could only push off, answering first with an embarrassed laugh, "What can go wrong in answering this question? before adding, "Let me just say that I hope for peace and respect. »
This time around, we can't blame Elon Musk for adding fuel to the fire.
Recession: on track for falling Tesla prices in about 6 months
Some time ago, Elon Musk was rather alarmist about a possible prolonged recession. Between the wave of layoffs and the rising prices of various models in the catalog, it seemed that the company was preparing for a long period of crisis.
During this meeting, Elon Musk was slightly more optimistic, indicating that, in his opinion, the peak of inflation was passed, and that within 6 months prices could be reduced again.
What if he had to give up Tesla's lead in favor of Twitter?
"Tesla will be fine even if I get abducted by aliens… or if I return to my planet (laughs). »
But seriously, Elon Musk made it clear that he would stay there as long as he was useful to Tesla. The strategic plan is still tight and there are many things to optimize in terms of design, products and production. The topic of Twitter is hot, and as such, Elon Musk is unable to respond as he would like due to the ongoing litigation.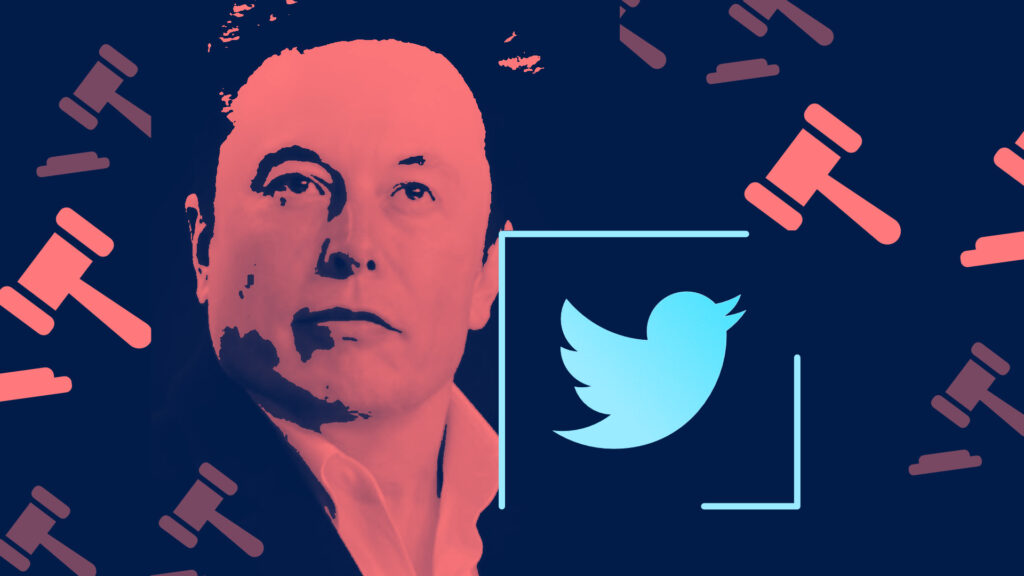 Elon Musk vs Twitter. // Source: Numerama
During this long public talk, the topics of robot taxis, superchargers, 4680 batteries, Model Y production, The Boring Company, solar energy production (Tesla Solar Roof), the company's environmental approach were also discussed. In any case, Elon Musk shares an optimistic view of how the company fits into the center of the environment and the future. If you want to know more, you can watch Elon Musk's full speech on YouTube: