Game news After GTA 5, it's Red Dead Redemption II's turn to welcome a welcome update.
Published on 02/08/2022 at 20:05
After GTA Online, it's time for another big game from Rockstar Games to get a big update. Yes, today Red Dead Redemption II introduces the August update.
For a few more RDO$
This month, mostly collectors will be able to get their hands on gold in Red Dead Online, Red Dead Redemption II's multiplayer mode, as they'll already be able to collect a collectible card to find currency pieces, as well as complete many of the daily role-playing challenges to get away with some discounts.
Completing the Daily Challenges as a Collector for 5 days in a row will reward you with a -30% discount on a Novice or Promising Collector item, and completing one of them for 10 consecutive days will reward you with a 40% discount. % per item for an established collector. or the Collector's Distinguished Role item.
Also note that in August it is possible to complete the Collector's Event in Explore Mode to receive a card to find Tarot Cards. This is good because bringing the full collections to Madam Nazar allows you to win double RDO$ and XP.
Also, if you're looking to earn even more RDO$, note that you can complete Red Dead Online main missions or participate in a docked contract to earn double XP and, of course, double the dollars.
For their part, exploration mode missions and Ember of the East offer, in addition to double RDO$ and XP, always having more gold bars.
Free new outfit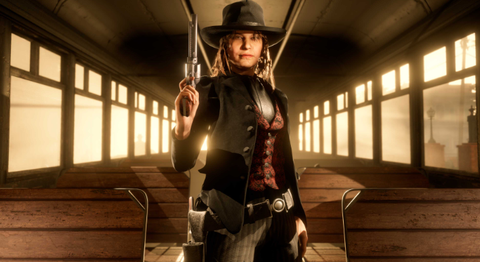 As promised, Red Dead Redemption II is offering players some extra free clothing. From now on, you can actually go to the tailor to leave with an outfit designed by ThisIsJuicyFruit. To compose this outfit, you just need to get a stalker hat for free, as well as a tie scarf, a worsted wool coat if you're playing as a man, or a Hartell autumn jacket if you're playing as a woman. Also note that the cashmere vest is also offered free of charge, as is the regular shirt (men) or Iniesta blouse (women), as well as webbing, agency holster belt, quilted riding pants and finally dress shoes (men). or farm boots (women).