The Aldi brand is hitting hard with their new high performance and affordable food processor! We tell you more.
The year starts well with Aldi! A brand known for its very low prices has just introduced a food processor that is likely to be a hit. Efficient and efficient, you will never leave it again.
Aldi: a connected and ultra-efficient cooking robot
The Aldi brand knows how to please its customers. And, above all, they seem to know what they are looking for the most. In recent years, kitchen utensils have undergone a real revolution.
Say goodbye to ordinary pots and stoves that prevent you from creating! Give way to robots that accompany you throughout the process of preparing your favorite dishes.
However, remember that the first household robots were born in the 70s, since then they have evolved and become a real weapon for cooking lovers.
Thus, many brands began to offer models for their regular customers. The market is also full of many types of food processors that will change your life!
But we must admit that sometimes their price is a real obstacle! After all, some models are sold for more than 1000 euros! But that's not counting Aldi, who calculated everything.
Known as an ally of small budgets, the brand offers a food processor at an unbeatable price! Indeed, this is one of the cheapest models on the market. But its low price does not affect its effectiveness.
In addition, during the sales period, you can take advantage of a great promotion on this accessory that will change your life! We will talk more about this later in this article.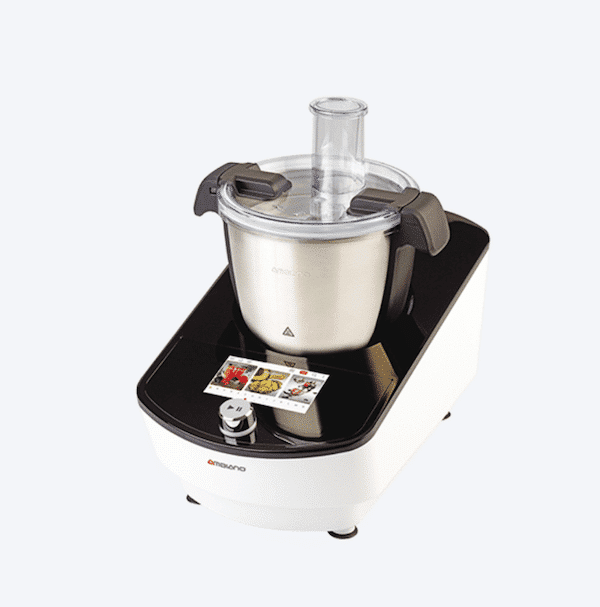 In store urgently on sale!
This new appliance from Aldi will save you a lot of time in the kitchen. In addition, you can count on him to cook your favorite dishes and treat loved ones.
Like all cooking robots, this model will be able to knead, stir, stir, brown, simmer and steam. But also chop, emulsify or crush ice!
Not to mention the numerous cooking programs that make it a great kitchen appliance. Indeed, thanks to the Wi-Fi connection, this device will offer you constantly updated recipes.
This product, available from Aldi, is sold with a bowl with a total capacity of 2.3 liters. With it, you can cook great meals for 2-4 people! Only that. Plus, it comes with a range of ultra-practical accessories. Namely a steam basket, a whisk, a 4-bladed knife, a cutting disc or even a spatula!
Moreover, this robotic cooker is very similar to the model available in Auchan. Both in design and features. However, the Aldi model has a smaller bowl.
An item not to be overlooked, depending on your needs. Remember, however, that this allows you to prepare good meals for 2-4 people. What is enough for you?
In any case, its price will make you think! This model from Aldi is available for sale at a price of 329 euros. Much cheaper than the model sold in Auchan! And 100 euros cheaper than Lidl's Monsieur Cuisine Smart. If this year you decide to treat yourself to healthy dishes, then you know what you need to do.