Jones used to be an outspoken critic of cryptocurrencies and bitcoin (BTC), but after losing several libel suits and hundreds of thousands of dollars in fines, the Infowars host appears to have taken advantage of this financial avenue.
Anonymous donations
An anonymous donor sent over $1 million in bitcoin to a cryptocurrency wallet controlled by Alex Jones and made it public on his Infowars website, casting doubt on Jones's financial standing despite the fact that he owes hundreds of thousands of dollars in damages and that he recently filed for bankruptcy.
On April 23, an unidentified person was found to have transferred 26 bitcoins — each worth about $40,000 — to a wallet believed to be operated by Jones, according to blockchain data investigated by the Southern Poverty Law Center's Hatewatch blog and published on April 29.
Prior to the major bitcoin transfer, Jones had about $37,000 in bitcoin in his wallet. It was also one of four wallets he used to publicly raise donations on his Infowars website. The crypto community is especially active in the area of ​​community donations such as a $73,000 donation to a twitter user.
This mega-donation, representing about 80% of the total cryptocurrency donations Jones has received to date, was not the first massive influx of cryptocurrencies the conspiracy theorist has received in recent years. According to the SPLC, another donor deposited five bitcoins in six separate transactions into one of Jones' wallets in 2021, totaling $266,000 at the time.
While no one has yet identified the person responsible for the donations, it appears that he owned at least 3,000 bitcoins at the time of the donation and was actively trading bitcoin as early as 2011.
In November 2021 and January 2022, Jones also received about $7,800 in Ethereum from a donor.
When Jones withdrew all the money from the wallet on April 27, according to SPLC senior investigative reporter Michael Edison Hayden, the wallet was quickly removed from the Infowars donation page. At the time of the transfer, there was a significant amount of $1,387,673.19 in the wallet.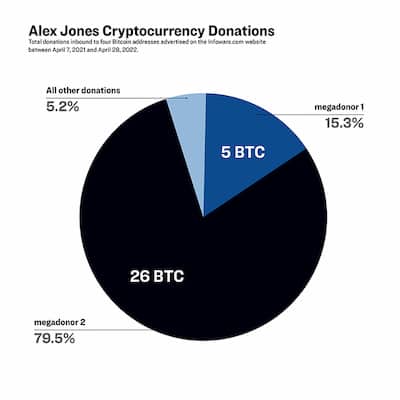 source: SPLC
Another attitude towards cryptocurrencies
Until 2021, Jones was an outspoken critic of cryptocurrencies, calling the financial backing "bad news" on live TV in December 2018. He turned down $5 million in bitcoin from George Soros.
However, in 2020, the SLPC notes, Jones appears to have changed his mind about crypto, thanks in part to Max Kaiser. In early 2021, Keyser and Jones teamed up to promote Swan Bitcoin. The investment firm highlights on its website a review by Jones in which he calls the platform "the best way to accumulate bitcoin." This is not the first time Bitcoin has been used as a political tool.
In 2022, Jones promoted NFT under the Infowars brand. "This is not a scam, but a complete victory," he said on the show, which aired April 27.
Unfortunately, bitcoin can be used as a political weapon. However, one cannot close one's eyes to its great financial value, allowing some, as in the case of dollars or euros, to influence the speeches of very popular public figures. It's always good to remember that bitcoin is neither right nor left, but a tool for humans only.
Get a digest of news from the world of cryptocurrencies by subscribing to our new daily and weekly newsletter so you don't miss any important Cointribune news!
Alexis Patin
Observer of the social, economic and financial revolution driven by cryptocurrencies, defi and metaverses.