Dear readers, hello! Here is Romain, for a technical overview of the price evolution of the ALGO cryptocurrency. A technical overview of the blockchain known for its transaction speed.
Algorand is a project born in 2019. It is a blockchain that serves as a support for the creation and development of new financial products, as well as decentralized services. Its ALGO cryptocurrency stands out from the crowd with its low energy consumption (Pure Proof of Stake) and has been nicknamed the "green blockchain". In addition, it can complete transactions in an average of 4.5 seconds.
ALGO – Weekly Chart: Low Point Found?
After a lot of buzz around this project, the ALGO cryptocurrency became one of those that suffered the most during the downtrend at the beginning of the year.
ALGO – weekly chart
Indeed, after the November highs of $2.8, ALGO lost 89% of its value. Without this volatility, which is so dear to him, there would be no crypto market…
At the moment, the weekly chart calls for caution. Firstly, prices failed to break through the weekly Tenkan. On the other hand, the RSI remains stuck in its oversold zone and only indicates a class 2 bullish divergence for now. It accompanies this double low that prices are forming. This formation will only be valid if the neck line is broken. It costs $0.38.
The first positive sign is that the MACD indicator is seeing its moving averages coming back up. So he suggests retesting the weekly Tenkan as a first step.
Finally, prices appear to have hit a mid-term low that is still holding at $0.28. It was this zone that allowed the recovery in the summer and again saved prices in the last very volatile days.
ALGO – Daily chart: Short-term rebound in construction?
After this long period of suffering, ALGO's increase in the double bottom of the weekly chart allows us to see some interesting details.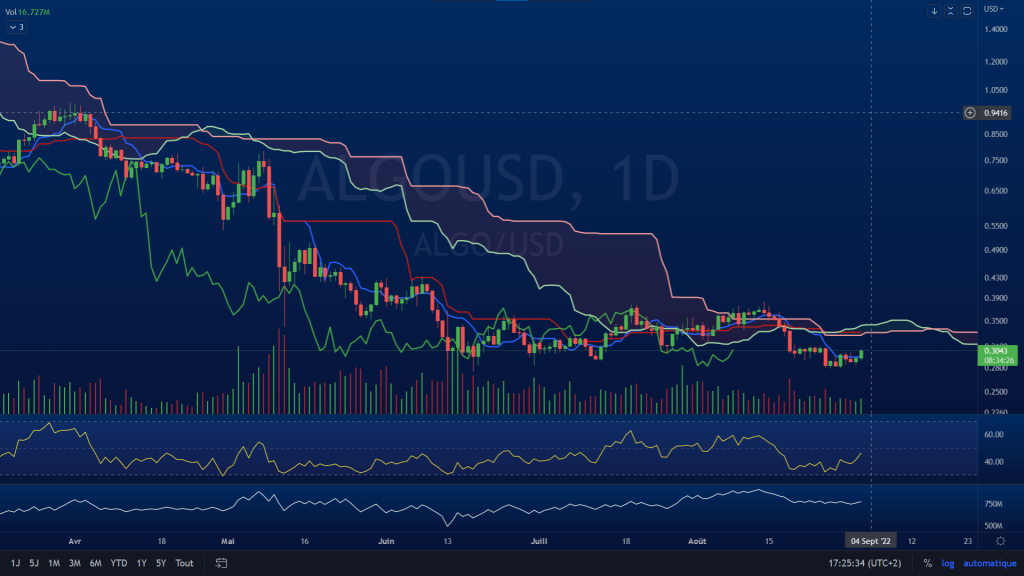 ALGO – daily chart
First, the Daily Tenkan just broke. Therefore, this requires retesting the bottom of the cloud with a lagging range. Then, if it is convincing, to the breakdown of this very cloud by prices. This beautiful cloud located at $0.33 will not pose much of a problem for an established short-term trend. To go further, a break of this level gives the SSB flat at $0.52 as an extension. However, buyers will have to show strength and willpower in a somewhat explosive situation.
ALGO's path remains long, as it is for the entire market, however this low point allows it to form a solid savings base for investors who are taking advantage of the current crisis.
Finally, if there is a breakout from below, the next major support will be at $0.25.
This will depend on certain key factors: the increase in key rates by the European Central Bank, new restrictions in China… Other bad news that the market has not yet expected…? In short, the path remains long, and sometimes not investing is already investing.
Delegate management of your cryptocurrencies while maintaining control over your funds? Nothing is easier with CryptoTrader™, a secure, easy-to-use and 100% automated trading tool.
Trading cryptocurrencies carries a high level of risk and may not be suitable for everyone. It is recommended that you fully inform yourself of the risks involved and only invest amounts that you can afford to lose.
The content offered on the CryptoActu.com website is for educational and informational purposes only. They are in no way a recommendation and should not be considered as an invitation to trade in financial instruments.
The CryptoActu.com site does not guarantee the results or effectiveness of the presented financial instruments. Therefore, we disclaim any liability for the use of this information and the possible consequences.