Combining elements of The Exorcist and Alien, The Sacrament is a disturbing new sci-fi horror comic book series from AWA Studios that will take readers to a far-future universe of 2999 where remnants of God's good work still survive. on some alien planets and religious faith is treated by a totalitarian regime with the help of psychosurgery,
In this spiritual void, a controversial Catholic priest named Father Vass is called to investigate a series of violent murders and nightmares on the planet Cal IV, each with a distinct religious element. Are these heinous crimes the work of a nefarious alien intelligence or demonic possession?
Created by acclaimed British writer Peter Milligan (Venom vs. Carnage, London Dogs, Justice League Dark) and endowed with atmospheric art by Argentinian illustrator Marcelo Frusin (Kick-Ass, John Constantine: Blazer Inferno). "Sacrament" will hit comic book stores and online platforms from August. 3, 2022.
To clarify your interests, Space.com offers an exclusive preview of the premiere issue, as well as commentary from its award-winning author.
The five-issue miniseries explores a range of provocative theological themes, all of which infiltrate an exciting technological realm where this surviving church member is first called to a remote space colony to perform an exorcism, proving you can't escape. your demons and the Devil are real. And honestly, who can resist a comic book about a 400-year-old female dad traveling the galaxy in a huge spaceship adorned with the Holy Roman Cross!
Image 1 of 2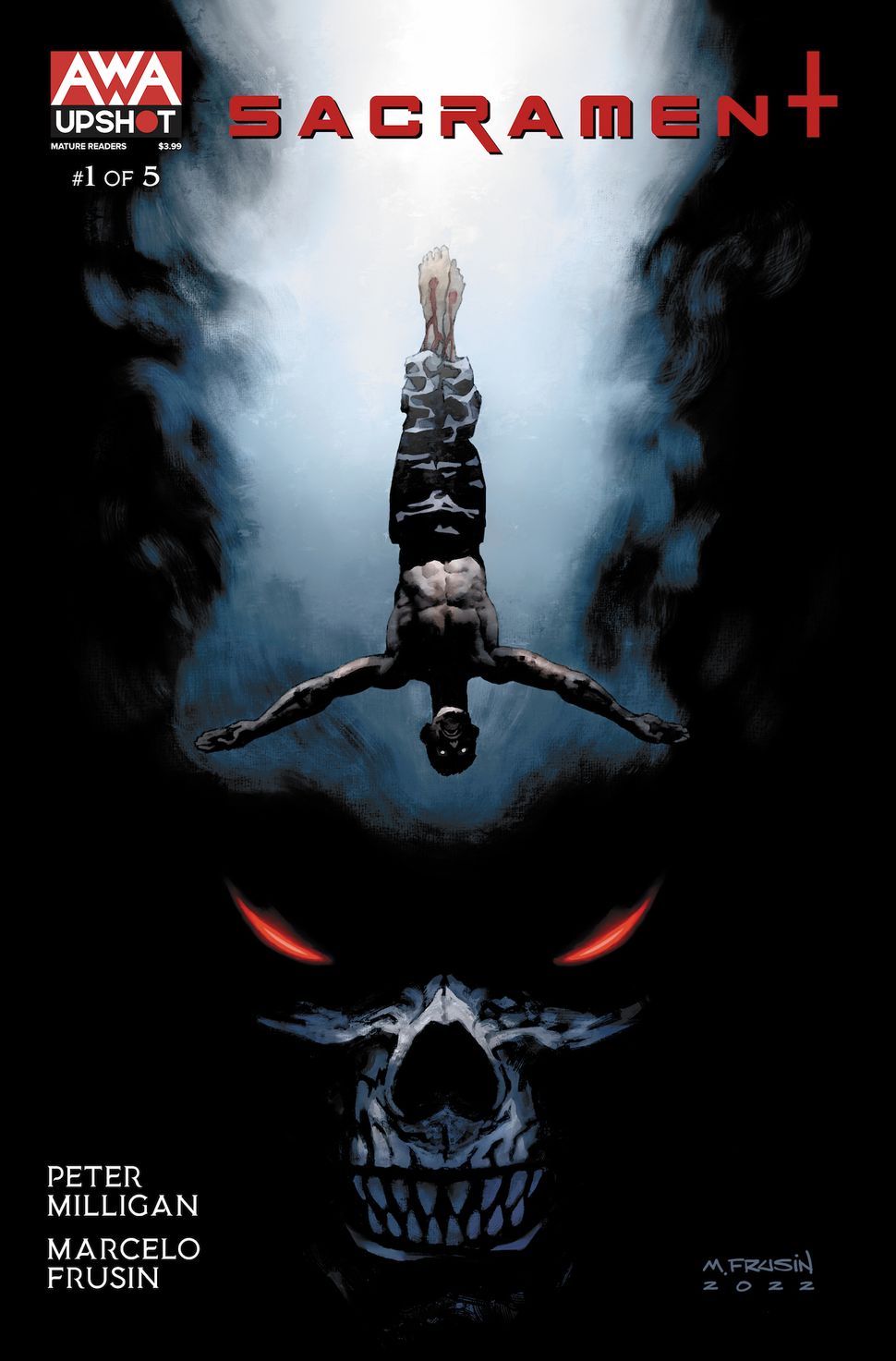 The cover of the new space horror comic "Sacrament" from AWA Studios. (Image credit: AWA)
Image 2 of 2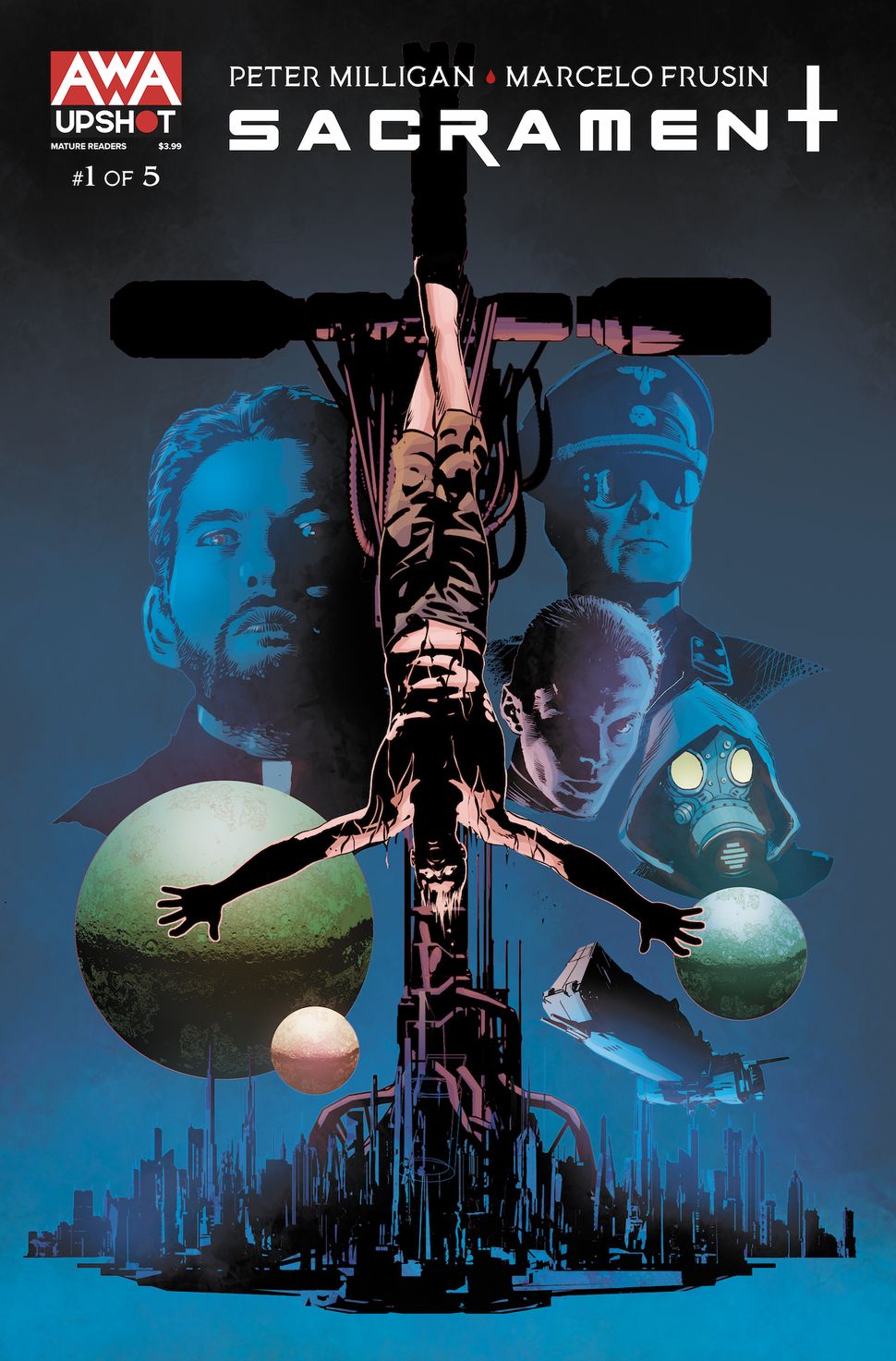 Cover variant for the new space horror comic "Sacrament" by AWA Studios. (Image credit: AWA)
We recently caught up with Milligan to find out more about this sci-fi series centered on Christianity, coming out this summer.
Space.com: What is the origin of the comic and where do you draw inspiration from?
Peter Milligan: The first spark that ignited the fire came some time ago when I read an article about the possibility that, in the far future, humanity could save itself by leaving the doomed Earth and going into space. My first thought was, escape from what? The idea that humanity got rid of the behavior that destroyed one world by moving into another world seemed, to say the least, highly suspect. The problem was not with the Earth, but with us. You cannot escape your demons… because your demons are inside you.
This idea that humanity is trying to run away from its demons… only to have its demons follow… slowly evolved into a story called "The Sacrament".
As far as other sources of inspiration, I love good stories of demonic possession – from Mr. James to the incomparable The Exorcist – and I love stories that explore faith and belief – indeed, one of the inspirations for our main character in The Sacrament – Father Vass – was Graham Greene's "Whiskey Priest" in The Power and the Glory. I really liked the idea of ​​the cosmos, with all its gaping emptiness and possibilities, as a backdrop for telling the story of a man and a people fighting their demons.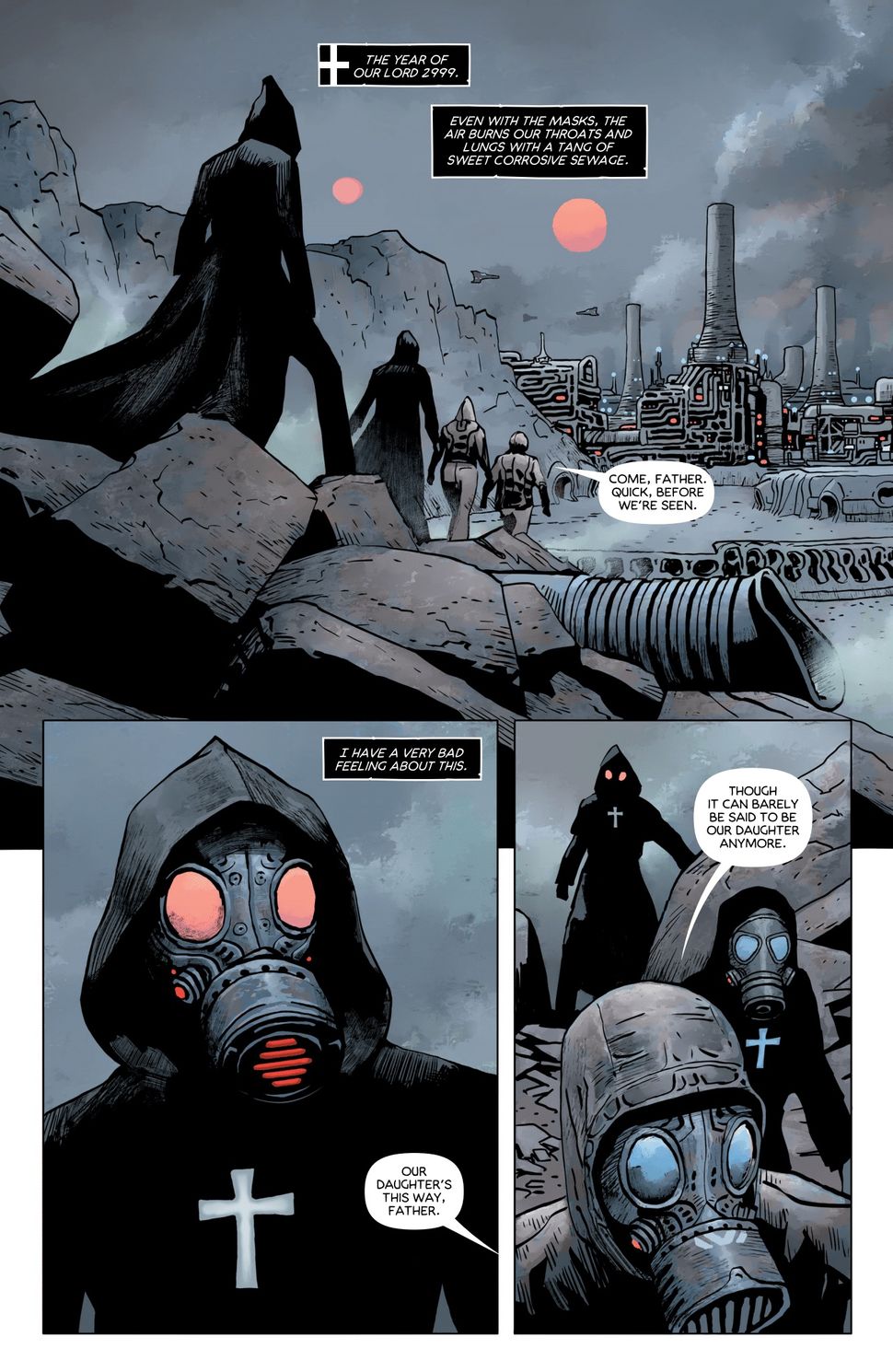 A brief overview of the new series of sci-fi comics "Sacrament". (Image credit: AWA)
Space.com: What was it like working with Marcelo Frusin and how does his art take this story to the next level?
PM: Marcelo really brought this story to life. Although the story is set in space and deals with colony planets and demons, at its core, The Mystery is a very human story, and Marcelo is brilliant in bringing the characters to life, their expressions, their inner struggles, their sorrows – Marcelo is simply breathtaking. This is. And he contrasts this very personal world with amazing images of horror and space. I can't imagine that "Sacrament" was drawn by someone other than Marcelo.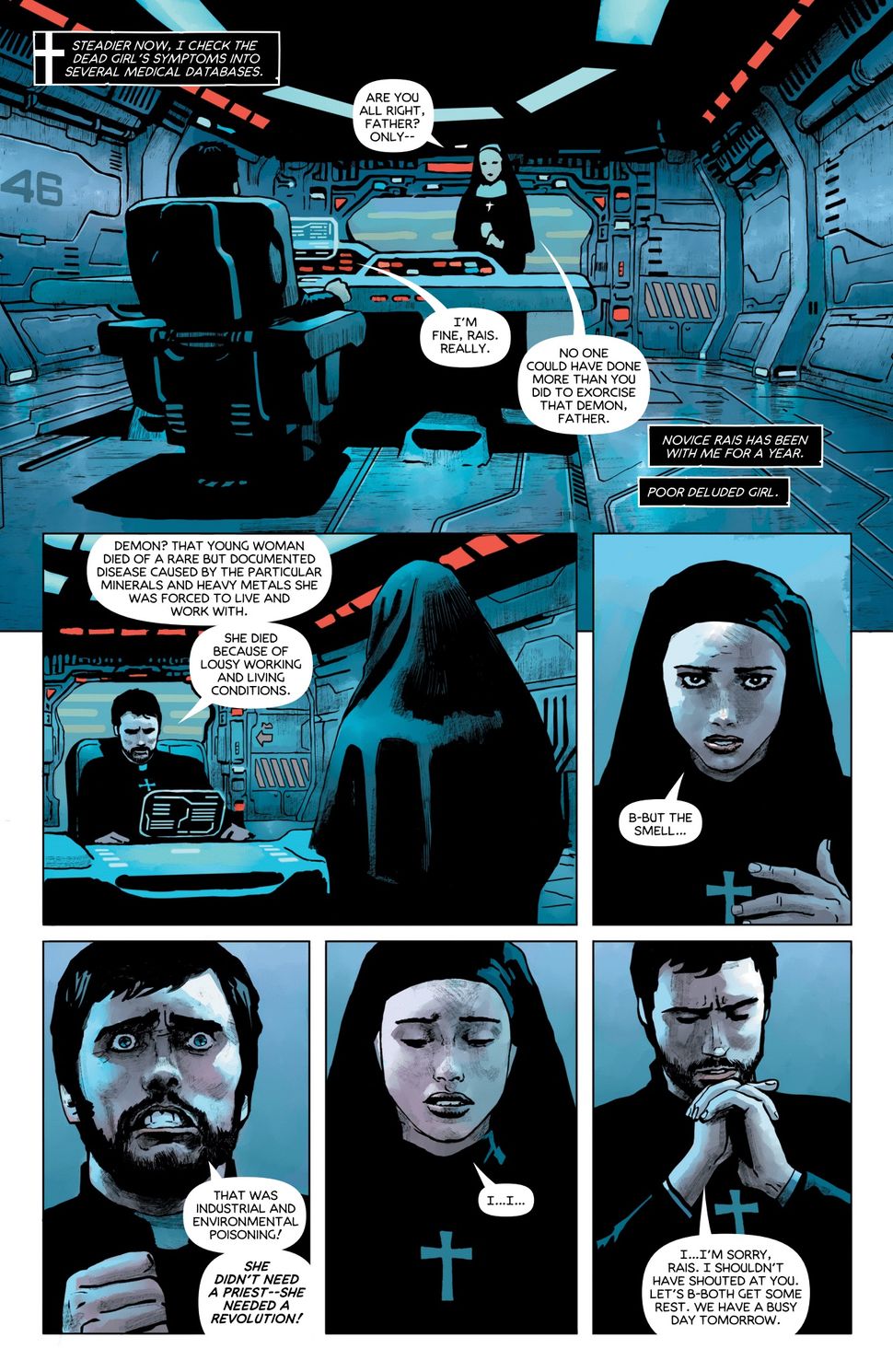 "Alien" meets "Exorcist" in the new sci-fi comic book series "Sacrament". (Image credit: AWA)
Space.com: How does a provocative incident in the comic reinforce the overall tone of this sci-fi series?
PM: I think the tone of the story is set in the first, heartbreaking scene. The year is 2999, and we are on a distant planet, where the air burns the throat like caustic sewage. A priest and his adored acolyte visit a girl whose parents believe she has been possessed by a demon or the devil. The problem is that this priest has practically lost his faith. Distant polluted worlds. A priest struggles with the tattooed remnants of his faith. A demonic presence that seems to have followed humanity into these far reaches of space. While our characters' inner journeys are realistic – faith, shame, lust – the world they live in is a fantasy world of space travel and demons.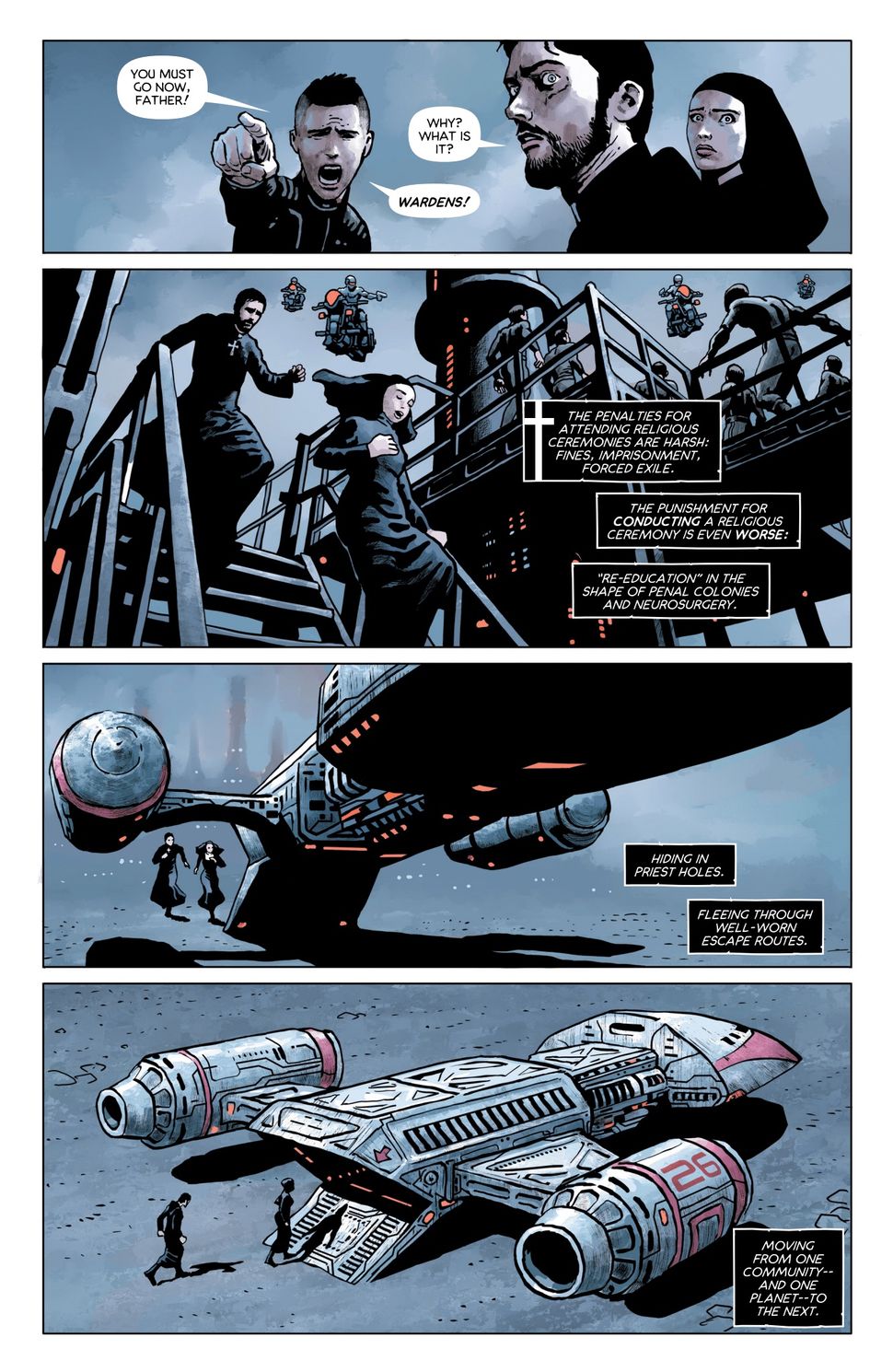 A brief overview of the new series of sci-fi comics "Sacrament". (Image credit: AWA)
Space.com: Has working with AWA Studios given you more creative freedom to tell stories like The Sacrament?
PM: Working with AWA is a completely liberating experience. In short: I write the story I want to write and the way I want to write it. AWA has a great editorial team, smart, challenging, inspiring. But editorial input is always about helping the writer create the best version of the story he or she wants to write. 3.
Follow us on Twitter @Spacedotcom or on Facebook.