Game news AllStars destruction: the exclusive PS5 details its first season
Launched last February, Destruction AllStars did not necessarily meet the expected success despite its integration into the PS Plus for two months and its price reduction. However, many players have claimed the title back, and they might want to launch it soon.
Indeed, Sony has just unveiled the very first season of Destruction AllStars, titled Burnt Heads. For the occasion, the floor was given to George Rule, community manager at Lucid Games, who explains to us what we can expect from this season. May 8, players will be able to download a new update, adding to the title this initial season. First, the studio unveils Alba, the new AllStar. According to the presentation given to us, she is a seasoned competitor, who returns to the fight after a long break. Scottish, she has several abilities, presented by Lucid:
Skill on foot: raises bollards from the ground in front of her. These blockers, or ramparts, work the same way as those in the arena. These are stationary objects, which stop other players in their tracks when they try to pass through.
Vehicle competence: The vehicle is called Claymore, and shoots a laser instead of going directly into contact with opponents. It circles the vehicle, dealing damage to any player in the area of ​​effect.
To accompany this first season, the developers have imagined a new Pass, which allows you to accumulate points while playing and by completing challenges, in order to exchange them for rewards. According to the blog post, gamers can look forward to some chic skins, including ties and tails. Also on the program, two legendary skins and a heroic skin. The AllStar Pass counts 100 levels, and some items are available to all players. However, there is also a premium level to be obtained for 1000 points destruction.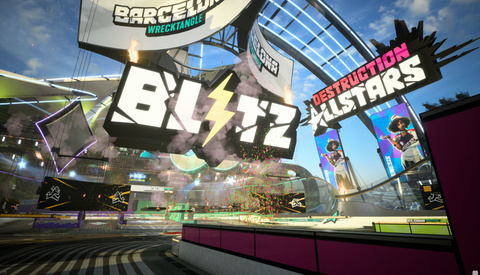 In addition to this Pass, players will be able to enjoy the new photo mode, which allows you to take pictures and personalize them with various frames and stickers. In addition, they will be able to enjoy at the beginning of June of a new game mode, called Blitz, which is played by forming 4 teams with 3 players. This is concretely a variant of Carnage mode, with the difference that it offers shorter sleeves. Also, players will be able to change characters each round, knowing that theThe energy of the vehicle and the capacity of the previous character will be retained.
Buy Destruction AllStars at FNAC
Through MalloDelic, Journalist jeuxvideo.com
MP