Regularly find technical analyzes of the price of Bitcoin (BTC) and other symbolic cryptocurrencies such as Ethereum (ETH). As well as a video to introduce you to some technical indicators, tips, or more fundamental approaches. All this with the goal of being clear and accessible to allow you to learn the basics of trading. And benefit from in-depth analysis carried out by experienced traders.
The full video of this Coin Trading analysis is at the end of the article.
This week's technical analysis will focus on the bitcoin situation. For anything related to the merger stage of the Ethereum blockchain, the easiest way is to watch last week's video, which provides a full analysis of this historic event. This is necessary in order to find out if it is worth buying ETH before this date.
Bitcoin – Consolidation
In weekly units of time, the price of bitcoin has been established since mid-June in a phase of low volatility. As Bollinger Bands approach. And the price is in a range between the $18,500 support level and the $25,000 resistance level.
Consolidation between these two levels, allowing the Bollinger Bands to move closer. With the prospect of an upper limit of $25,000 for this resistance. And, in this case, the configuration is very conducive to establishing a buy signal in the event of a breakdown of the tops of these two fateful thresholds. Even if at the moment this period of consolidation has not yet lasted long enough for this scenario to be really interesting.
Bitcoin – Nothing to do at the moment
In a 3D unit of time, this range can be seen in greater detail, more precisely located between the $25,300 resistance and support at about $18,500. In this case, the Bollinger Bands are already parallel. But whatever happens, nothing can be done as long as BTC remains registered between these two terminals. Because we are talking only about false signals and parasitic interference.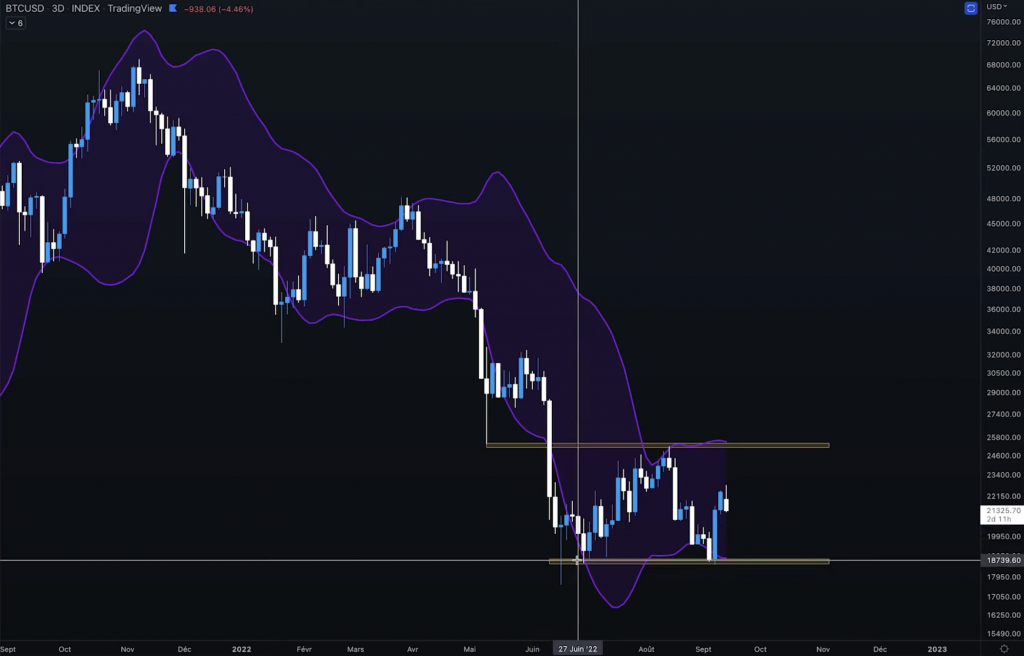 In case of further movement to the resistance level, a sale is possible. But, on the contrary, a drop to the current support will be an opportunity for significant entries from buyers. And, again, it's best to stay away from BTC until a real signal is confirmed.
Ethereum is stuck in a horizontal channel
Quite a similar situation for the Ethereum cryptocurrency in weekly units of time. The Bollinger Bands are getting closer, but not close enough to be interesting. And the range is set to just over a month, which is much less time than for bitcoin. Because it started in the middle of July this year.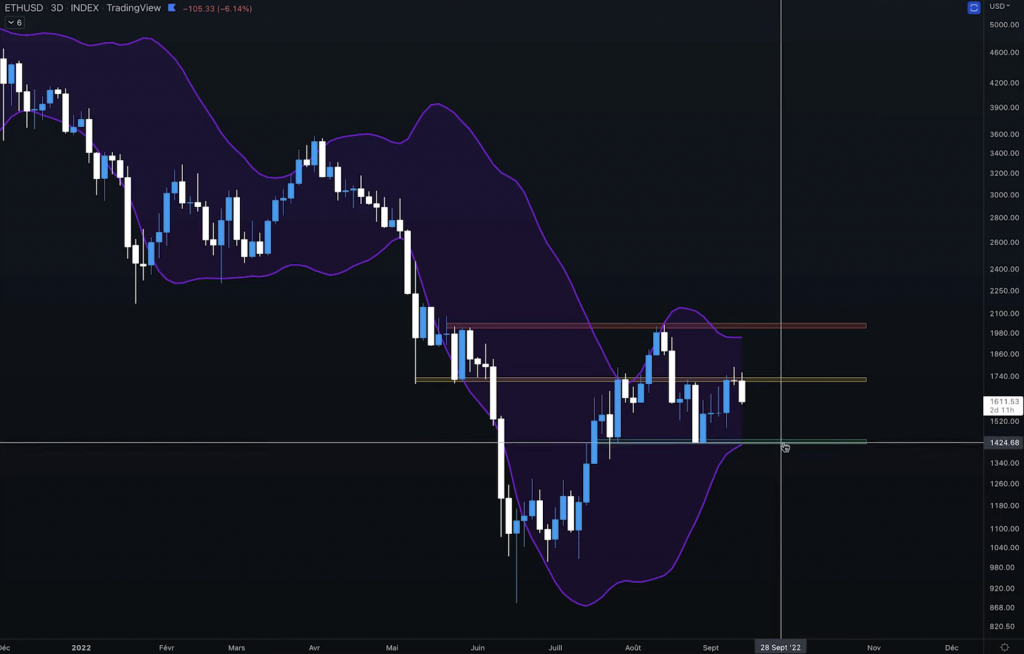 A period of ETH price consolidation, which therefore did not last long enough. Because it will take at least a few more weeks for it to become really interesting. With levels to watch for Ethereum, support is at $1,450 and resistance is around $2,000. And, at the center of it all, is the intermediate support zone, former support and now resistance, around $1,730.
There is little that can be done as long as ETH prices remain in this horizontal channel. Even if, when approaching support at $1450, attempts to buy are still possible. Because it will also coincide with the lower border of the Bollinger Bands. Or try to oversell when approaching resistance for short term gains. But nothing really exciting until real bullish momentum breaks this range from the top.
Ethereum PoW is still in steep decline
As for the ETHW cryptocurrency, in connection with the Proof of Work fork of the Ethereum blockchain, the situation has only worsened since last week. With a price in free fall since its listing. And, therefore, a completely unattractive airdrop operation, given its current price close to $21.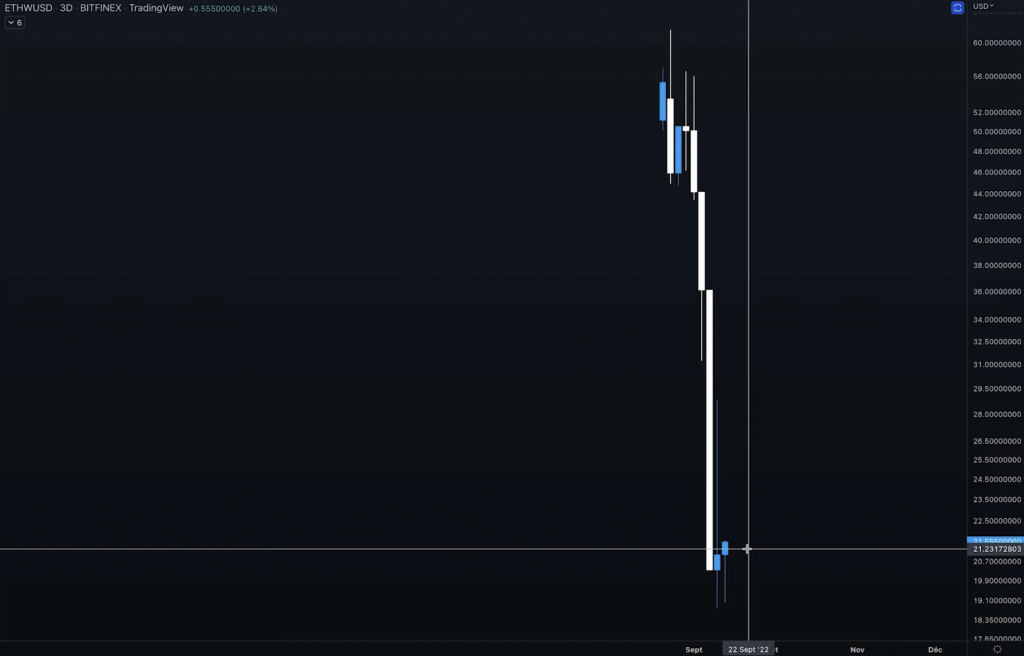 Indeed, the price of this cryptocurrency has just halved since last week. That is a significant loss for investors who tried their luck during this period. At the same time, the price of ETH is also falling. Thus, a double penalty indicates that it is better to stay away from this operation. Except if you already hold ETH in your wallet, which must still qualify…
Altcoins vs Bitcoins – New ATH for TOTAL2!
The TOTAL2 curve, the market for cryptocurrencies excluding bitcoin, is not really different from the current trend. With a correction started from mid-2021. And the period of consolidation is set from June this year. But in the case of the TOTAL2/BTC chart, everything is different. That is, the performance of altcoins in relation to BTC is very interesting to observe in order to analyze the market trend.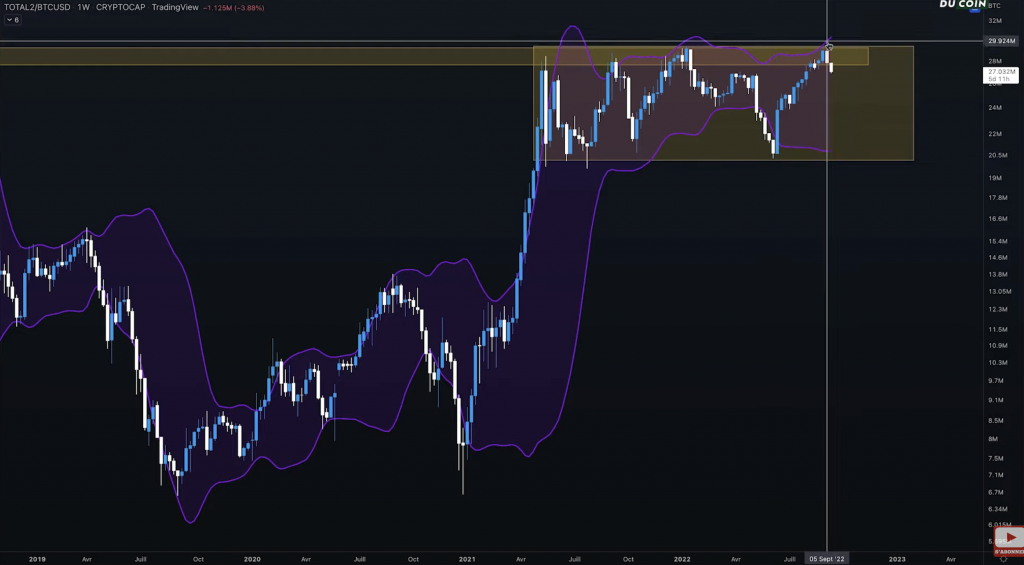 The all-time high (ATH) was reached in January 2018. And since 2021, there has been a period of consolidation, when resistance has been tested many times, but has never been crossed (as well as support). But the really important information is that a new ATH was executed on this chart last week. With a wick, but without a fence, which for the first time in more than 4.5 years has overcome this fatal level.
A positive signal, even if it did not transform into a buy. With a return to minus, which once again moves away from this goal for an indefinite period. Knowing that in the event of a breakdown of the top of this resistance, this will give a very important signal to buy in the altcoin market. With the onset of the alt season, this will allow them to outperform – even more than now – Bitcoin. But that's just a delay…
Whether it is bitcoin or altcoins, there are still many opportunities in the cryptocurrency market. Because the real question is to get in at the right time and also know how to resell before the dip. This is why Coin Trading and its 100% automated algorithmic trading tool allows you to perform these operations in the best possible conditions. This is in order to always be positioned on the best projects, whatever the market trends.
Trading cryptocurrencies carries a high level of risk and may not be suitable for everyone. It is recommended that you fully inform yourself of the risks involved and only invest amounts that you can afford to lose.
The content offered on the CryptoActu.com website is for educational and informational purposes only. They are in no way a recommendation and should not be considered as an invitation to trade in financial instruments.
The CryptoActu.com site does not guarantee the results or effectiveness of the presented financial instruments. Therefore, we disclaim any liability for the use of this information and the possible consequences.