Game news Anno 1800: Ubisoft details and launches Season Pass 3
Anno 1800, released in April 2019, continues to delight fans of licensing and management games. Almost two years after its release, the title is now launching its third season of content.
Available now on PC for € 19.99, the Anno 1800 Season Pass 3 will consist of of three DLC, which can be purchased separately. The first, Homeport, can be purchased individually for € 6.99, while the other two, Tourist season and Towards the peaks will cost € 8.99. Through this new pass, players will be able to discover three additional ornaments, port trade, tourism and building management. In addition, they will be able to take charge of new export mechanisms and highlight their cities with tourist buses, skyscrapers and modular warehouse districts.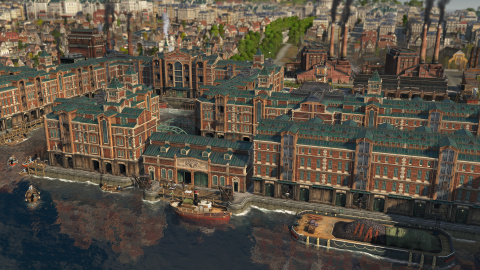 The first content, Home Port, will be available from February 23, 2021. It is in this that we will find the warehouses, inspired by the Speicherstadt, a UNESCO-listed district of Hamburg. From this quarter, players will be able to export rare goods, and meet Tobias Morris, who will act as an intermediary between the city and large companies. As its name suggests, the Tourist Season DLC, which will arrive in the spring, will allow develop cultural life in order to encourage foreigners to come and visit. Bus tours can be set up, restaurants will be involved, while new activities can be developed. Finally, Towards the summits should reach us this summer, and invite us to more modernity. We will have to build buildings, shopping centers and trade new goods. To conclude, Ubisoft indicates that two new editions of Anno 1800 replace the old :
The complete Year 3 edition: which includes the main game, the Deluxe pack as well as the three Season Passes.
The Gold Year 3 edition: which includes the main game, the Deluxe pack and the Season 3 Pass.
Buy Anno 1800 Basic Edition from Rakuten
Through MalloDelic, Journalist jeuxvideo.com
MP