Since a Google engineer recently declared that his AI program has a soul, one can rightfully wonder about the frightening revolutionary side of this technology. Would we have machines filled with data and so smart that they would allow us to consciously respond to the main challenges of tourism? Unhindered customer journey, access to leisure for all, better distribution of flows, low carbon travel, etc.
Unfortunately (or fortunately), it turns out that this whistleblower was actually a "mystical priest". However, there is no doubt that artificial intelligence will serve our sector effectively and below you will find some inspiring examples of its use.
Before starting 2 definitions:
Artificial intelligence (AI) is "a set of theories and methods applied to create machines that can mimic human intelligence."
Machine learning (ML) is a form of artificial intelligence that aims to create systems that learn or improve their performance based on the data they process. The goal is to "learn to teach" computers – and then act and respond – as humans do, by autonomously improving their way of learning and their knowledge.
AIRBNB: CRAZY DISCOVERY AND RESEARCH 2.0
Airbnb will use AI to detect potentially dangerous tenant profiles from 2019. A patent-pending project piloted by data analytics startup Trooly acquired by Airbnb in 2017. If the intent is commendable, one might wonder about the discriminatory nature of the approach, since AI will deny some people access to housing, given that signs of neurosis or psychopathy are detected (by digital footprints left by interested Internet users).
Most recently, and I invite you to (re-)discover the Summer Release ((730) Airbnb Summer Release 2022: A New Airbnb for a New World of Travel | Airbnb – YouTube), the company has taken a completely different approach. from searching for housing by category.

An up-to-date development based on centers of interest and going beyond traditional geographical research. There is no doubt that AI was used to categorize and qualify offers based on user searches/comments and descriptions of accommodations.
INTUITIV: NETFLIX TOURISM
An intuitive solution developed by Moustic Multimedia analyzes behavioral data using the footprints left by Internet users while browsing websites. With the aggregation of all this data and the power of machine learning, the goal is to offer the right content at the right time and ultimately optimize the conversion. All stored data is anonymous and reserved for the exclusive use of the project manager. As such, Intuitiv is fully GDPR compliant.
For example, a search for the phrase "hotel with pool" on the Bisca Grands Lacs website:
Semantic recognition of the entered keywords makes it possible to identify the SIT criteria. In this case, the SIT Hotel category is recognized as well as the swimming pool criterion. From now on, the Internet user is directed directly to the list of hotels with the criterion "pool" checked. https://www.biscagrandslacs.com/hebergements-dans-les-landes/hotels?typeActivite=piscine&equipement=piscine#redirect-hotel+piscine
It is noted that the stem formation process determines the stem of each word before it is processed for search. The goal is to take into account the spelling variations of the words entered.
PHEDONE: AI AT THE SERVICE OF CUSTOMER RELATIONSHIPS
Phedone democratizes semantic analysis with a very simple approach to integrating "smart modules" into customer support streams. This solution is an AI-powered B2B SaaS that collects, structures, directs and enriches user feedback and requests.
It offers a set of semantic analysis modules enhanced with pragmatic business rules that can be deployed with maximum flexibility. Already present in many business streams, Phedone intends to serve the travel sector where there are many use cases.
example: automated cancellation management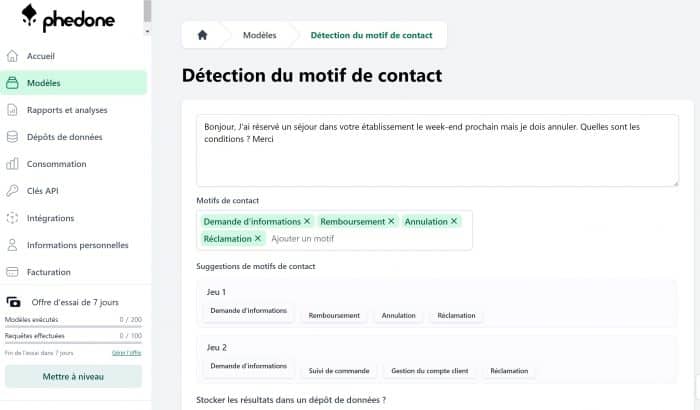 In this particular case, the categorization made by the AI ​​regarding the reason for the contact is the cancellation of the stay. Automatic processing allows you to immediately send an e-mail to the interested customer to inform him of the cancellation conditions. Therefore, we perceive all added value in terms of response time and optimized after-sales management.
FAREWELL TO GOOGLE TRIPS: HELLO TO GOOGLE TRAVEL
Google Trips scanned emails, analyzed our Google searches and our movements to better understand our "hots of interest". But that was before, as Mountain View decided to say goodbye to that decision in 2019. However, most of the features are now available in Google Maps or Google Travel. In particular, we find the full power of AI with suggestions for planning your stay.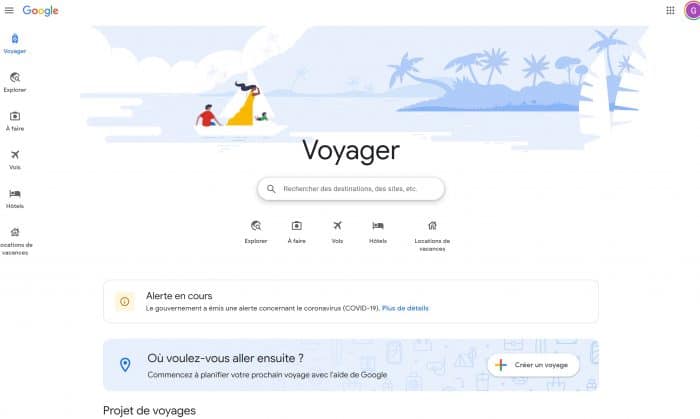 ADN.ai: FRENCH ALEXA
ADN.ai is the publisher of a no-code platform for creating conversational content whose DNA is the humanization of bots and voice assistants. This solution aims to create an interactive digital experience. To illustrate, let's look at how vocals can change the daily lives of many people with disabilities:
Finally, we can also mention RMD Technologies, which is investing in predictive AI to best support hoteliers in their pricing strategy. So the examples are legion.
And you, in conclusion, what is your position?
ASTI: you think there is no substitute for human intelligence in the travel experience, that the results are far from relevant, that AI is also big data, significant computing power requirements and therefore digital pollution…
PRO: technology is just a tool in the service of strategy, a "simple" means of satisfying a need. You are convinced that artificial intelligence can effectively serve customer needs without replacing the sophistication of human intelligence.
ULTRA-PRO: You think that idiocracy is farsighted, our IQ is plummeting, and therefore AI is our holy grail. Like an AI that writes a study about itself, you even believe in the ability of this technology to autonomously execute a tourism development plan (if it is pre-fed with the appropriate data).