On the occasion of International Women's Day, celebrated every March 8, Cio Mag and its partner Smart Data Power produce a study listing influential African women who are active on Twitter, particularly in the field of Artificial Intelligence (AI). Managers, entrepreneurs or developers, these women are at the base of projects that deserve to be followed closely.
(Cio Mag) – Artificial intelligence continues to take center stage and African women in tech take the opportunity at every casting to showcase and deliver the best they have. They innovate and encourage innovation. They run businesses that allow both women and men to express their potential. They thus contribute to helping societies and making them evolve.
During an interview, Muthoni Wanyoike, a strong African presence in the sector, portrayed the essence of his footprint in AI.
"My vision and the reason I continue to work in AI is because I see AI as a catalyst, and as an opportunity for us to solve African problems, to solve our daily challenges, that it is health care, congestion, or planning ".
Like her, many African women have understood how useful they can be for their continent. They contribute to the confirmation of the female presence in technology, although still under-represented.
In the West, Center, North or East of Africa, some are ambassadors of AI on the web and bring together large communities.
The collaboration between Cio Mag and Smart Data power has produced a ranking of some of the most followed on Twitter.
These women are classified according to their influence score resulting from a combination of several factors. In particular the density of their community (number of followers), their recent use of Twitter (date of the last tweet or retweet), the concept of activity (average monthly acquisition of followers) and the attraction rate (the follow ratio ).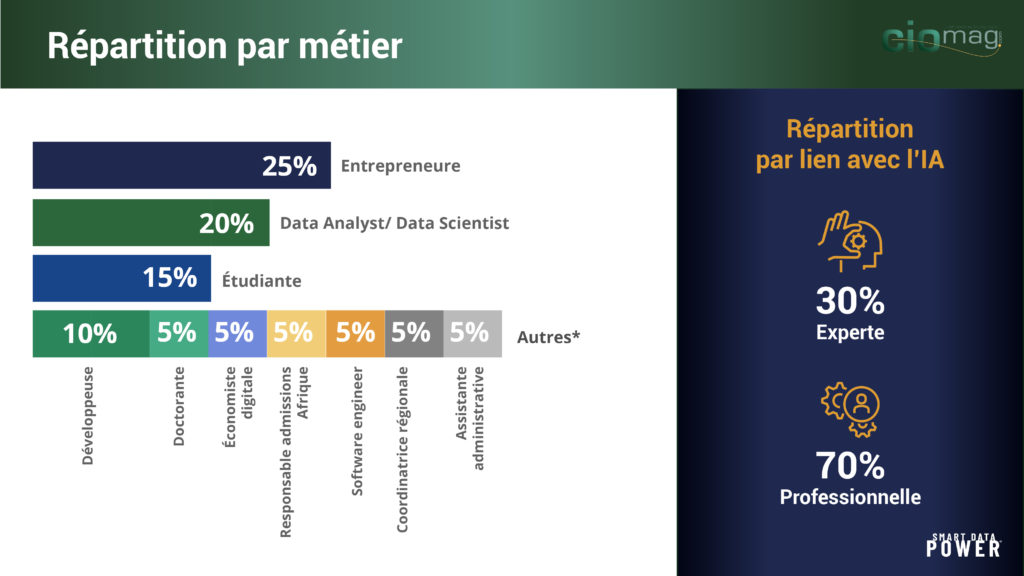 Anglophone Africa is predominantly represented.
Among them, seven profiles illuminate the picture of artificial intelligence on the web.
She defines herself as a mix of entrepreneur and Tech woman whose goal is to develop the wealth and capital of African women, in particular thanks to new technologies.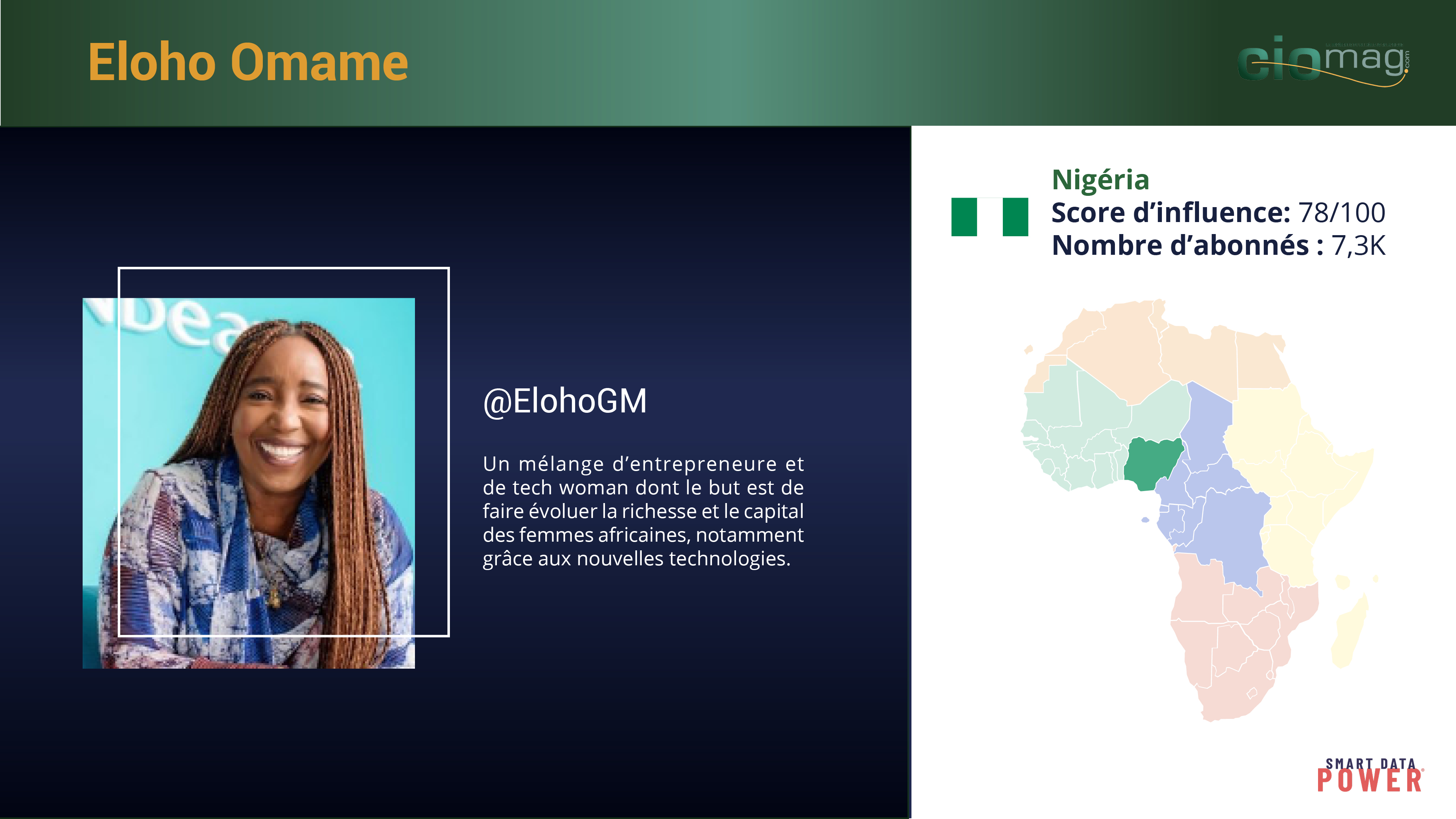 According to her, "women are under-exploited in leadership, technology and entrepreneurship in Africa". This is why she is committed to increasing the influence of women and their access to capital in four main areas: technology, personal finance & wealth creation, career & leadership, and entrepreneurship.
Through FirstCheck Africa, an angel fund she co-founded, she plans to invest in the next generation of high-growth entrepreneurs in Africa at the ideation stage.
Eloho is also expanding into mentoring through its personal one-on-one mentoring programs where it helps mission-oriented and action-oriented professionals and entrepreneurs in the field of technology navigate through leadership roles for the first time. times, to cultivate their personal and professional development.
Rebecca Enonchong (Cameroon)
Serial entrepreneur specializing in new technologies, she has founded several companies and incubators to help companies and entrepreneurs develop in ICT. She no longer presents herself, the World Bank considers her a heavyweight of high-tech in Africa. She has always been on the influencer charts.
She is the founder of ActivSpaces, the African Center for Technology, Innovation and Enterprise in Cameroon, AppsTech and I / O Spaces, an incubator for the African diaspora in the United States. She is also a founding member of the African Business Angel Network (ABAN) and Chairman of the Board of AfriLabs.
For Rebecca, technology is one of the sectors capable of having maximum impact with minimum investment.
She is the example par excellence that many young people interested in ICT want to follow in her country. She says she is ready for what will succeed and not just for the elite. She wants to reach "those who are unaware even that they have everything to be entrepreneurs".
Stéphanie Charbonnier (Gabon)
Passionate about AI and technologies, Stéphanie also works for solidarity and ecology in Gabon.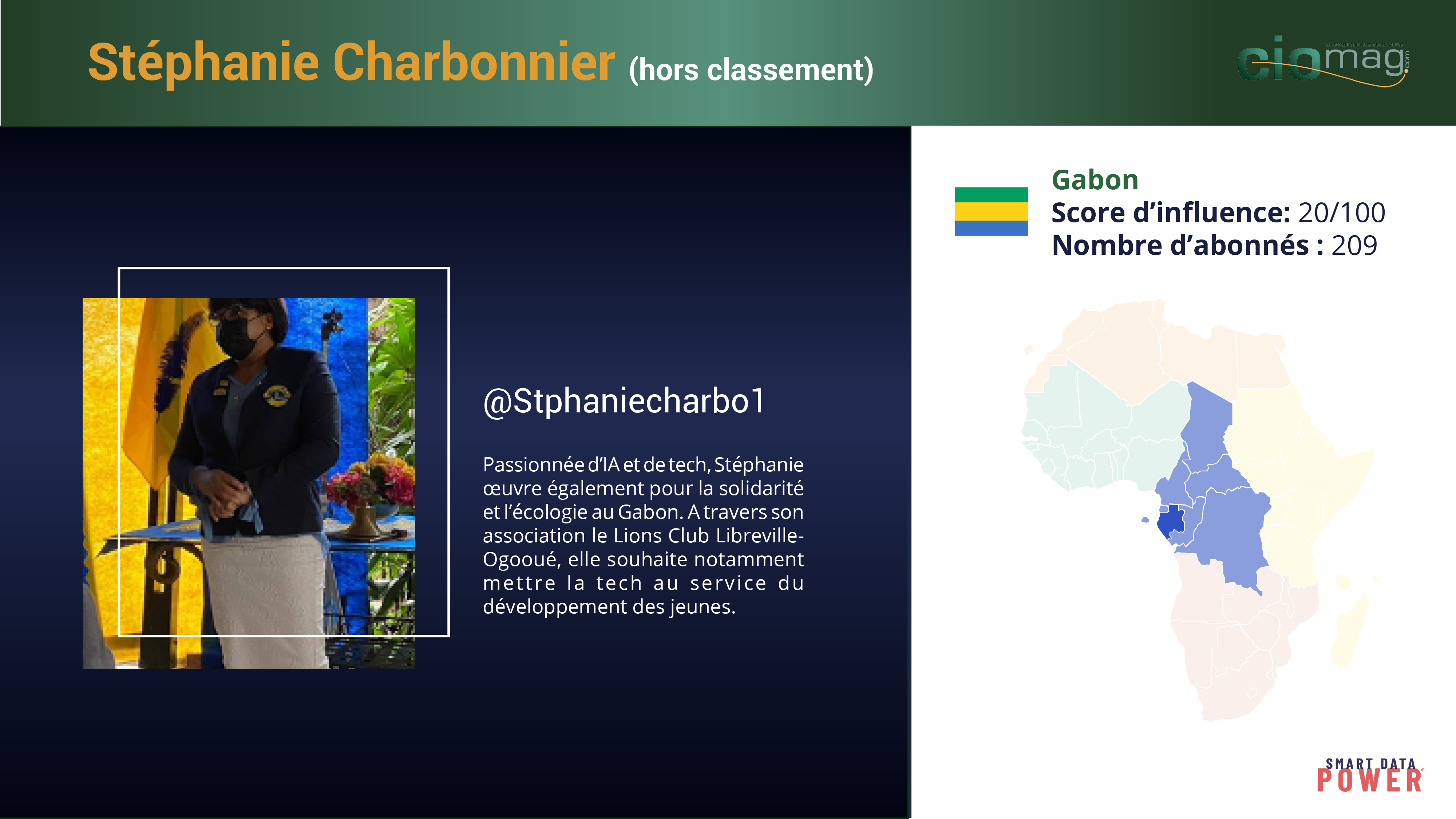 Through her association the Lions Club Libreville-Ogooué, she particularly wishes to put technology at the service of the development of young people.
She is one of those who has many strings to her bow: speaker, entrepreneur, blogger. She is notably identified to be part of the Young Talents of Sub-Saharan Africa by UNESCO. Her work and conferences mainly focus on the place of Women in AI and Science.
Neema holds a doctorate in information and communication science and engineering. She considers herself passionate about research and education especially for girls "and she is the founder of BakiShule an app that aims to prevent dropout.
She runs free trainings and workshops focused on inspiring and exposing girls in data science, machine learning and artificial intelligence
Charlette Désiré (Ivory Coast)
A virtuoso of AI and digital, Charlette is both an entrepreneur and head of the BACE Group company specializing in AI. Which provides facial recognition services using artificial intelligence for online identity verification. She is also co-author of the AIBook, a book on the impacts of AI and Tech in finance.
This electronics and software engineering graduate is also certified in data science and machine learning. She is "passionate about using technology at the heart of business innovation" collaborates with organizations "that strongly advocate for gender balance in the technology ecosystem".
She sees herself as "a problem-solving businesswoman who is passionate about using technology at the heart of business innovation.
As her Twitter handle suggests, Cynthia is a true queen of web development. She is a member of several networks related to the development of Tech and AI in Africa, including the Asikana Network based on the #womenintech movement.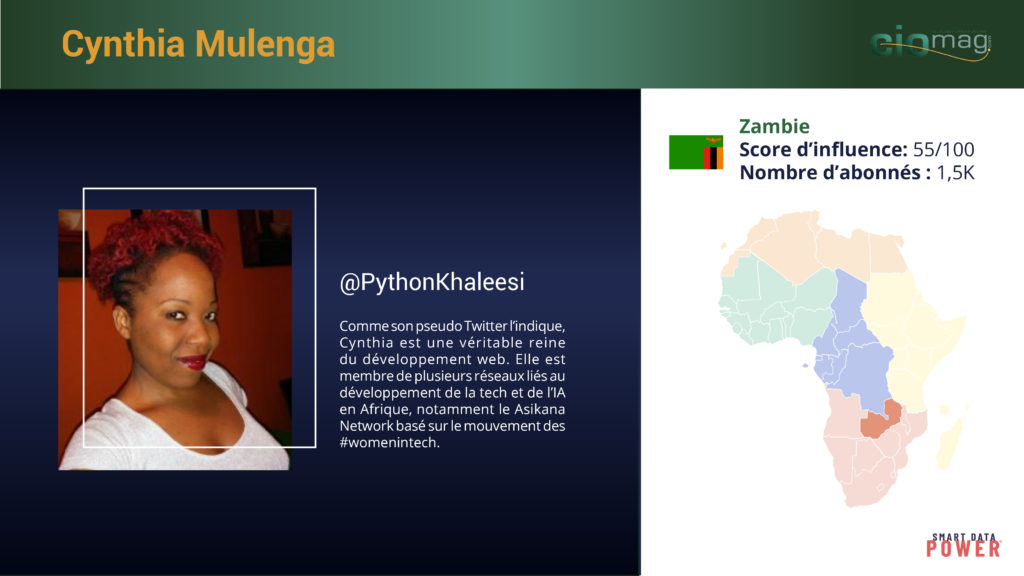 Professionally she describes herself as an experienced team leader and product manager in the software industry, with proven experience in the information technology and services industry.
Imane Benjelloum (Morocco)
Head of Africa admissions at ESCA Casablanca, a private management school, Imane also has a strong interest in AI and Tech through his role in the Development and Digital Transformation Department of this establishment.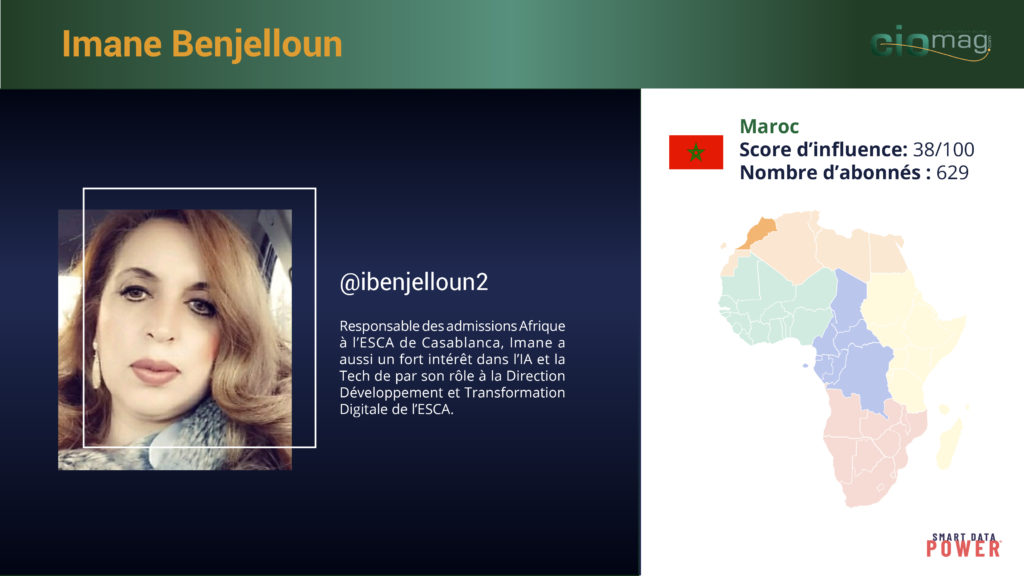 Download the full study: https://cio-mag.com/wp-content/uploads/2021/03/CIO-MAG-IA-FEMMES.pdf

Smart Data Power Presentation
Smart Data Power makes the mass of data on Twitter intelligent and intelligible, in particular by combining it with demographic, economic, environmental, etc. Open Data. The method: a clever mix of Data Science and human analysis. Unlike Big Data, Smart Data Power focuses on the quality, accuracy and verification of information contained in biographies as well as in tweets or retweets. This makes it possible to identify and invite for any account highly qualified profiles, from middle to top influencers, and to increase its visibility to allow it to succeed in its influence communication. In other words, to take or take back Power over Data.