Specifications
Here's the Asus Zenbook S 13 OLED configuration as rated by our editors.
Processor: AMD Ryzen 7 6800U
GPU: AMD Radeon 680M
RAM: 16GB LPDDR5
Screen: 13.3 inches, 2.8K OLED
Storage: 512 GB SSD
Ports: Three USB-C ports, one 3.5mm audio port.
Connectivity: Wi-Fi 6E with Gig+ performance (802.11ax), Bluetooth 5.2
Camera: 3DNR 720p
Size (W x D x H): 296.70 x 210 x 14.9 mm
The Asus Zenbook S 13 OLED updates one of our favorite ultrabooks from last year, powered by the powerful new AMD Ryzen 7 6800 series processor. The premium features make it a great buy for any mobile user.
Incredibly lightweight, it fits in your school bag or backpack on your way to school or work.
After rigorous testing, this ultrabook's only limitation is the graphical rendering of the latest high-end games, but they should be run on more complex configurations anyway. However, it runs most of the top classic games with some moderate settings without too much trouble.
Want to take full advantage of your video streaming platforms? While its screen doesn't come close to the 4K resolution common on the best laptops on the market, its 2880×1800 pixel resolution is still amazing and enjoyable to watch.
As an ultrabook aimed at professionals and students, the performance of the Zenbook S 13 is impressive. It features a 13.3-inch OLED touchscreen with stylus, three USB-C ports, and a 3.5mm audio jack. It's all combined in a rugged, military-grade magnesium-aluminum alloy chassis.
The Harmon/Kardon stereo speakers are equipped with Dolby Atmos technology and sound very good, although the bass is still a bit weak. Memory and processor ensure minimum boot time. Thus, it satisfies most computing needs.
Hopefully we'll see more units of this laptop in stores, both physical and digital. However, given shortages and restocking issues, we're not particularly shocked by its limited availability.
Price and availability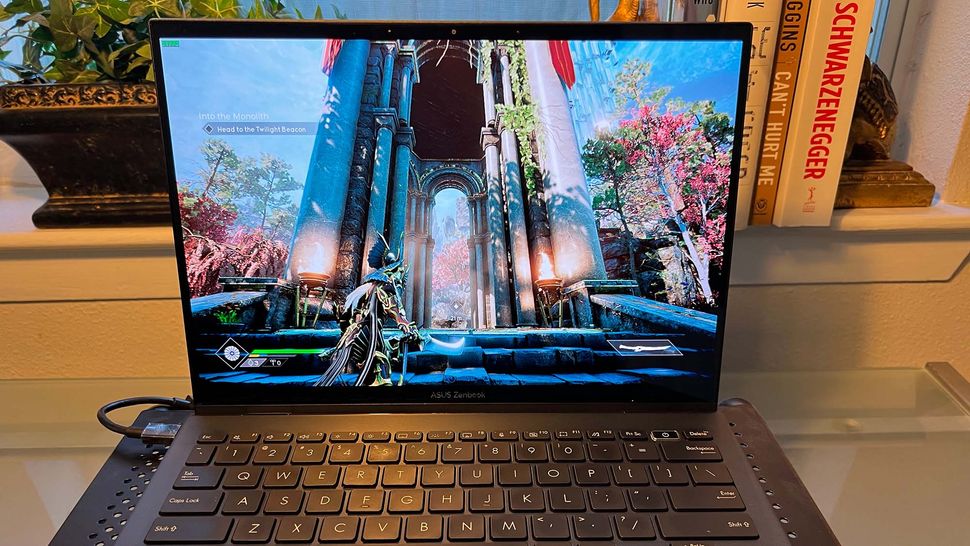 The Asus Zenbook S 13 OLED is one of the first laptops to feature the new AMD Ryzen 6000 mobile processors. (Image credit: Future)
Recommended price: 1499€
Available now
The Asus Zenbook S 13 OLED is available for sale in France on the manufacturer's official website, as well as on various e-commerce platforms.
The tested model is equipped with a Ryzen 7 processor, 16 GB of RAM, 512 GB of storage and a touch screen / stylus, priced at 1499 euros. This is the only version currently available in France.
Design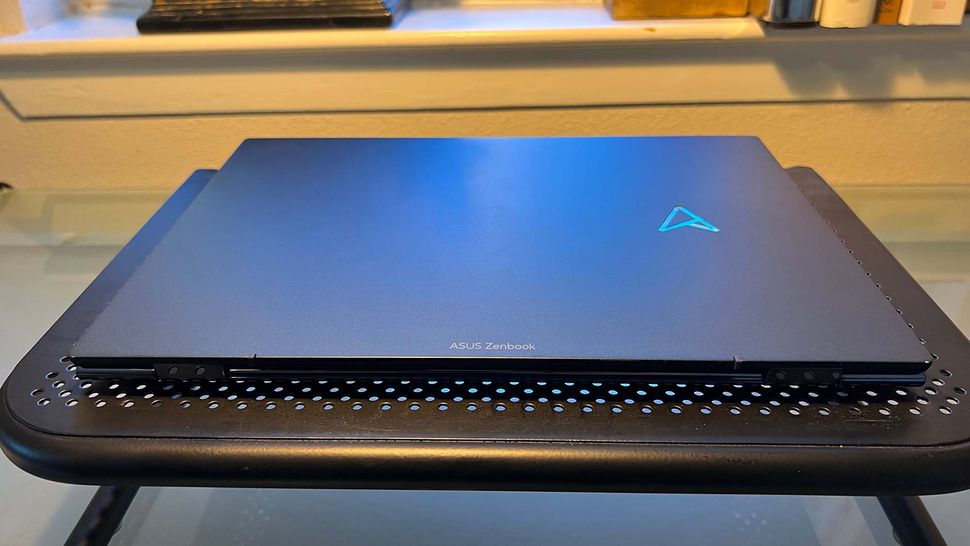 The Asus Zenbook S 13 OLED is without a doubt a great device. (Image credit: Future)
Stunning OLED display
Fantastic lightweight chassis
The Asus Zenbook S 13 OLED features a sleek design that uses a magnesium-aluminum alloy body. It will easily fit in your backpack or briefcase. When fully closed, it is approximately 14.9 mm high and weighs less than 1 kg. Touch screen, diagonal 13.3 inches. For those interested in the stylus' capabilities, any Bluetooth-enabled stylus should work with the Zenbook, such as the Asus Pen 2.0, which is available on the Asus website.
Asus also likes to save space on their laptops. The Zenbook is no exception, as it integrates the Asus NumberPad 2.0 into the device's touchpad. Once you get used to it, it will seem like a smart move. Holding your finger in the upper right corner of the touchpad (on the keyboard icon) brings up the Asus NumberPad.
The elimination of the conventional 10-key numeric keypad allows for additional space to integrate a full-sized keyboard. Instead of being content with the unpopular mini keyboard.
The keycaps on the keyboard itself are "bulging," as Asus likes to call it. Smooth 0.2mm thick combs on each cover will give your fingers a typing pleasure. The keys have approximately 1.4mm of travel before they hit the rubber dome, which gives a "tactile bump" when typing, designed to replicate the typing resistance of standard keyboards.
Newer laptop keyboards that lack these features typically provide softer keystrokes, which many users don't like. It's good to see that Asus has responded to customer complaints. The Zenbook S 13 has a more modern architecture that makes typing comfortable.
Zenbook's stereo sound is provided by four Harman/Kardon-certified Dolby Atmos-enabled speakers. The speakers are located on the underside of the laptop, left and right. The Zenbook's webcam is excellent. Asus has integrated "3DNR" technology to provide superior video capture, but more on that later.
Ultrabooks don't have a lot of port space, but the Zenbook does have three USB-C ports (one of which is often used for the power adapter) and a 3.5mm port. Luckily, the USB-C ports are spread out, with two ports on the right and one on the left. The USB-C power adapter cable included with your Zenbook takes up very little space. So it's pretty easy to plug the power jack into a USB-C port next to a USB-C dongle in the adjacent port (on the right side) without worrying too much about whether there's enough room for both.
Zenbook S 13 OLED is available in four colors: Ponder Blue (blue), Refined White (white), Aqua Celadon (turquoise) and Vestige Beige (beige).
Performance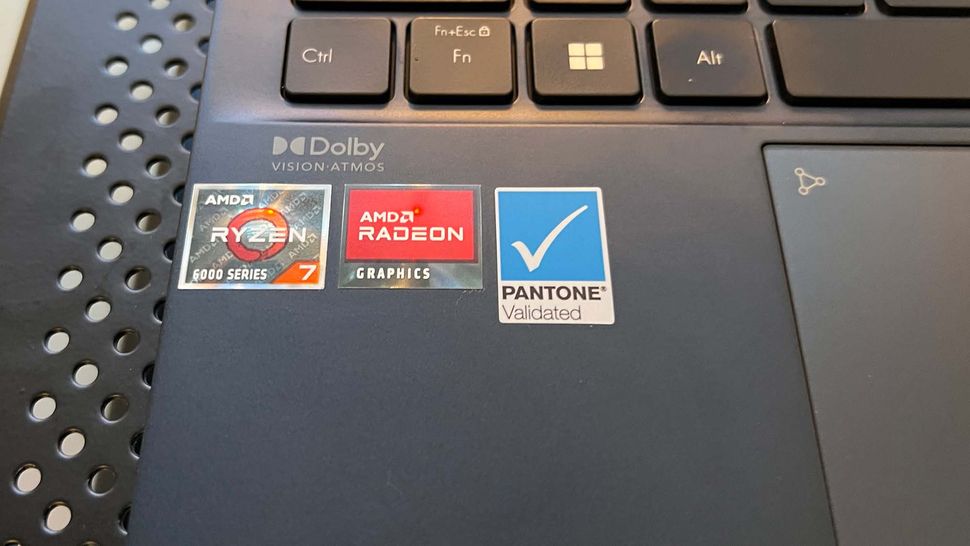 The AMD Ryzen 6000 series is AMD's first mobile chip with the Big Navi GPU architecture. (Image credit: Future)
Decent gaming performance
Ray tracing on an ultrabook!
The Asus Zenbook S 13 OLED performs great in almost every way. The 13.3-inch screen looks bigger than it really is, and the OLED panel has a 16:10 aspect ratio and 2880x1800p resolution, which is over five million pixels.
You will need to lower the resolution in your video settings to make new games run continuously at 30fps, as games like Godfall require a lot of processing power to run at higher framerates. However, a quick change to the game's video settings allowed us to enjoy Sniper Elite 4 and Godfall with very few issues.
The Zenbook boasts a peak brightness of 550 nits, color depth of up to 1.07 billion colors, and a screen refresh rate of 60Hz. You will be hard-pressed to achieve this kind of performance at this price point in the ultrabook market.
Landmarks
Cinebench R23 Multi-core: 8696
3DMark Port-Royal: 847; Time spy: 2344; Fire Strike: 5,524 Night raid: 21,326
GeekBench 5: 1447 (single-core); 7274 (multi-core)
Autonomy in PCMark 10: 7 hours 28 minutes
Battery life (TechRadar video test): 12:40
The audio quality of the Zenbook is excellent considering there isn't much room for stereo speakers in the 14mm case. As a result, the speakers may not produce much bass in the soundstage, but the mids and highs project well. This is what you would expect from any ultrabook.
When using headphones, you can hear the magic of Harmon/Kardon sound as the Zenbook recreates the sound the way it should be heard. Games, movies, and even video conferencing sound fantastic. Dolby Atmos support is also provided when connected to a surround sound system or Dolby Atmos audio monitors for playing games or watching movies.
The webcam is probably one of the most important options on any ultrabook due to its frequent use at work or school. The Zenbook S 13 OLED screen is perfect. Asus uses so-called "3D Noise Reduction" ("3DNR") technology to optimize picture quality. We can only guess that he does this by controlling and adjusting the sensitivity of the light sensor. Sort of like the ISO settings on a DSLR.
We're unable to explain how the 3DNR algorithm works (it's a fancy way of saying "we don't know"), but we did notice that when we used the Zenbook during Zoom meetings, the image was incredibly crisp and bright.
The model we tested includes 16GB of LPDDR5 RAM and 512GB of SSD storage, which means boot times are very fast. There is virtually no lag or lag, unless we're squeezing the game video's max resolution. During testing, we did not hear any fan noise. Our only criticism is that during operation, the laptop tends to heat up in enclosed spaces such as a backpack. Turn it off when you are no longer using it.
Autonomy
Pretty decent battery life
Lasts a full day
The Asus Zenbook S 13 OLED surprised us with battery life. With a battery life of 67 Wh, we expected great results from the Zenbook. So, we disconnected the laptop from the network and started the movie in a circle with a brightness of 50% until the battery was dead. So he was able to hold out for 12 hours and 40 minutes. This is excellent performance in this price range.
We ran a separate Zenbook battery life test using PCMark 10, and those tests averaged seven hours and 28 minutes, which is a pretty substantial five-hour difference between the two different battery tests.
Asus announces Zenbook 13 S OLED battery life of 19 hours. If you're using the Zenbook 13 S OLED in the classroom or at the office with the power saving feature turned on, it can guarantee that famous 19 hours on a single charge. Battery performance depends on the types of programs you run. That said, for general use, the eight to twelve hour battery life is still decent.
Should you buy the Asus Zenbook S 13 OLED?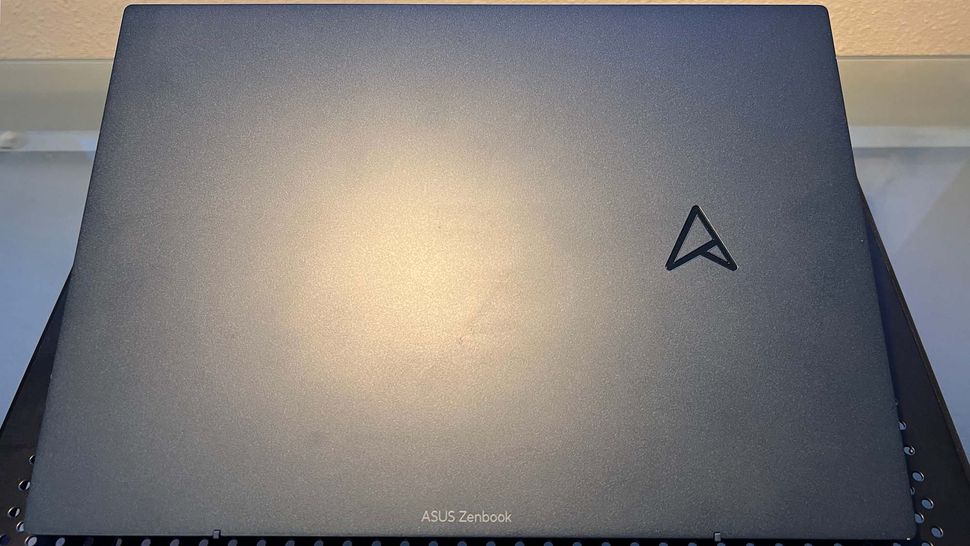 Asus has created a phenomenal ultrabook ZenBook S 13 OLED. Too bad it's so hard to find. (Image credit: Future)
Buy if…
Don't buy if…