Dear readers, hello! Here is Romain, for a technical overview of the price evolution of the AVAX cryptocurrency. What is the main technical support? How has high volatility affected prices this week? What is the evolution compared to bitcoin? We are approaching the blockchain internet.
Avalanche is designed for building decentralized applications and staking tokens. It can be compared to the blockchain internet. Its AVAX cryptocurrency is designed to pay transaction fees as well as generate passive income.
While prices gave the first positive signal, the trend is currently under pressure.
AVAX – weekly chart
Indeed, the weekly Tenkan, which was broken up, is now regaining its advantage over prices. And this is after the return of selling pressure from last week.
This week is a test week. If prices stay below this level, there is a good chance they will return to test the $14.75 level. This is medium term support.
On the other hand, a return above $24 before Sunday, August 28 would leave room for a rebound to the weekly Kijun located at $58.7.
The RSI indicator does not give any positive signals yet, it remains in its sell zone.
AVAX – Daily Chart: Cloud Bottom as Support!
While a return to positive territory was in the works, sellers were redistributing cards in this volatile market.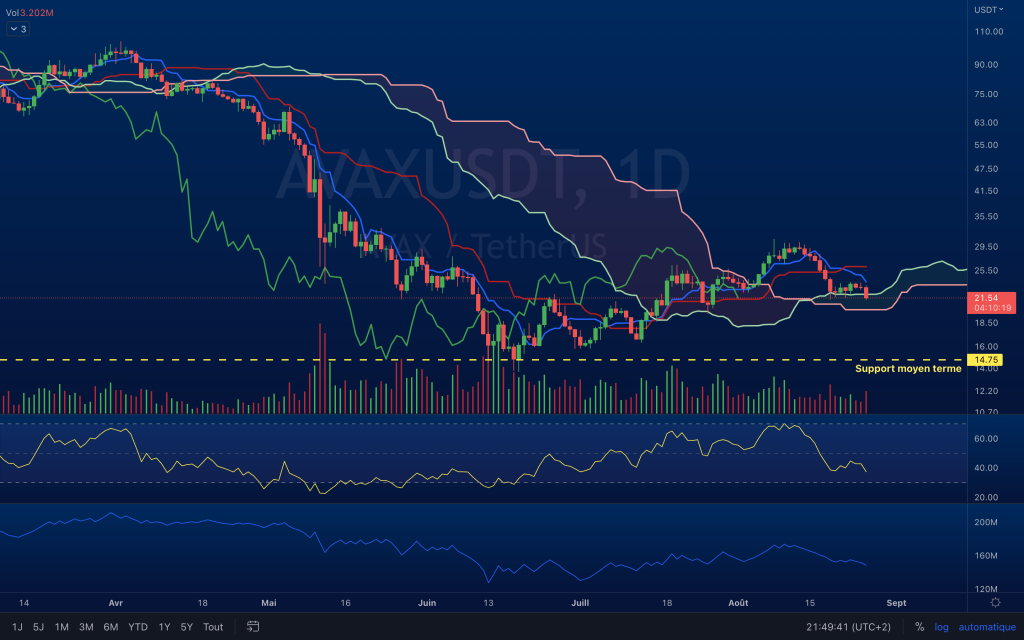 AVAX – daily chart
After a whole week of correction, only a daily cloud was able to stop prices in this downward spiral. The latter even found himself in a quandary after a statement from the US Central Bank, which was considered negative.
Technically, if $22 is gone, the next support area is the daily SSB, the bottom of the cloud. This support, located at $20.13, is the last short-term bastion before returning to the bearish zone. And, therefore, in the direction of the medium-term support mentioned above.
The On Balance Volume indicator also shows that many more traders are selling their AVAX cryptocurrencies and in larger volumes compared to buyers. There is also a flight to liquidity, as well as in the market as a whole at the end of the week.
AVAX/BTC Evolution: Still Positive
In relation to bitcoin, the chart is similar to the chart in relation to the dollar.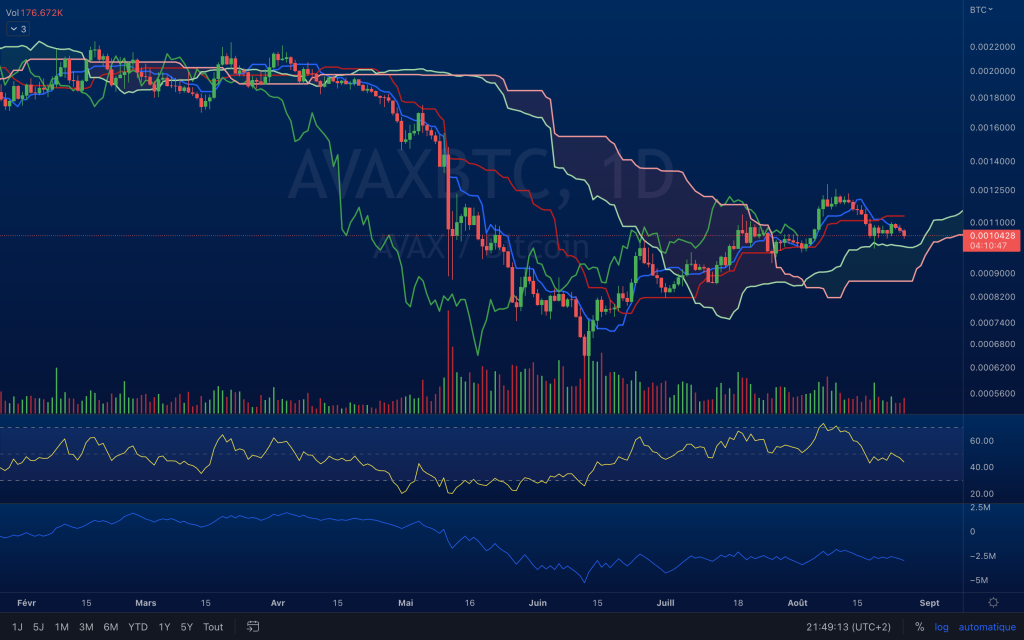 AVAX/BTC – daily chart
Indeed, prices are under pressure from the daily Tenkan, which is pulling them towards the daily cloud. Although AVAX outperformed bitcoin in the summer, like many other cryptocurrencies, watch out for the reversal. A thin cloud hanging over prices should remind us of a critical situation.
And the crypto market as a whole remains under unstable pressure. The geopolitical and economic situation continues to deteriorate. And the Federal Reserve is here to remind us. Until inflation and economic demand return to normal, it will not slow down and will continue to reduce the liquidity present in financial markets.
Thank you for following this technical analysis! And see you on Monday for bitcoin and ethereum news on video!