Dear readers, hello! Here is Romain, a technical report on the change in the price of the $AVAX cryptocurrency. What is the main technical support? Return of the bull trend? What is the evolution compared to bitcoin? technical focus.
Avalanche is a project launched in September 2020. It aims to develop decentralized applications (dApps) and can generate low-cost and fast transactions.
AVAX — Weekly chart: attacking Tenkan!
Prices decided to compensate for the weakness. And find a way to rise for two weeks.
AVAX – weekly chart
Technically, this week's candle (July 18-24) is trying to break through the weekly Tenkan. This technical level is key. If the breakout is confirmed, prices will be free to move up to $30 and then to $62.4, the next important mid-term technical level. Finally, $80 is a possible target for September if prices show significant upside momentum. This final level is the last technical bastion before returning to tickle the $148 high point!
In addition, the RSI accompanies prices in this rebound attempt. After touching the oversold limit, this signals that the low point of June 13, 2022 is an important level that will be strong support in case of a pullback located at $16.
AVAX – daily chart: go to the cloud!
Since July 16, AVAX has broken into the daily cloud again.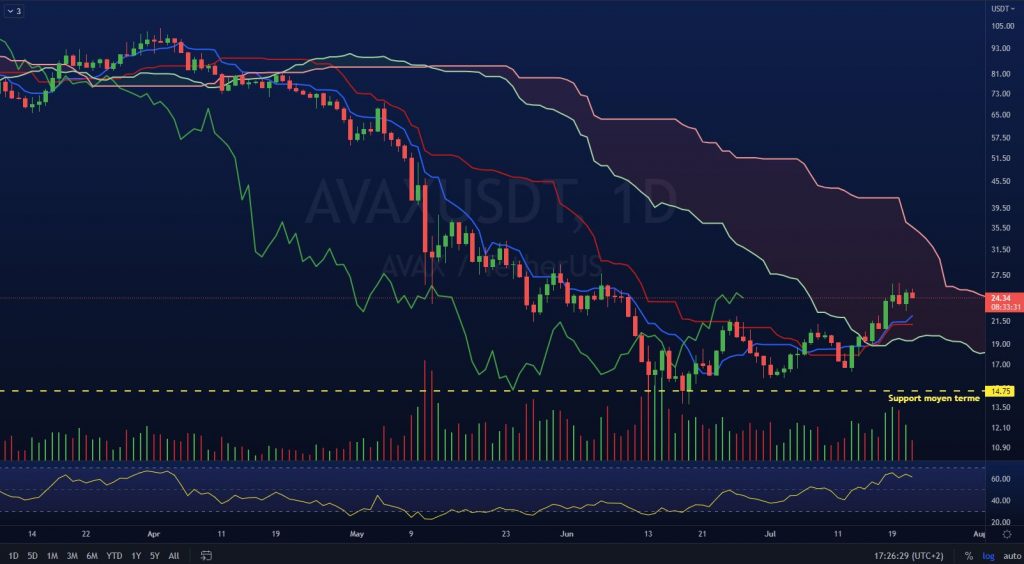 AVAX – daily chart
Accompanied by higher volumes, prices find a short-term uptrend, which allows them to approach the top of the daily cloud.
The test of this cloud will most likely take place at the end of July or even the beginning of August. A break of $27 would confirm the rebound and this uptrend, giving prices an opportunity to access much higher levels such as the $42 represented by the daily SSB flat.
Here too, the daily RSI confirms the trend and above all a bullish reversal with a break of the key 50% level.
Evolution of the AVAX/BTC pair: superiority over number 1
AVAX is showing great form against Bitcoin. Indeed, this one since June 13, 2022 has generated a fairly substantial rebound. Discount of at least 75%!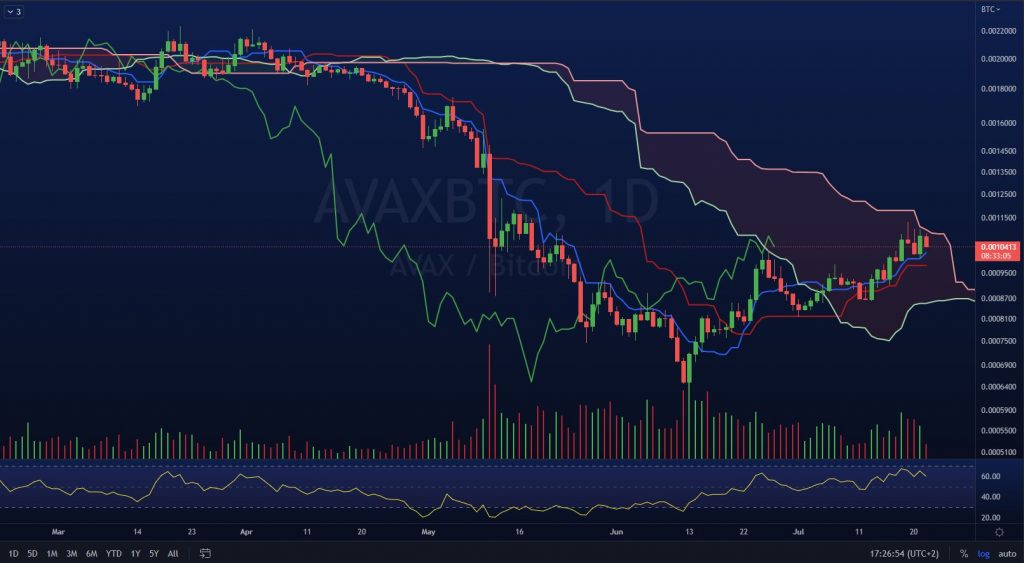 AVAX/BTC pair – daily chart
As before, the cloud acts as a port and blocks prices. The daily SSB is the final goal to pass in order to continue this dominance over the #1 cryptocurrency.
The daily Tenkan plays a very good support role in this situation.
Finally, volumes and RSI also confirm that prices can continue like this, with a bullish situation like the one mentioned above.
Only an unknown situation will interfere with the growth that AVAX enjoys. This cryptocurrency, like many alternative cryptocurrencies, has been enjoying a risk-hungry market for several days now.
To be continued…
Thanks for following this review. And I'll tell you next week to parse another token.