The second largest payment processing network partners again with Binancethe world's largest cryptocurrency exchange, to support cryptocurrency payments from 90 million merchants.
On Tuesday, Mastercard CEO Michael Mibach stated on LinkedIn: We can unlock the full potential of blockchain technology if we make it easy to access and use.R".
"Introducing cryptocurrency into everyday purchases is one way to do this. We are working with Binance to enable crypto users to pay at the 90+ million+ merchants that accept Mastercard to make this a reality.".
Mastercard CEO announces that his group is working with Binance to enable people to use their cryptocurrencies in over 90 million businesses. This solution will first be launched in Argentina https://t.co/oFAY6b9Z1M.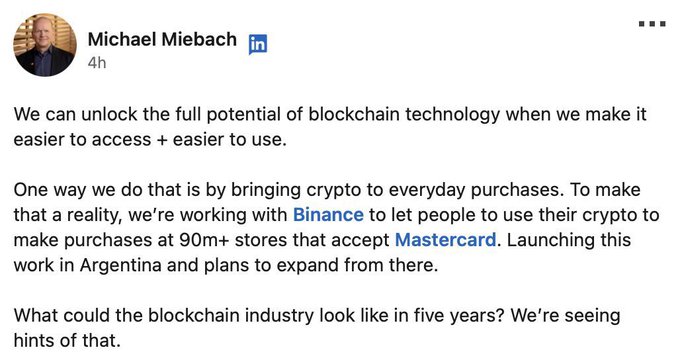 The Binance App Dashboard and Website will allow holders to manage their cards. The platform will also allow users to view their transaction history and contact customer support.
Initiative launched in Argentina
The company started the initiative in Argentina and intends to grow from there, Mibach said.
Binance and Mastercard announced earlier this month that they had teamed up to present map a prepaid card in Argentina that will connect cryptocurrency and everyday trading.
Users in the region with a national ID can use a Binance card issued by Argentine-based payment solution provider Credencial Payments to make purchases and pay bills using cryptocurrencies such as bitcoin.
At the time of the transaction, clients' cryptocurrencies are instantly converted into fiat currency. Card users will also be able to receive 8% cashback in cryptocurrency and withdraw money from ATMs for free.
Read also "Absolute disaster", this is a serious warning about the next cryptocurrency crash "According to these experts, it will be scary"
L'Latin America is considered a hotbed of cryptocurrency-related adoption and activity as, according to Mastercard statistics, 51% of its users have made at least one cryptocurrency-related transaction there.
💎 Get Free Crypto Watches
Quickly Done, Well Done Crypto Watch: Every Friday at 20:00 sharp, get our free crypto watch in your inbox. 100% value added, 0% spam!
🔥 Receive as a bonus a free guide "Find the Nuggets of the Future": learn how to analyze cryptocurrencies like a pro, avoiding red flags and scams to start or continue your adventure in the cryptocurrency world.