After a great start to the year, Bitcoin is currently treading water. Moreover, the fundamental news remains pessimistic and doesn't seem to be getting better… Which is likely to revive the month of March!
Bitcoin – weekly chart
The medium-term chart offers little change, driven by concrete resistance and investors remaining vigilant. Risk is definitely not on the agenda yet.
Bitcoin – weekly chart
However, it should be noted that Bitcoin is doing better than some of the major indices, which remains an honorable mention! In the medium term, the possibility of continued growth will only take place if the $25,000 level is broken. This major resistance remains the black dot of Bitcoin. She repeatedly refused buyers during the year.
Getting off the top of this resistance would be powerful and allow Bitcoin to find a new breath to look for much more resistance. However, we will probably have to wait for improvement in fundamental news, which is not going in the direction of the market yet.
Bitcoin – daily chart
After two good moves up and locking at the resistance mentioned above, it is normal for prices to pull back. The question is how powerful this pullback will be.
To remain solid, Bitcoin needs to fully defend $20,400, this remains major support as combined with a medium to short term time horizon. If the latter loses, there is no need to say that the uptrend is over. And that you can be afraid of a return to the $17,700 zone.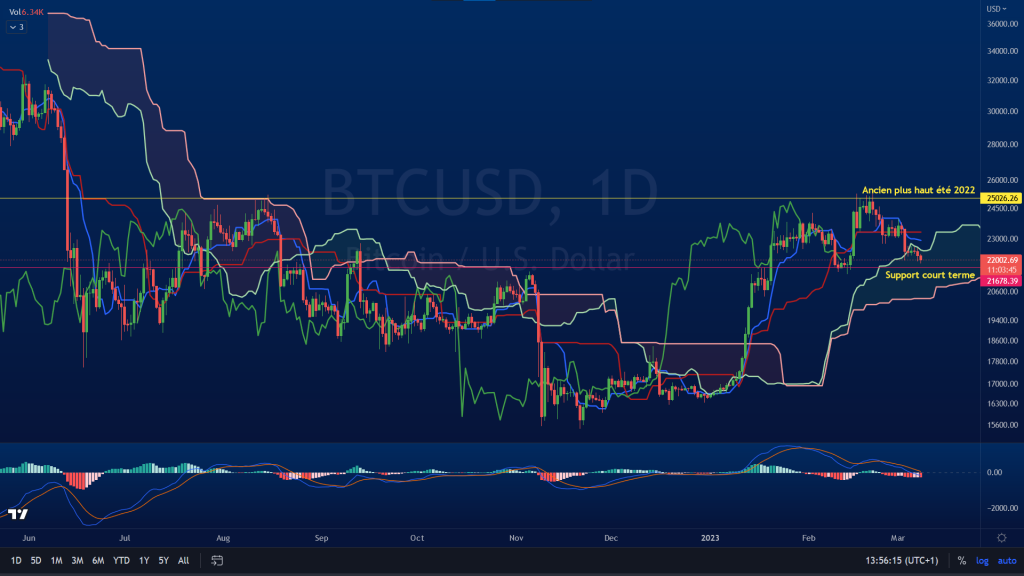 Bitcoin – daily chart
Since the weekend, the trend has been suspended. With re-entry of prices into the daily cloud. Therefore, Ichimoku calls for caution. This neutrality will actually be in great danger coming out of the bottom of this daily cloud.
This situation is still likely, especially as central banks confirm their desire to raise key rates much higher than markets think. This scenario, little expected a few days ago, now seems to terrify all operators. What promises volatility and animation in March. The announcements of March 21 and 22 are worth keeping an eye on to see how much the key rates will develop.
This bitcoin price analysis is offered to you in partnership with CryptoTrader™ and its algorithmic trading solution finally available to individuals.
Trading cryptocurrencies carries a high level of risk and may not be suitable for everyone. It is recommended that you be fully informed of the associated risks. And invest only the amounts you can afford to lose.
The content offered on the CryptoActu.com website is for educational and informational purposes only. They are in no way recommendations. They cannot be considered as an incentive to trade in financial instruments.
The CryptoActu.com site does not guarantee the results or effectiveness of the presented financial instruments. Therefore, we disclaim any liability for the use of this information and the possible consequences.