Will CryptoKing's Technical Rebound End Faster Than Expected? – Although Bitcoin (BTC) seemed to be on track for a continued bullish correction of its bearish move since its last ATH in November 2021, it has been struggling to overcome the strategic resistance around $26,000. And in a week that was marked by geopolitical tensions between China and the United States over Nancy Pelosi's visit to Taiwan, the king of crypto failed to perform well, and that's in contrast to gold, which usually does well with this type of risk.
In addition, we also note a divergence with US stocks (Dow Jones Industrial, S&P 500 and Nasdaq Composite), which have been clearly positive this week. I wonder if Bitcoin has lost the common thread of its technical bounce off the $20,000 support. To make matters worse, the Fed's monetary tightening is likely to continue due to good US employment data released on Friday. This will exacerbate the shortage of dollars in circulation to the detriment of the most volatile classes of risky assets and, in particular, cryptocurrencies.
Finally, graphically speaking, the latest technical analyzes show no desire to significantly correct the last down wave of last spring. To the point that a sharp slowdown under $26,000 resistance could spoil the relative improvement in BTC prices since mid-June.
This bitcoin price analysis is brought to you in collaboration with Le Trading du Coin and its algorithmic trading solution finally available to individuals.
Bitcoin in Weekly Units – A Slow Start to August
The forming weekly doji will signal us that the bullish momentum of the previous two bullish candles may be ending. Buyers are in no hurry to press the accelerator pedal, and late sellers have already weakened. Apart from a better weekend, this technical signal would not have been timely. Moreover, this happened at a time when the technical rebound of US stock indices and gold was still confirmed.
Watching BTC prices stall below the Tenkan, close to the $26,000 resistance, could see a continuation of the bearish breakout since the last ATH in November 2021. The longer this technical signal lasts, the worse the relapse will be. Recall that in any case, investors cannot sleep comfortably on two ears, since the prices of the king of cryptography and the Chikou Span always remain below Kumo (Ichimoku clouds). And this is regardless of whether we break the $26,000 resistance or not.
Another point to be noted concerns the evolution of Kijun under the cloud. For analysis, it has been stuck below the $35,000 resistance since the week of June 27th. However, a bearish sync with Tenkan will cause havoc that many investors would like to do without. On the one hand, this is likely to jeopardize the technical rebound from mid-June. And on the other hand, it will potentially cause a new mass reset in an atmosphere of capitulation. Hence the hypothesis about the threat of condemnation of the famous $20,000.
Bitcoin in Daily Units Ends Seven Days in a Row of Declines and Prices Still Inside Kumo
You may not have noticed this at first glance. But Bitcoin could end its seven-day losing streak in a row. Although there is no danger in the house, this is a fact to be considered in the continuation or absence of a technical rebound from mid-June. At the time of this writing, digital currency Satoshi Nakamoto has been able to keep the bare essentials: prices above the $22,000 triple bottom support and inside Kumo. This would keep the $26,000 win scenario alive. Assuming sine qua non that Friday's bullish candle is followed by one or two other candles of the same kind.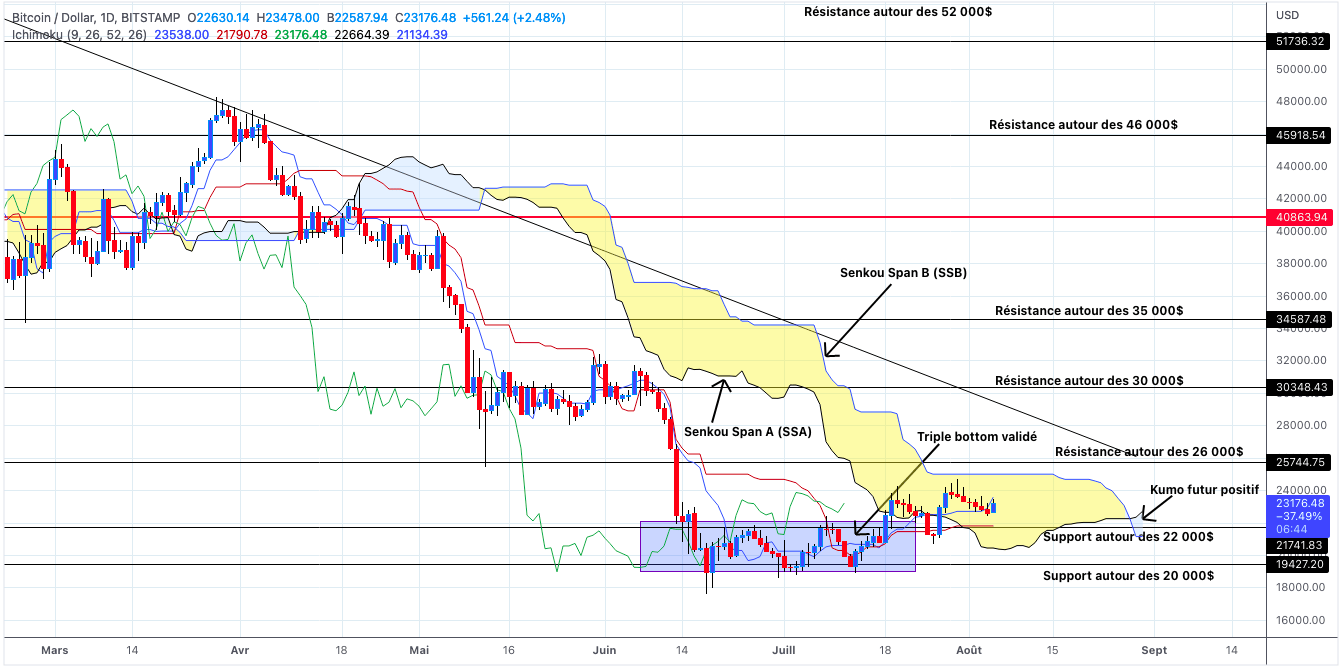 And if things go idyll, then BTC prices may again slightly exceed Kumo in daily units. But at the same time, Chikou Span may collide with the lower boundary of the cloud, Senkou Span A (SSA).
In order to neutralize the short-term trend in daily units, a final cloud crossing will prove necessary to consider a hypothetical return to $30,000 resistance. With Chikou Span, which will be inside Kumo. In contrast, the extension of the technical bounce does not offset half of the losses of the last bearish wave due to the dip below the $46,000 resistance level. As well as the fact that investors in cryptocurrencies may suffer during 2022.
The warning below the $26,000 resistance I mentioned last week is temporarily in effect as we speak. In order for us not to see the end of Bitcoin's technical rebound, this level must be crossed. The sooner this favorable technical signal appears, the more the capitulation, which many investors fear so much, will be postponed until later. What to offer a summer respite on cryptocurrencies after their killer spring.
However, a truly favorable trend reversal is not required. Not only that, we have reminder powers like Shoulder-Head-Shoulder (ETE) and Kumo's troubling future trajectory in weekly units. But the bearish flight descending line crossing could turn out to be a sham if the current uncertainty in the financial markets regained ground. Thus, to hope for a truly favorable outcome at the chart level, it would be necessary to send a heavy one, profitably threatening the price zone around $41,000-46,000. And it is clear that we are far from the goal.
Is it possible to be a winner every time? Whether the price of bitcoin is in great shape or is experiencing turbulence, Coin Trading invites you to increase your chances of success. Indeed, Trading Du Coin allows individuals to access an algorithmic and 100% automated trading tool. A true trending mechanism, this tool has been designed to adapt to market reversals and position itself on the most dynamic crypto assets of the moment.