Bear realm – Bitcoin (BTC) price is losing a key level. The bulls are still lacking the strength to confirm a bullish rally that could allow the crypto king to reach new local highs in a month.
This bitcoin price analysis is brought to you in collaboration with Le Trading du Coin and its algorithmic trading solution finally available to individuals.
Bitcoin Price Below Major Bullish Support
Today, August 4, 2022, the price of bitcoin has fallen to $22,390. The cryptocurrency closed the day at $22,480, with an estimated daily loss of 3.30%.
Trader Rekt Capital pointed to the fact that Bitcoin is "still trying to retest" the 200-week moving average as support.
Rekt Capital publication – Source: Twitter
The end of the week is approaching, and bulls need to at least hold the price of the cryptocurrency above this average in order to at least partially confirm the start of a relatively strong technical bullish rebound.
However, according to Rekt Capital, "Currently there is very little buying volume to support this new test." Sellers lead the markets in volume "so far all week".
Stocks outperform BTC price
While the weekly bull run above the 200-week moving average thus appears to be compromised, Cryptobirb trader has shared a chart that shows bitcoin falling below the trend line.
This breakout could portend "more spin-offs" for bitcoin price in the near future.
Cryptobirb post – Source: Twitter
As such, traders are highlighting signs of relative weakness in Bitcoin. According to trader Pedma, the cryptocurrency has even shown "relative weakness against the S&P500" in recent days.
The S&P 500 has been "producing green bars every day" while the price of bitcoin has been clinging to red candles this week.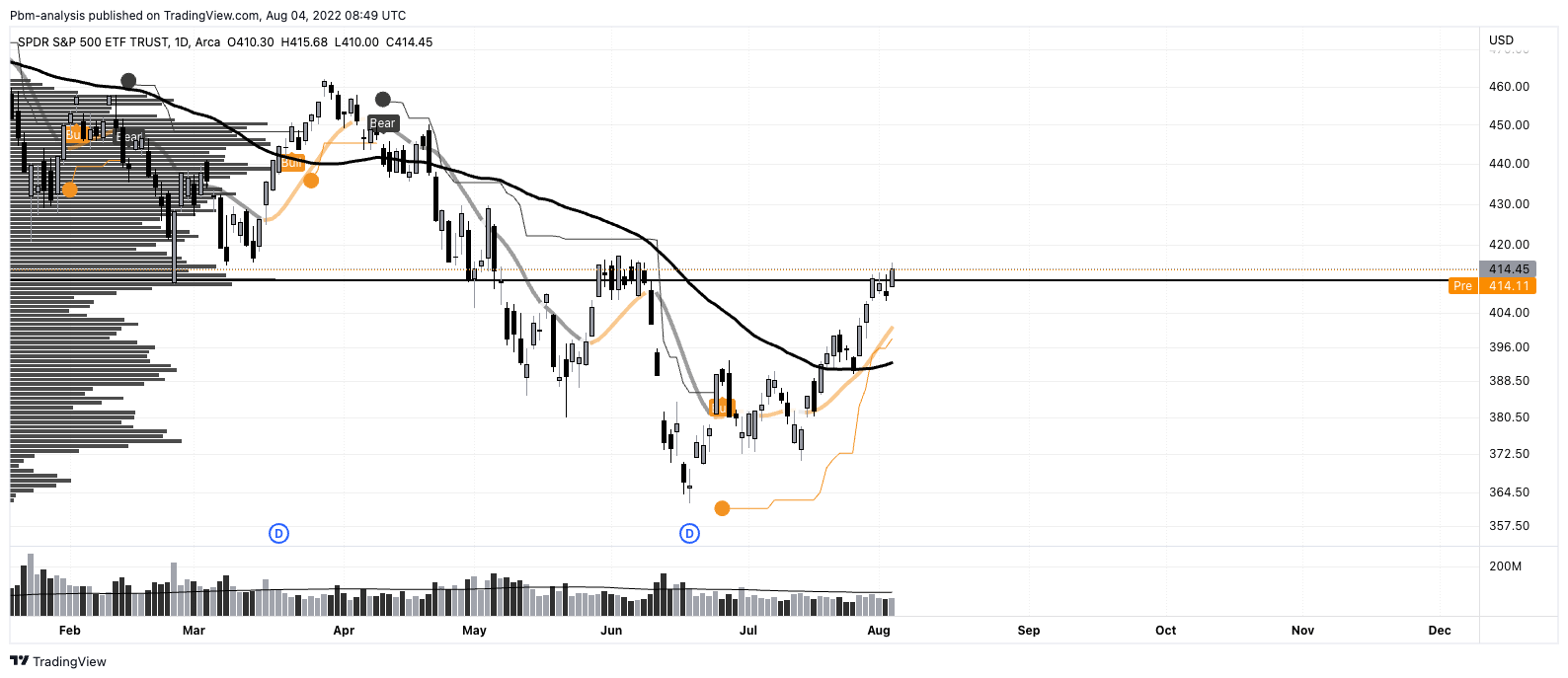 Author: pedma – Source: Twitter
Author: pedma – Source: Twitter
This relative weakness of the cryptocurrency is obviously not a "very good sign" if we expect any significant recovery. »
This bearish outlook contrasts with this analysis, which claims that the price of bitcoin is about to enter a pre-bullish phase. A weekly close below the 200-week moving average will confirm that the bulls are not yet ready to regain control, even in the short term, despite last week's encouraging signs. Although today's traders' forecasts are rather pessimistic, the markets have three more days to change everything.
Is it possible to be a winner every time? Whether the price of bitcoin is in great shape or is experiencing turbulence, Coin Trading invites you to increase your chances of success. Indeed, Trading Du Coin allows individuals to access an algorithmic and 100% automated trading tool. A true trending mechanism, this tool has been designed to adapt to market reversals and position itself on the most dynamic crypto assets of the moment.