Bank of America, one of the largest banking institutions in the US, demonstrated in its latest study that Bitcoin (BTC) cannot be used as a hedge against inflation.
Bitcoin is approaching the stock market
One of the main arguments in favor of bitcoin is that it protects against inflation, which means that its value will persist over time.
Two analysts from Wall Street giant Bank of America called bitcoin a risky asset rather than a hedge against inflation in a recent report, stating that cryptocurrencies often follow stock markets.
Alkesh Shah and Andrew Moss highlighted the high degree of correlation between the S&P 500, Nasdaq 100 and Bitcoin over the 180 days ending January 31, 2022. Find out about this correlation with our dedicated analysis.
This connection between bitcoin and the stock market has become very clear recently. In the current macroeconomic conditions, they are synchronized. For example, after the Federal Reserve announced on Thursday that it would raise interest rates by half a percentage point, the value of bitcoin fell along with stocks, which continues today. Analysts expect this correlation to continue for the foreseeable future.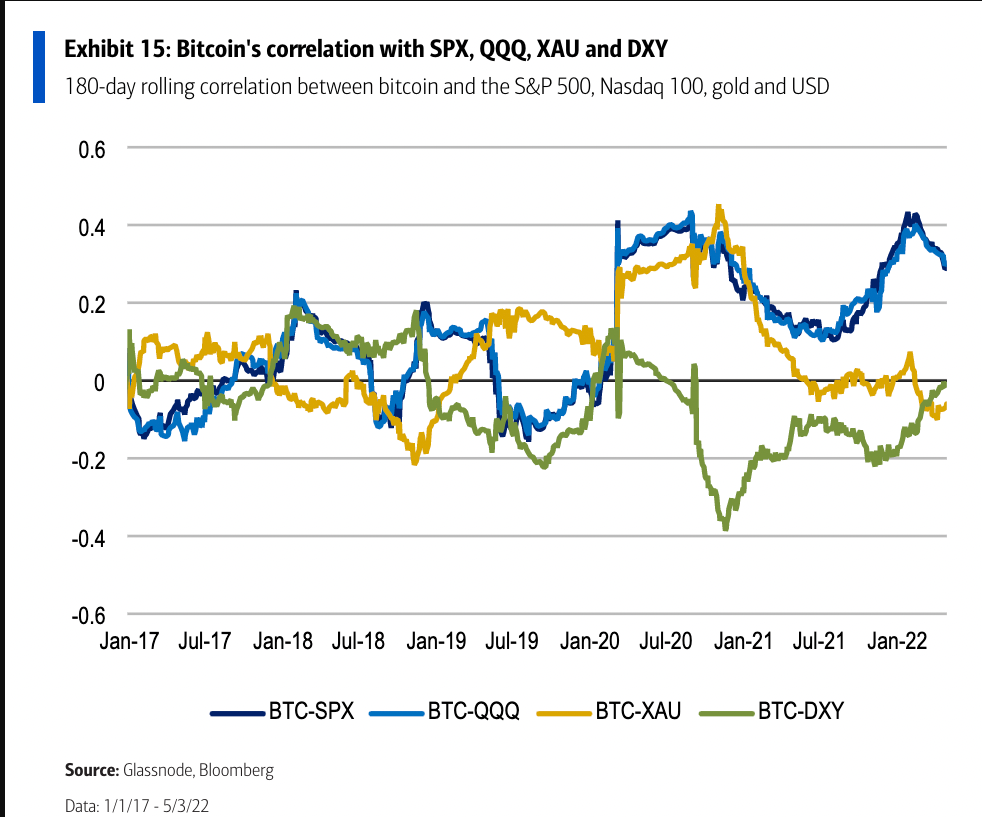 source: Bank of America
Relationship between BTC and gold
One argument for using bitcoins as a hedge against inflation is their limited supply of 21 million. Unlike central banks, which can print fiat currency for government aid programs and other purposes and thus increase the circulation of fiat currency indefinitely, thereby raising the price of essentials, it can never exceed 21 million bitcoins.
Recently, former The OC star and cryptocurrency critic Ben McKenzie derided bitcoin's bloodline as an inflation hedge, citing its decline from the $69,000 high in November as a reason to shelve and cast doubt on the inflation hedge hypothesis. Bitcoin vs Gold, Ricardo Salinas reveals the factor that gives cryptocurrency an edge.
While some see bitcoin as a store of value, the correlation between bitcoin and gold has been zero since last June and has turned negative over the past two months. "Bitcoin is still in the early stages of its maturity to firmly enter the digital gold category," Vijay Aiyar, senior executive, told CNBC. He noted that bitcoin needs to be more widely adopted in order to be considered digital gold.
The traditional and crypto markets have been in freefall for several days now, heading into bearish territory with assets trading 20% ​​or more below their most recent high. The underlying S&P 500 is down 15% this year, while half of Nasdaq stocks are down more than 50% from their peak.
Bitcoin has fallen again. The famous cryptocurrency is down about 55% from its November peak of $69,000 and is currently trading below $32,000. For many bitcoin holders, this means that their wallets are in the red.
Therefore, bitcoin is increasingly correlated with the stock markets, however, it is always important to remember that DCA and hodlers remain much simpler and more calming methods than professional trading. 1 BTC = 1 BTC and no one can change it.
Get a digest of news from the world of cryptocurrencies by subscribing to our new daily and weekly newsletter so you don't miss any important Cointribune news!
Alexis Patin
Passionate about geopolitics, economics, cryptocurrency, Eurasia and travel! (as far east as possible), crypto trader 4 years.