Caution in green – Bitcoin (BTC) price is trying to conquer key levels above $21,000. Once again, the cryptocurrency needs to break important resistances to continue its bull run and avoid a possible return below $20,000.
Super trend is back in the green for Bitcoin price
Today, January 16, 2023, the price of bitcoin on Bitfinex rose to $21,433. At the time of writing, the cryptocurrency is trading at $21,298. Its price is currently registering a daily increase of almost 2%.
Bitcoin continues the rally it has been in since the start of the year and absorbs losses from the FTX crash in November. It is not surprising that traders and analysts are optimistic forecasts.
Analyst Matthew Hyland shared a chart that shows "Bitcoin's 3-day supertrend has officially flashed green for the first time in over 13 months."
Author: Matthew Hyland – Source: Twitter
Trader Adrian Zdunczyk shared a chart showing past bullish breakouts followed by a long rally. These breakouts seem to bear similarities to the current breakout. Adrian Zdunczyk believes that the latter could be a "good candidate to start a new bull market" for bitcoin.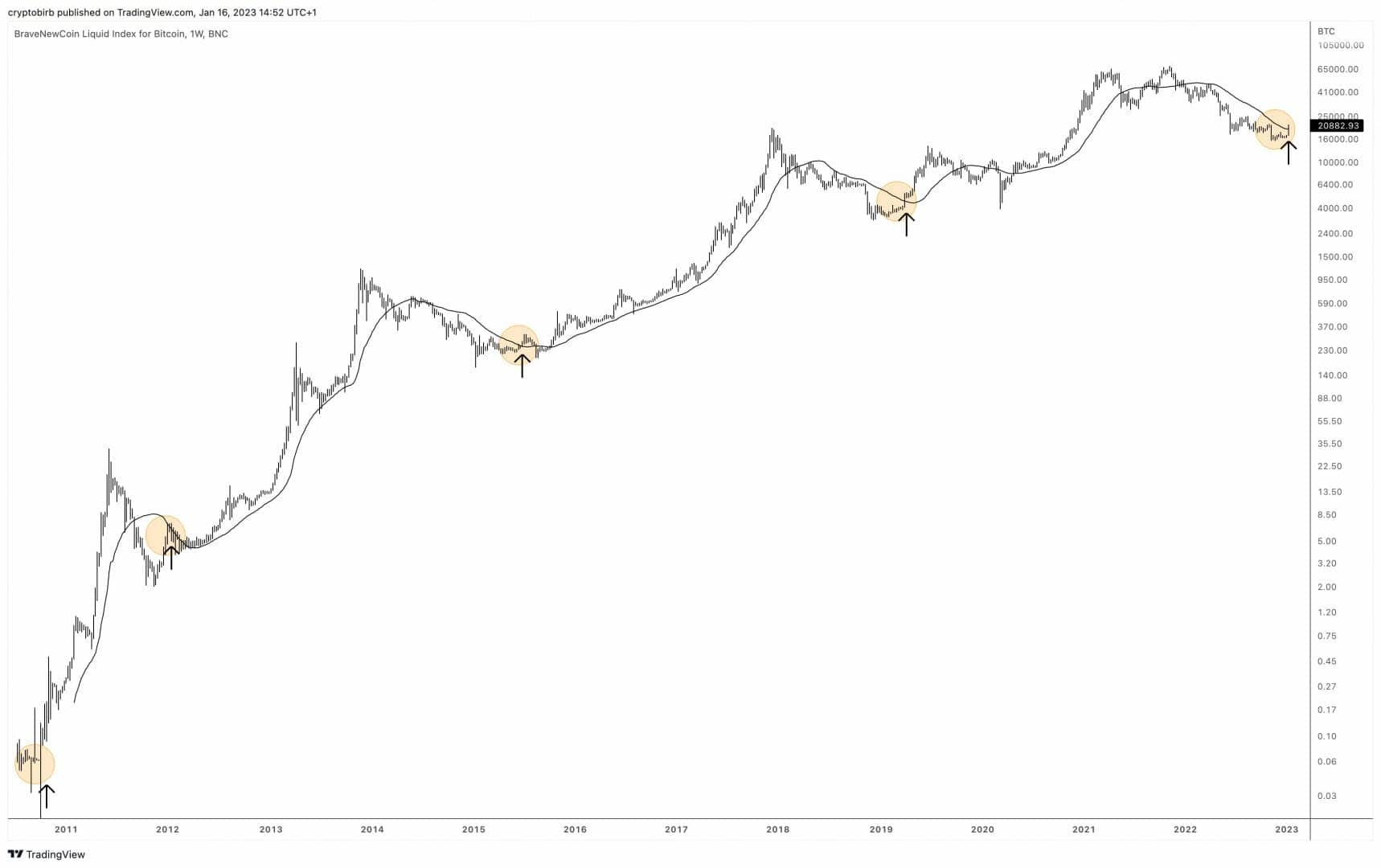 Posted by Adrian Zdunczyk – Source: Twitter
>> Discover Bitcoin on Binance, 10% off with this link (commercial link) <
Possible resistance after bullish breakouts
On a weekly basis, the price of Bitcoin managed to close above the Kijun Sen last week – the red line on the chart below. Chikou Span is currently facing a bearish candle of the week from last July 10, a red circle.
BTC USD in weekly unit
Technically, the levels around the $21,575 open price of this candle could represent resistance, which could complicate bullish continuity. This level is also close to the opening of the week of November 6 at $21,313. FTX crashed this week.
That $21,575 is a few hundred dollars in monthly rebate from Tenkan Sen. Tenkan is currently priced at $21,899 – a dark circle.

BTC USD in monthly unit
So the bulls could take the time and do it more than once to cross this $21,300-$21,900 zone. On paper, a rejection at $21,300-$21,575 could lead to a weekly retest of the Kijun Sen at $19,420.
Bitcoin has risen, but bulls must continue to break resistance above current levels before they can say it's bulls revenge time. The possibility of a major correction, nullifying recent gains, cannot be ruled out.
To sleep well, arm yourself with a secure Ledger hardware wallet, there is something for everyone. Your security is priceless (commercial link).