Bullish caution. The price of bitcoin (BTC) temporarily lost $23,000, a drop that reminds us that the rise of recent days does not mean that the bulls are back in the markets for a long time.
This bitcoin price analysis is brought to you in collaboration with Le Trading du Coin and its algorithmic trading solution finally available to individuals.
Fake bitcoin price breakout
Today, July 21, 2022, the price of bitcoin on Bitfinex dropped to $22,350. However, it manages to rise above $23,000 again. The cryptocurrency is trading at $23,162 at the time of writing. Its price is currently recording a daily loss of 1.88%.
The $23,000 temporary loss has left some traders worried about the real nature of Bitcoin's price rise over the past few days.
As the price of the cryptocurrency surged to $22,550, trader Rekt Capital believed that "the recent rally looks like a false break" above the 200-week moving average.
Rekt Capital publication – Twitter
He recalls that Bitcoin needs to close the week above $22,800 to "confirm a break" of this average, which plays an important role as bullish support.
Retest before further increase
However, not all traders are pessimistic about today's decline. Trader Mikael van de Poppe shared a 1-hour bitcoin price chart while pointing out a "good retest" around $22,300 where buyers seem to be huddling at the moment.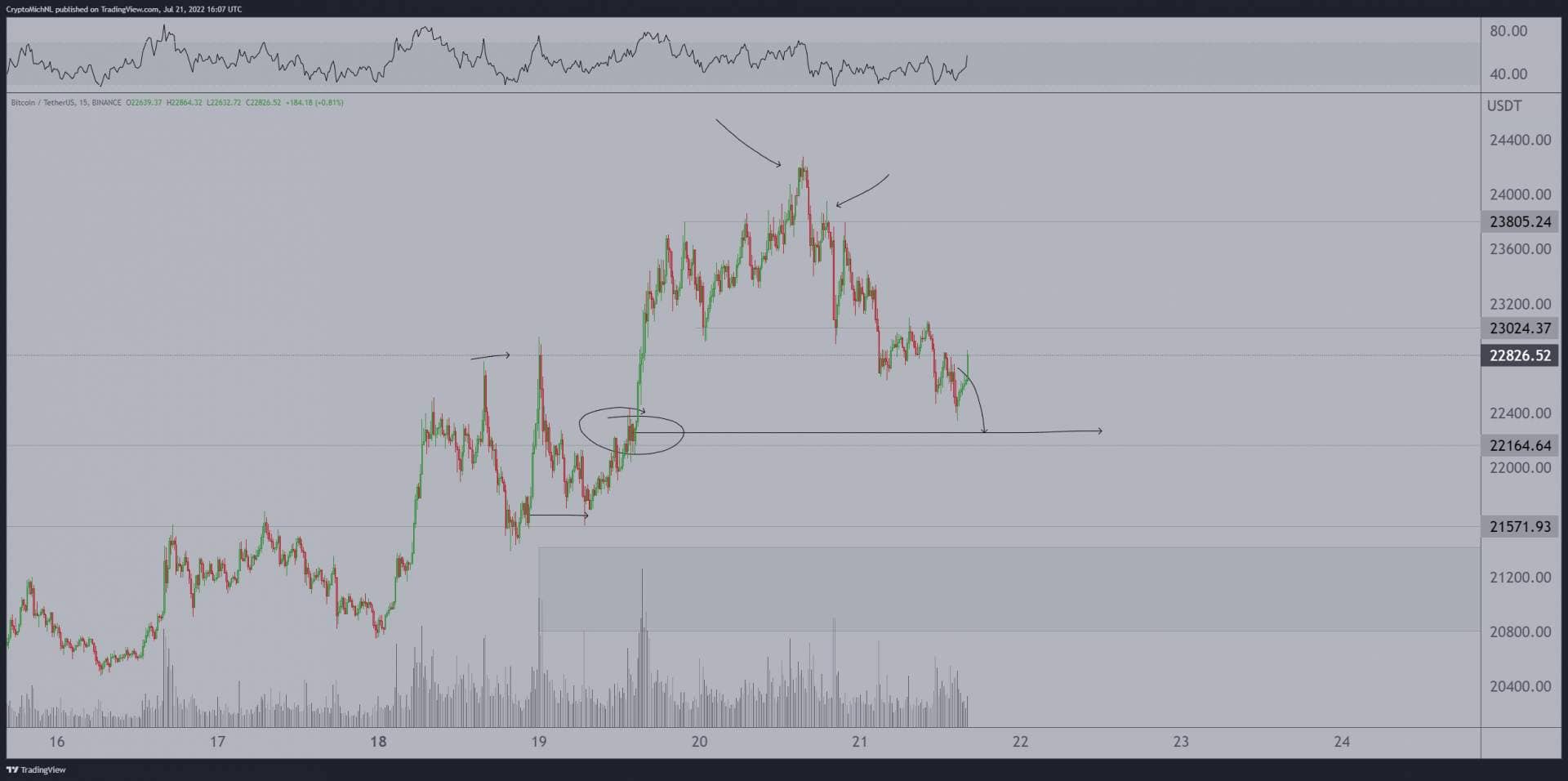 Posted by Mikael van de Poppe – Twitter
Mikael van de Poppe believes that if Bitcoin manages to make a higher low at $22,600 on this time frame, the bullish momentum should continue.
BTC Price: Bullish Threshold
However, in case of a fall in the next few days, crypto trader Tony is setting $21,700 as a protection level.
Post by Crypto Tony – Twitter
On the 1 hour bitcoin price chart shared by the trader, that $21,700 is in line with a former very short term resistance line that the bulls were able to break through and turn into support, successfully defending that level with two tests.
The upward trend in the very short term, which, however, has yet to be confirmed, is still unstable. Various tests of current supports, and in particular the 200-week moving average, could end up either breaking out in favor of a strong bearish return, or strengthening these supports for further gains.
Is it possible to be a winner every time? Whether the price of bitcoin is in great shape or is experiencing turbulence, Coin Trading invites you to increase your chances of success. Indeed, Trading Du Coin allows individuals to access an algorithmic and 100% automated trading tool. A true trending mechanism, this tool has been designed to adapt to market reversals and position itself on the most dynamic crypto assets of the moment.