Make a cross on the recovery? Bitcoin (BTC) has fallen below $30,000 again. Traders are trying to determine the next stops if the bears manage to apply further strong downward pressure.
The Bitcoin (BTC) daily rate is offered to you in partnership with Trading du Coin and its algorithmic trading solution finally available to individuals.
Bitcoin after the death of the cross: $22,700, sure?
Today, May 20, 2022, the price of bitcoin on Bitfinex rises above $30,760. He subsequently loses $30,000. At the time of writing, Bitcoin is trading at $29,231. It is currently recording a daily loss of 3.38%.
As the day is bearish, traders are anticipating further declines in bitcoin.
For trader Mikael van de Poppe, $29,300 remains a critical level. If bitcoin manages to hold above this level, "I will see a continuation in the markets." Otherwise, Bitcoin could fall to $26,000.
Posted by Mikael van de Poppe – Source: Twitter
Meanwhile, trader Rekt Capital posted a series of several tweets to analyze possible post-death bearish scenarios to forecast possible price levels above those recently affected.
The death cross is when the 50-period moving average falls below the 200-period moving average. This has been the cause of major recessions in the past. To predict dips after such a bearish crossover, Rekt Capital points out that:
"Most often, the depth of BTC correction before the Death Cross is similar to the depth of recovery after the Death Cross."
However, in March 2020 and May 2021 this rule was not respected. The cross of death was in these periods at the very bottom of the fall.
In 2022, the death cross occurred in January, when bitcoin had by then already fallen 43% from its all-time high of $69,000.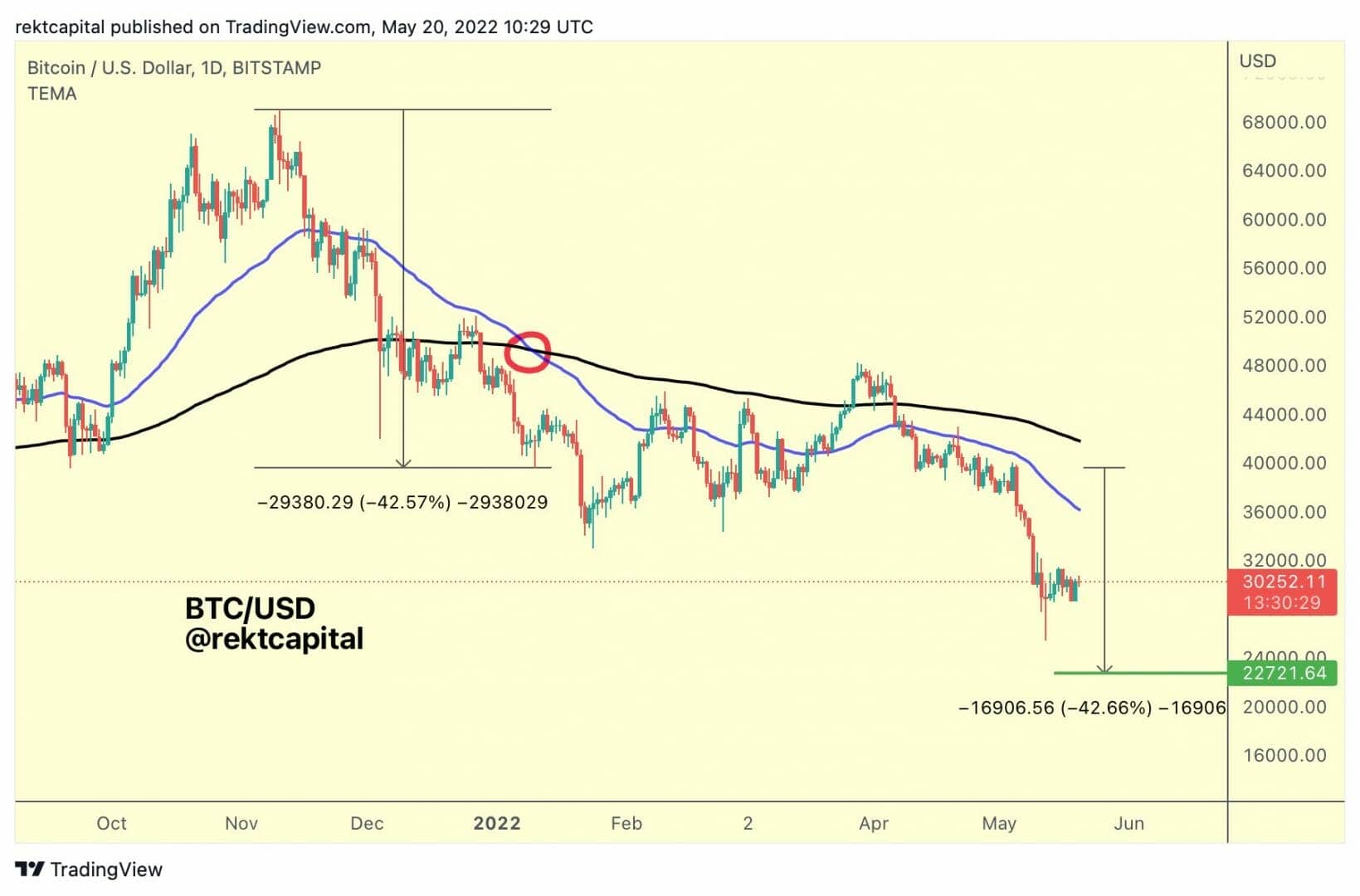 Rekt Capital publication – Source: Twitter
Based on the previous theory, a 43% after-death drop would bring down lows starting from January 2022 to $22,700.
The next bitcoin target levels are looking increasingly clear for bitcoin. If the bulls take the lead, then Bitcoin will have $33,000. Otherwise, posthumous cross theories seem to argue for a drop to around $22,000, and if expanded to $20,000 underwater.
Is it possible to be a winner every time? Whether the price of bitcoin is in great shape or is experiencing turbulence, Coin Trading invites you to increase your chances of success. Indeed, Trading Du Coin allows individuals to access an algorithmic and 100% automated trading tool. A true trending mechanism, this tool has been designed to adapt to market reversals and position itself on the most dynamic crypto assets of the moment.