Bitcoin Price Predictions: BTC adoption continues around the world, but especially in Australia, where 61% of crypto investors own Satoshi Nakamoto's coin.
Given the exponential growth in the adoption of blockchain technology, a panel of experts expects the price of Bitcoin (BTC) to reach $79,000 by 2025.
Rome was not built in a day. It took millions of bricks, decades of labor and hundreds of architects and masons to build the emblematic capital of our transalpine neighbour.
Now you are probably wondering why we are telling you about Rome in an article on cryptography. You are reading this article because you are interested in the world of cryptocurrencies. We took the example of Rome to explain to you that the mass adoption of cryptocurrencies will not happen overnight.
The good news is that, despite the current bear market, the adoption rate of cryptocurrency continues to rise. What exactly does this mean? This means that crypto is here to stay.
Source: Seeker
The Finder analytics platform recently conducted a survey of internet users from 26 countries to measure the growth in cryptocurrency adoption.
Not surprisingly, India tops the list with an acceptance rate of 28%. It is followed by Nigeria, where the adoption rate is 26%. Australia ranked 5th with 20% just behind Vietnam (23%) and Hong Kong (21%).
Is Australia really ready to become a bitcoin country? Explanations.
Focus on the cryptocurrency market in Australia
Organizations or individuals who buy or sell Bitcoin have seen it all, from storms to clear weather. However, they have always trusted countries that use cryptocurrencies as a store of value. Nowadays, everything says that Australia is a pioneer in this field.
According to a report published by Finder last month, Australia tops the list of 26 countries polled for cryptocurrency adoption. Bitcoin (BTC) is Australia's favorite cryptocurrency, followed by Ethereum (ETH) and Dogecoin (DOGE).
Source: Seeker
According to the report, 61% of Australian crypto investors own bitcoin, while the global share of crypto investors owning the asset is no more than 36%. Hence, Australians are by far the biggest followers of Satoshi Nakamoto's cryptocurrency.
Ghana came in second with a share of 58%, followed by Nigeria with 48%. At the other end is Mexico, where 22% of crypto investors say they own bitcoin.
Crypto Adoption: Demographics
Of those surveyed in Australia, 60% are men, 40% are women. As you have already understood, the gap between men and women still exists.
"On average 36% [des investisseurs crypto] women and 64% men. Norway has the biggest gap: 75% of Norwegian crypto investors are men. Vietnam tops the list in parity [54 % d'hommes contre 46 % de femmes]".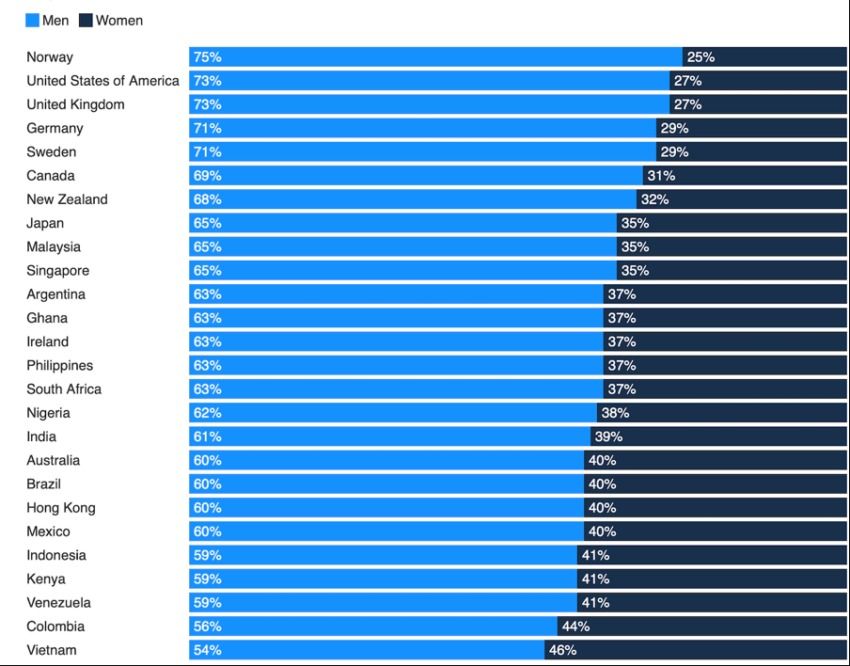 Source: Seeker
Bitcoin (BTC) Short and Long Term Price Predictions
Enough talking, let's get down to business. The Finder report also gives short and long term predictions for BTC.
55 industry experts (fintech/crypto) were surveyed about Bitcoin's price performance over the next decade. Here are their predictions:
"We estimate that the price of Bitcoin (BTC) will reach $21,344 by the end of 2022 and $79,193 by 2025."
Moreover, the price of bitcoin could reach $270,722 in 2030, according to the chart below.
Source: Seeker
Until a few months ago, even the most pessimistic analysts did not expect the price of Bitcoin to close at $21,000. However, given the current crisis in the crypto market, one can only hope that the next year will be kinder to BTC.
Keep in mind, however, that the price of bitcoin could drop to another low before this bear market is over. This was rightly pointed out by the authors of the report. Indeed, the panel of experts expects a peak price of $24,013 before the end of 2022, but does not rule out the possibility of falling to $15,283 by December.
Undoubtedly, the collapse of the crypto-asset market has greatly clouded the forecasts of Finder panelists.
EXMO CEO Sergey Zhdanov said:
"Nothing has changed for Bitcoin. This is a global capital market crisis. Bitcoin will suffer in the short term, but will eventually bounce back; many other financial assets will not."
Is Bitcoin still seen as a store of value?
Absolutely! 77% of the panelists believe that Bitcoin is still a store of value, while 19% believe the opposite. The remaining 4% do not really manage to decide on the issue.
In addition, 46% of experts advise buying bitcoins, and 44% of them are hodlers. On the contrary, 10% of the participants in the discussion recommend selling the asset.
"The main reason our panellists believe it's time to buy bitcoin is because the current price drop is due to macroeconomic factors rather than fundamental changes in the cryptocurrency."
However, Bitcoin is still under intense scrutiny both inside and outside the crypto market. Especially in Australia, especially due to regulatory uncertainty and relatively high inflation rates in the country.
In a statement on behalf of the Australian government, Prime Minister Anthony Albanese said: "Right now, the crypto industry is largely unregulated and we need to make an effort to find the right balance so that we can introduce new and innovative technologies. "
Given the interest of Australians in cryptocurrencies, the government is serious about adopting clear and transparent rules. But for now, legal ambiguity remains.
Denial of responsibility
All information on our website is published in good faith and for general informational purposes only. Any action taken by the reader based on information found on our website is done solely at his own risk.