Bitcoin fell below $ 30,000 yesterday, for the first time since January. What are the reasons? Should we be afraid of even greater decline?
Charles-Henry Monchau, CFA, CMT, CAIA, CIO of FlowBank
Reasons for the crash
As a reminder, Bitcoin began to fall in May after Elon Musk's tweets regarding its non-ecological aspect. After announcing the possibility of buying a Tesla electric car for bitcoin in March, Elon Musk reconsidered his decision in early May. The CEO justified his choice in the name of combating global warming. He then put forward the fact that the creation of a highly energy-intensive cryptocurrency was created primarily by Chinese "miners" whose electricity is produced primarily from coal.
The magnitude and suddenness of the bearish move was also attributed to the very high leverage used by many traders. The initial depreciation of bitcoin triggered very high margin requirements that only boosted sales.
Since then, bad news has followed for Bitcoin. A cyberattack on a U.S. oil pipeline led to a Bitcoin ransom demand. It didn't take more to renew the debate about banning bitcoin, or at least much stricter regulation of cryptocurrencies. But lately, most of the negative signals have come from China.
China attacks cryptocurrency
Indeed, a few weeks ago, the Chinese authorities decided to curb speculation on various asset classes. The focus is not only on commodities, but also on cryptocurrencies.
Authorities in Sichuan province in southwest China ordered the closure of cryptocurrency mines on Friday. Other regions, including Xinjiang, Inner Mongolia and Yunnan, have recently introduced similar measures.
The Council of State, the country's chief administrative body, pledged last month to take tough measures against Bitcoin mining and trading as part of a series of measures to control financial risks.
According to the University of Cambridge, China accounts for more than half of the world's bitcoin production, and Sichuan, where miners mainly use hydropower, is the country's second largest province for cryptocurrency mining.
The closure of these mining farms almost automatically triggered a drop in the "hash rate", which corresponds to the calculation speed. The hashrate has a strong positive correlation with bitcoin because the higher it is, the more reliable the bitcoin chain network is. This hash rate is currently at its lowest level since November 2020.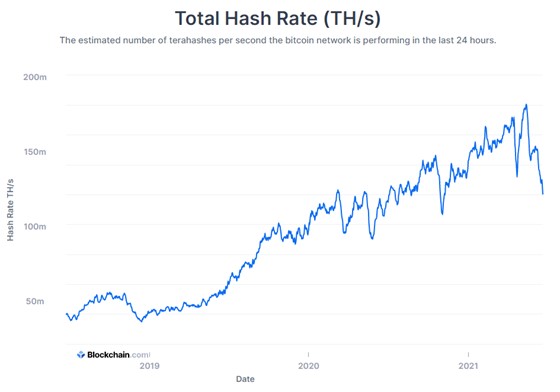 The People's Bank of China (PBC) said on Monday that it recently called out some banks and payment institutions to urge them to tackle cryptocurrency exchanges more vigorously.
The BPC has called on institutions to initiate a thorough investigation of customer accounts in order to close the payment channels of those allegedly involved in cryptocurrency transactions. Following this announcement, the Agricultural Bank of China, the third largest bank in the country, Alipay d'Ant Group and China Construction Bank announced that they are conducting checks to identify illegal cryptocurrency-related activities and to close suspicious accounts.
Will the dollar's rise prolong the bitcoin bear market?
Institutional investors who today view bitcoin as an asset with a place in a diversified portfolio do so based on two main arguments.
The first is a store of value.… In any case, this is the reasoning of Ray Dalio or the Winklevoss twins, who regard Bitcoin as "digital gold." For these investors, the dollar will inevitably depreciate over time. Consequently, investors must be able to protect their purchasing power; investing in bitcoin can fulfill this role. This topic has been relevant in recent years as the dollar continues to weaken.
Another argument for including bitcoin: it is decorrelation with other assets… Stellar hedge fund manager Paul Tudor Jones recently told CNBC that for this reason he will invest 5% of his personal portfolio in bitcoin.
But is Bitcoin really not correlated with the US dollar?
By examining the historical correlation between bitcoin and the dollar, we understand that this relationship is unstable over time and fluctuates a lot. In March 2020, the fall in bitcoin coincided with the rise in the dollar. Following massive interventions by the Fed in April 2020, the dollar began to fall again as bitcoin entered a phenomenal bull market. On this basis, it was indeed possible to conclude that there was a certain decorrelation between the dollar and bitcoin. But if we look at the past few months, the dollar has dropped to a low in late 2020 as bitcoin has continued to rise. It was only very recently that the dollar began to recover, despite the fact that bitcoin continues to decline.
How could a rising dollar hurt bitcoins? We have identified 3 main reasons.
The first is a "risk-off" signal sent by a strong dollar. Essentially, cryptocurrencies are highly risky assets, even if the dollar is the perfect safe haven when investors are looking for liquidity. It goes without saying that investors will be more inclined to keep crypto in a "risk" environment rather than dollars in a "risk free" environment.
The second argument is the use of money printing by central banks. The "helicopter money" argument has held the cryptocurrency for months. For investors, the excess liquidity introduced by the Fed and other major central banks is likely to benefit risky assets, including Bitcoin. But what if these central banks become smarter? The warning signal sent by the Fed regarding a possible normalization of monetary policy casts doubt on this argument.
The last reason we should watch out for the dollar's rise: the rise in stablecoins. As we mentioned in a recent post in these columns, the (USDT) peg may have played a large role in Bitcoin's rise. Since tether is not 100% dollar-backed, rising collateral has the potential to create problems far beyond tether. Imagine a massive tether sell-off fueled by investor doubts about their ability to convert 1: 1 stablecoins to dollars. An auspicious circle (buying stablecoins triggers more bitcoin purchases) can quickly turn into a vicious circle (peg selling triggers more bitcoin sales).
Technical analysis
Most technical analysts mistakenly think of Bitcoin. On the one hand, we observe a phenomenon known as the "cross of death" – see graph below… This is the intersection of the descending moving averages. This is a sell signal. Thus, the death cross marks the moment when the short-term moving average (50 days) breaks the long-term moving average (200 days), which can serve as support. This means that the downtrend is accelerating.
Most technicians also offer a so-called Head & Shoulders configuration. Bitcoin's all-time highs (head) are surrounded by two middle highs (shoulders). Often this type of setup results in an additional dip that corresponds to a percentage dip between head and shoulders (potential for a decline to around $ 15,800, as shown in the chart below)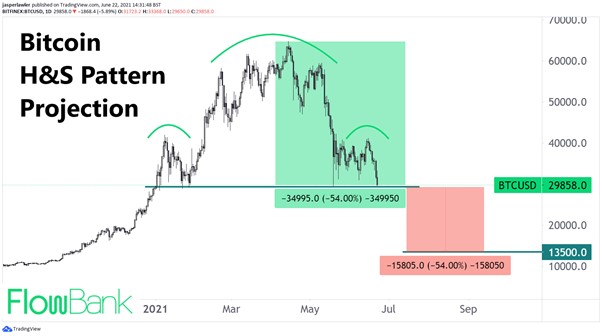 Another negative point put forward by the renowned analyst Cryptoquant. The latter took a chill, pointing out that the bitcoin bear market is indeed underway, noting significant movements from bitcoin whales (very important bitcoin holders) from their digital wallets to exchanges like Binance or Coinbase. This type of flow on the part of the whales indicates a desire to get rid of some of their bitcoins – a move that is therefore not very positive for the short to medium term direction of bitcoins.
Reasons not to panic
Not all technicians are pessimistic. As such, some analysts remain very positive, highlighting the fact that the famous "cross of death" mentioned above should be understated because the 200-day moving average continues to rise.
Among the more optimistic forecasts, Plan B predicts new highs by the end of the year. As a reminder, Plan B is a Dutch institutional investor who tried to predict the theoretical value of Bitcoin over time. This quantitative model based on shortage of assets was published on March 22, 2019. It is the total amount of the resource's reserves ("Reserves") divided by its annual production ("Flow"). As shown in the chart below, the model predicts that Bitcoin price will be around $ 100,000 by the end of this year. And not only in the following years …
With regard to the main arguments mentioned above, let's first recall the fact that mining can take place in many places other than China. Moreover, for example, in Texas and Maryland, many mining farms are already being created.
Finally, as far as the US dollar is concerned, there is nothing to say with certainty that the dollar bull market can continue. The dollar's fundamentals remain fragile, with colossal double deficits in the United States and the Federal Reserve, which will have no choice but to keep expanding its balance sheet if the United States wants to monetize its huge debt. A recent study by Deutsche Bank found that the US central bank's balance sheet could grow from 8 trillion today to nearly 40 trillion by 2050 (Wed picture below). In such a context, Bitcoin could continue to play the role of a safe haven.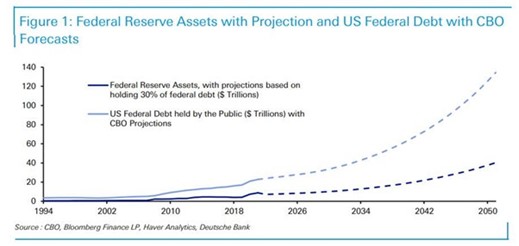 Go to www.flowbank.com