Beyond simple revenues (tripled in the last 12 months), the growth of crypto and decentralized technologies is mainly reflected in mature products, institutional deployments, and startups with experienced founders. (Photo: 123RF)
THE KEYS OF CRYPTO is a section that patiently decodes the world of cryptocurrencies and its stock market, industrial and media shocks. François Remy's mission is to identify promising entrepreneurs, decode technical progress, and anticipate the industrial and social impacts of this digital currency.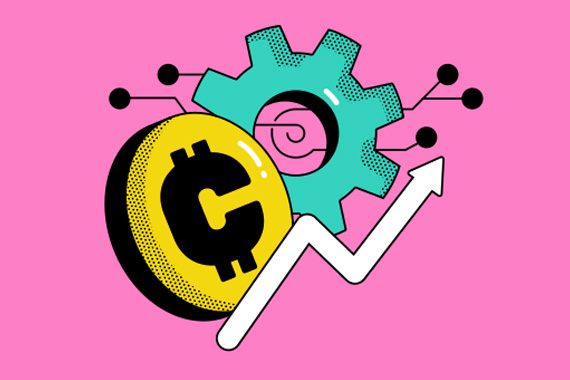 (Illustration: Camille Charbonneau)
THE KEYS OF CRYPTO. Crypto and decentralized technologies have invaded the business universe at an unprecedented rate this year. Beyond simple revenue (tripled in the last 12 months), growth is primarily reflected in mature products, institutional deployments, and startups with experienced founders.
"An unprecedented acceleration of growth," was just observed in its annual survey LeadBlock Partners, the London-based venture capital fund that focuses primarily on startups promoting B2B use of the blockchain by of larger companies and the adoption of digital asset classes by financial institutions. worldwide.
One observation comes from fund managers after their interviews with more than 250 entrepreneurs, among others: "adoption has moved beyond the early adopter phase, opening up a horizon of potential high returns."
It is enough to take behavior in this area of ​​human resources as a symbolic example. Human capital seems to be on the rise. Talent is pouring into the industry, from seasoned entrepreneurs, top-tier multinational professionals to seasoned developers.
Experienced founders
On the initiative of start-ups active in blockchain, we found experienced founders, pin LeadBlock. Interest and experimentation within companies has led many professionals to familiarize themselves with and experiment with this supposedly promising technology. These stakeholders then participated in creating products to respond to the problems they encounter on a daily basis or to take advantage of the opportunities they discovered.
But the survey shows that the founders who join the ecosystem have "strong backgrounds" and come from the largest and most profitable companies on the planet.
In particular, more than 20% of the founders come from just 10 companies.
To mention two more prominent figures, these blockchain entrepreneurs have an average of 22 years of professional experience and more than one in three founders (36%) are serial entrepreneurs.
Power to attract talent
Another important detail, employers are particularly fond of skills in this area. The corporate blockchain also clearly tends to attract "the best talent," says LeadBlock Partners.
For the record, according to a LinkedIn report on the Most In-Demand Skills for 2020, blockchain was not only mentioned in the list of skills, but even made it to the top of the rankings.
For its part, the Indeed website indicated a strong increase in job offers in the cryptocurrency and blockchain sector: + 116% between September 2020 and July 2021.
Additionally, job openings in the field are no longer limited to traditional IT activities. Shortly after seeing bitcoin flirt with $ 20,000 in 2017, the talent hunt was unleashed in the tech jungle, where bosses bombarded developers of the seven-figure bonus blockchain.
Now companies are hiring support functions like people management or marketing. "Which shows that the industry is maturing. There is no doubt that employers will increasingly value the ability to understand and apply blockchain technology, "says LeadBlock Partners.
To never miss this meeting, get the "crypto keys" delivered to your inbox!
.
Woodmart Theme Nulled, WP Reset Pro, Newspaper 11.2, Newspaper – News & WooCommerce WordPress Theme, Premium Addons for Elementor, Rank Math Seo Pro Weadown, WeaPlay, WordPress Theme, Plugins, PHP Script, Jannah Nulled, Elementor Pro Weadown, Woocommerce Custom Product Ad, Business Consulting Nulled, Jnews 8.1.0 Nulled, Avada 7.4 Nulled, Nulledfire, Dokan Pro Nulled, Yoast Nulled, Flatsome Nulled, PW WooCommerce Gift Cards Pro Nulled, Astra Pro Nulled, Woodmart Theme Nulled, Slider Revolution Nulled, Wordfence Premium Nulled, Elementor Pro Weadown, Wpml Nulled, Consulting 6.1.4 Nulled, Fs Poster Plugin Nulled