Although the benefit / risk ratio of vaccination is generally favorable, Vaccine protein can cause serious pathologies in some cases, especially in people with vitamin D deficiency. Explained with Jean-Marc Sabatier, PhD in Cell Biology and Microbiology, Scientific Director of CNRS, affiliated with the Institute of Neurophysiopathology (INP) at the University of Aix-Marseille.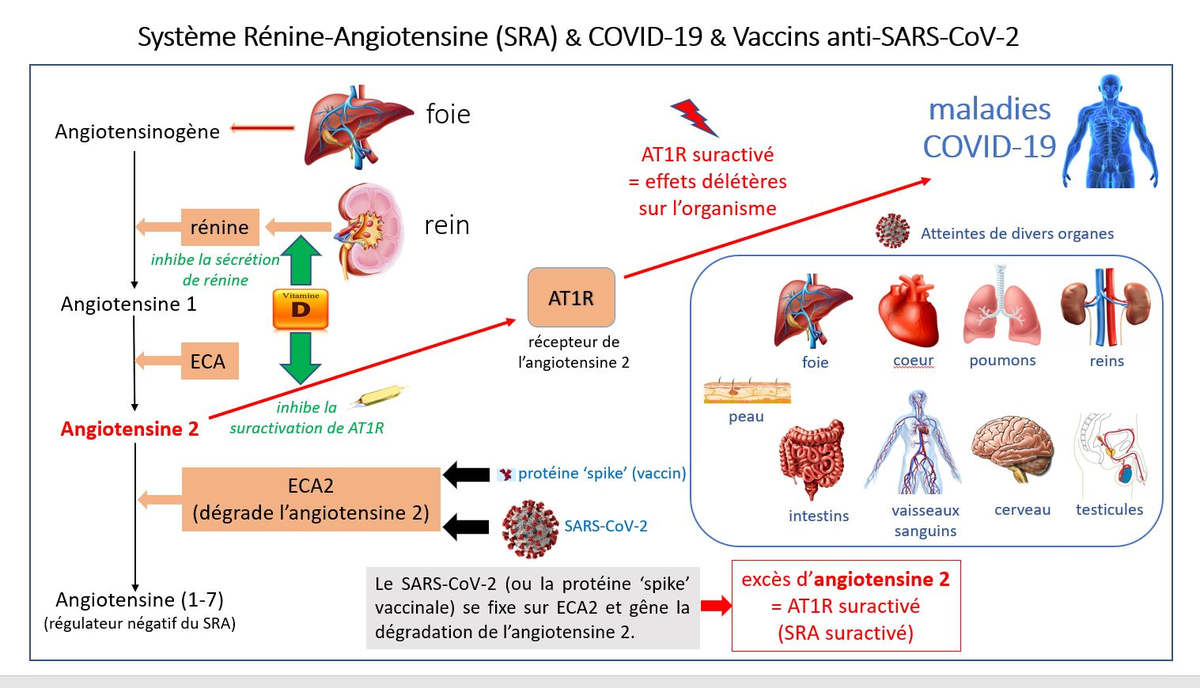 Binding of the SARS-CoV-2 coronavirus to its cellular receptor ECA2 (an enzyme that converts angiotensin 2) inhibits the breakdown of angiotensin 2 by ECA2, which in excess causes over-activation of the AT1R cell receptor. Excessive activation of the renin-angiotensin system (RAS) has a very detrimental effect on the body, leading, in particular, to the emergence of Covid-19 diseases. The vaccine "spike" protein (by itself, in the absence of the SARS-CoV-2 virus) also appears to be able to bind to the ECA2 receptor, causing SRA to be overactivated. This over-activation of the RAS can be counteracted by the addition of vitamin D, which acts (among other things) as a brake on the ASD.
Vaccines are not without risk
Since its inception a year and a half ago, the SARS-CoV-2 coronavirus pandemic has confused doctors and scientists. They cannot explain the variability of clinical profiles: influenza for some, long-term and severe Covid for others, and a large number of deaths worldwide. The vaccines offered – even imposed – are unsafe for the population. They still have poorly understood side effects.
Prominent American physician Tom Frieden, former director of the US agency CDC (Centers for Disease Control and Prevention), even claims that "it is impossible to get Covid after vaccination, because, according to him, vaccines do not contain any live virus that causes Covid. Vaccines train your body to recognize and fight the virus, then disappear like a Snapchat message. "
Excessive activation of the SRA
This is not true, replies Jean-Marc Sabatier. When vaccinated, we can observe the appearance in newly vaccinated (and vaccinated) "Covid-19-like" pathologies (such as Covid-19), some of which can be fatal (for example, thrombosis). Doubtful: the vaccine spike protein (S-protein) appears to be able to recognize its target, the ECA2 receptor (an enzyme that converts angiotensin 2), and to activate renin-angiotensin system (SRA) which is a malfunction.
In case of primary vaccination of asymptomatic carriers SARS-CoV-2 (PCR+), this can lead to additional over-activation of the ASD and the onset of symptoms similar to Covid-19. In other words, the patient is already infected with the virus, but without the clinical symptoms that appear only after the injection of the vaccine (the first injection). This "worsens" excessive SRA activation.
In the case of primary vaccination / vaccination of uninfected persons by SARS-CoV-2 (PCR–), the vaccine spike protein can over-activate ORS and cause Covid-19 symptoms and illnesses. This over-activation of the RAS is especially potent and harmful for people who are deficient (10-30 ng vitamin D per ml plasma) or, worse, vitamin D deficient (less than 10 ng vitamin D per ml plasma). plasma). plasma).
The role of vitamin D
Thus, it is very important to have an appropriate dose of vitamin D in the blood (30-60 ng of vitamin D per ml of plasma), emphasizes Jean-Marc Sabatier, because vitamin D inhibits excessive SRA activation. It also allows for effective vaccination against SARS-CoV-2 (and its variants?) By acting directly on innate and adaptive / acquired immunity.
With regard to vaccination, we note in the newly vaccinated / vaccinated sometimes a significant increase in specific human pathologies (inflammatory or non-inflammatory) or more serious pre-existing pathologies, namely, pathologies of the kidneys, lungs, cardiovascular system (arterial hypertension, thrombosis, myocarditis, cardiac arrhythmia , stroke, etc.), type 2 diabetes and prediabetes due to glucose intolerance caused by ASD dysfunction, or associated with autoimmunity (multiple sclerosis, polyrheumatoid arthritis, acquired hemophilia, etc.). These incipient and / or more serious autoimmune pathologies stem from an overly activated (dysfunctional) ASD because it controls innate immunity and recognition of self and foreign molecules at the source. disease (see the glossary at the bottom of the page).
Autoimmune diseases

All these pathologies are apparently associated with RAS dysfunction with excessive activation of its AT1R receptor caused by an excess of angiotensin 2. This AT1R receptor has vasoconstrictor activity in blood vessels (hypertension), proinflammatory, prooxidant (causes oxidative stress), prothrombotic, profibrotic, hypertrophied organs (heart, lungs, etc.) and causes a decrease in the level of nitrogen monoxide (NO), which is involved in the functioning of the immune system and memory phenomena.
Newly vaccinated people with autoimmune diseases have been reported not responding (or responding poorly) to SARS-CoV-2 vaccination. This is not surprising because these people have ASD dysfunction, which is the cause of their autoimmune disease (such as multiple sclerosis). This dysfunction of the ASD leads to a deficiency of innate immunity (nonspecific immunity), which itself triggers the adaptive / acquired immunity (specific immunity) required for a good vaccination.
In these people, vitamin D (cholecalciferol) supplementation is necessary, even critical, as it promotes better innate (and adaptive / acquired) immune function. Importantly, treating autoimmune diseases with immunosuppressants makes it difficult to vaccinate against SARS-CoV-2.
Glossary
During viral infection, SARS-CoV-2 over-activates the renin-angiotensin system (RAS) by binding to the ACE2 receptor, which has the function of degrading angiotensin 2. Binding of SARS-CoV-2 to the ACE2 receptor thus interferes with the normal degradation of angiotensin 2. the excess of which leads to over-activation of its cellular receptor AT1R. The overactive AT1R receptor is very harmful to the human body. (induction of a cytokine storm, vasoconstriction, inflammation, fibrosis, oxidative stress, tissue hypertrophy, a decrease in the level of nitrogen monoxide NO associated with the processes of immunity and memory, etc.)) and appears to be at the heart of the evolution towards serious, sometimes fatal, forms of Covid-19. This harmful effect of AT1R on the human body leads to the appearance of various pathologies similar to those described when infected with SARS-CoV-2. The genes encoding the ACE2 and AT1R receptors are located on the X and 3 chromosomes, respectively.
Renin-angiotensin system (RAS)
RAS is a hormonal / physiological system of primary importance for mammals, found in the lungs, kidneys, intestines, heart, brain, testes, blood vessels, and in innate immune cells. " (Circulating monocytes, macrophages, dendritic cells / antigen presenting cells, cells Natural killer (NK), etc.). RAS monitors kidney, lung and cardiovascular function as well as "innate" immunity (which corresponds to an "immediate" non-specific immune response to pathogens) and gut microbiota.
The gene encoding the AT1R receptor (RAS), which is very harmful to the human body when over-activated, is located on chromosome 3. Notably, chromosome 3 has a haplotype (a set of genes "genetically linked" are located on one chromosome and are passed along to the next generation ) Neanderthal is associated with severe forms of Covid-19. This haplotype is found in 16% in Europe, 65% in South Asia and almost nonexistent in East Asia and Africa).
Vitamin D is a secosteroid prohormone that acts on at least 291 genes, therefore, it is involved in many physiological processes: mineralization and calcification of bones, innate immunity (circulating monocytes, macrophages, dendritic cells / cells, antigen-presenting cells, cells Natural killer (NK), etc.) And adaptive / acquired (B- and T-lymphocytes), proliferation and differentiation of certain types of cells (including cells of the immune system), maintenance of physical barriers (influence on intercellular connections), thus finally on ARS regulation. Vitamin D allows, in particular, to avoid / weaken the cytokine storm, which is very harmful to the human body (excessive release of pro-inflammatory cytokines TNF-alpha, interleukin-6, interleukin-1-beta, interferon-gamma, etc.) severe forms of Covid-19. Vitamin D also increases the production of anti-inflammatory cytokines through adaptive / acquired immunity to suppress acute systemic hyperinflammation.
Another effect of vitamin D on immunity is to directly stimulate the production of antimicrobial molecules that act on viruses (cathelicidin and defensins).
Thus, vitamin D provides optimal functioning of the immune system required for effective vaccination and induces the production of molecules with antiviral properties, allowing the host to prevent or treat possible infection with SARS-CoV-2 and its variants.
These are molecules belonging to the host that the immune system should not attack.
These are molecules "foreign" to the host, usually derived from pathogens that the immune system must attack).
Spike protein in a vaccine
It is actually a (modified) SARS-CoV-2 spicule; it is a trimer of modified S-protein, from which the fusogenic domain was removed, which allowed the virus to enter cells.