>> Second expert dialogue on COVID-19 vaccine
>> Coronavirus: Pandemic News
Jean Castex (left) and Olivier Veran visit the Saint-Maur-de-Foce vaccination center on May 31.
Photo: AFP / VNA / CVN
President Emmanuel Macron, 43, who contracted COVID-19 in December 2020, announced on Twitter on Monday evening May 31 that he and his wife Bridget had been vaccinated, urging all French people to do the same.
"Now that it's open to people over 18, I came as soon as I could"explains Jeremy Danner, a 25-year-old techno salesman, to the St Vincent Hospital Group in Strasbourg.
For a young man who wants "participate in a collective effort"this is both"one of the only ways to eradicate this virus"and hope"free yourself from certain restrictions".
"18-20 year olds come a lot", the Administrative Officer notes, noting that"they want the vaccine to go away, have a health passport, do concerts".
400 km in front of the Stade de France, near Paris, converted into a vaccine park, 45-year-old Xavier Dollen told AFP TV to count on a vaccine against "take off those masks and resume your daily life".
A little more than a week before indoor restaurants reopen and move from 21:00 to 23:00 curfew, the decline in intensive care services, which began in late April, continues. On Monday evening, May 31, the number of patients affected by COVID-19 and treated in intensive care units was 2,945 (versus 6,000 on April 26). The pandemic has claimed the lives of nearly 110,000 people in France.
Full
From now on, the vaccination campaign, which is critical for a peaceful summer, faces two challenges: to satisfy all the volunteers waiting for a dose, and to convince the indecisive, even rebellious.
Receptions for those over 18 opened on Thursday. But with "28 million adults eligible, but not vaccinated", the main platform Doctolib has warned that it cannot respond to all inquiries regarding"still a limited number of vaccine doses, including Pfizer and Moderna".
On Monday, May 31, online, many vaccination centers were filled for the next few days.
This is an extension for all adults. "should not distract us from the goal of finding all our fellow citizens who remain the most vulnerable"Older people or people with underlying medical conditions," stressed Prime Minister Jean Castex when visiting the Val-de-Marne vaccination center.
Almost 26 million people, or 49.1% of the adult population, received the first injection of the vaccine.
According to Doctolib, at the current rate, the government's vaccination target of 30 million people should be met by June 10, or 5 days ahead of schedule.
Of the nearly 10 million injections scheduled for June, three quarters of appointments were made by people under 50, according to Doctolib.
In contrast, vaccination rates are slowing in older age groups: almost a quarter of those over 80 are still unvaccinated, 14% among 75-79-year-olds, and 16% among 70-74 year olds.
Antoinette Gomez Casagrande, 74-year-old resident of Albi (Tarn), does "I do not want to be vaccinated" through "lack of trust"To vaccines, which, according to her, are the only ones"experimental stage".
While Michelle, a woman from Strasbourg of the same age, "I prefer to wait until September or October" because she "would not know which vaccine to choose"as well as"afraid of the vaccine with side effects".
What about teenagers?
Last week, the Academy of Medicine recommended imposing "commitment"Vaccine to ensure until the end of summer"herd immunity sufficient to fight the epidemic, that is, 90% of the adult population or 80% of the total population".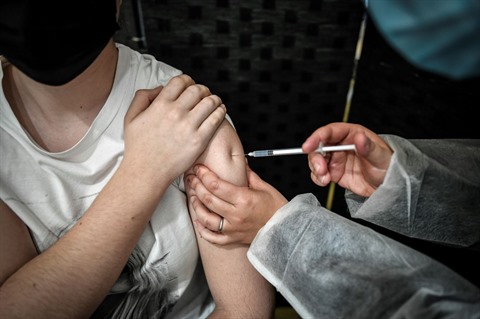 A man receives a dose of Pfizer vaccine in Versailles on May 29.
Photo: AFP / VNA / CVN
Opportunity qualified on Sunday 30 May "last option in case of failure" speak "MR vaccine"from the government, Alain Fisher.
The latter also suggested that the population should organize the intake of two doses at the place of residence, and not during vacation, so as not to destabilize the system.
Emmanuel Macron, who did not specify which vaccine he received, in his tweet urged the French to get vaccinated. "To protect us, to protect our loved ones".
Organizing this summer's campaign will be on the health council's menu on Wednesday, June 2, said Jean Castex, like "vaccination of children and adolescents over twelve years of age"on which the Supreme Health Authority (HAS) is to make a decision this week following the green light given last week by the European Medicines Agency.
As the press raised this opportunity, "we get a lot of calls from teenagers who want to get vaccinated, "explains Professor Vincent Bones, who coordinates the vaccine clinic in Toulouse, where he also noted" a large influx of young people.".
AFP / VNA / CVN
…