Parachuting into the Gulf of Mexico, SpaceX's Dragon Endurance capsule carried four astronauts from the International Space Station after a nearly six-month stay.
Raja Chari, Tom Marshburn and Kayla Barron, all from NASA, and Matthias Maurer from the European Space Agency (ESA) splashed down on Friday (May 6) at 0443 EDT (0443 GMT). The landing off the coast of Tampa, Florida marked the end of the Crew-3 mission 176 days after it began.
"Thank you for letting us take the Endurance on his extortion cruise. Looking forward to seeing many more Endurance flights in the future. It was a great ride," Chari told SpaceX Mission Control in Hawthorne, California, moments after splashdown.
A fleet of SpaceX ships was ready to meet the capsule and deliver it and the crew aboard the Shannon, a rescue ship named after Crew-1 astronaut Shannon Walker. From there, after an initial medical check, Chary, Marshburn, Barron and Maurer were to be helicoptered back to shore before returning to NASA's Johnson Space Center in Houston.
The crew return completed a series of three carefully planned SpaceX flights, beginning with the splashdown of Dragon "Endeavour" with Ax-1, the first private crew to visit the International Space Station, on April 25, followed by the launch of Crew-4 aboard Dragon "Freedom" on April 27. The next astronauts to launch or land on a SpaceX ship are not scheduled until September.
Pictured: SpaceX Crew-3 astronaut launch for NASA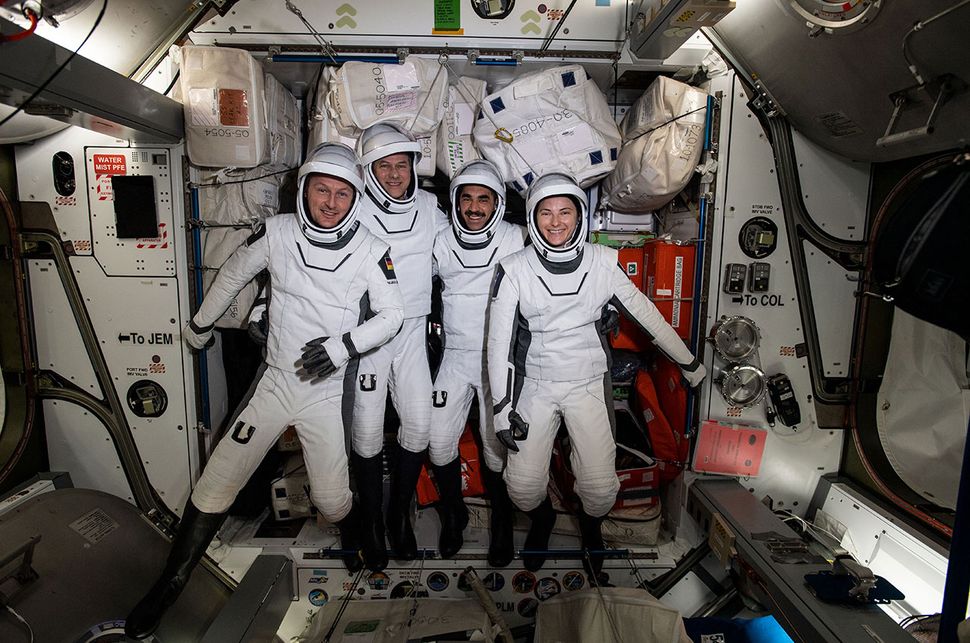 Crew 3 astronauts Matthias Maurer, Tom Marshburn, Raja Chari and Kayla Barron in their SpaceX spacesuits before leaving the International Space Station. (Image credit: NASA)
Chary, Marshburn, Barron and Maurer began their journey back to Earth by undocking the Endurance from the forward-facing port of the space station's Harmony node at 1:20 am EST (0520 GMT) on Thursday. After their departure, NASA astronauts Kjell Lindgren, Bob Hines and Jessica Watkins, Roscosmos cosmonauts Oleg Artemiev, Denis Matveev and Sergei Korsakov, and ESA astronaut Samantha Cristoforetti continued to work as part of the Expedition 67 crew on the space station.
"Nearly six months ago we came here for Endurance, the first flight of the SpaceX capsule, and it was a great flight and we look forward to returning to Earth and seeing friends and family," Chari said during a brief farewell ceremony held at SpaceX. stations on Wednesday. "It's exciting that Crew-4 is here, but it's also a little bittersweet knowing that their presence here means it's time for us to pass the torch and return to Earth."
During the same event, Marshburn handed over command of Expedition 67 to Artemiev.
"In a hundred years, we will look back on the International Space Station as an incredible engineering achievement, as a way for countries around the world to increase their technological base and produce scientific research. results to save lives and improve people's lives," Marshburn said. "I think the enduring legacy of the space station is likely to be international cooperation and a place of peace."
"Oleg, you are a very strong and experienced cosmonaut. I know that with you we will leave the space station in safe hands," Marshburn said.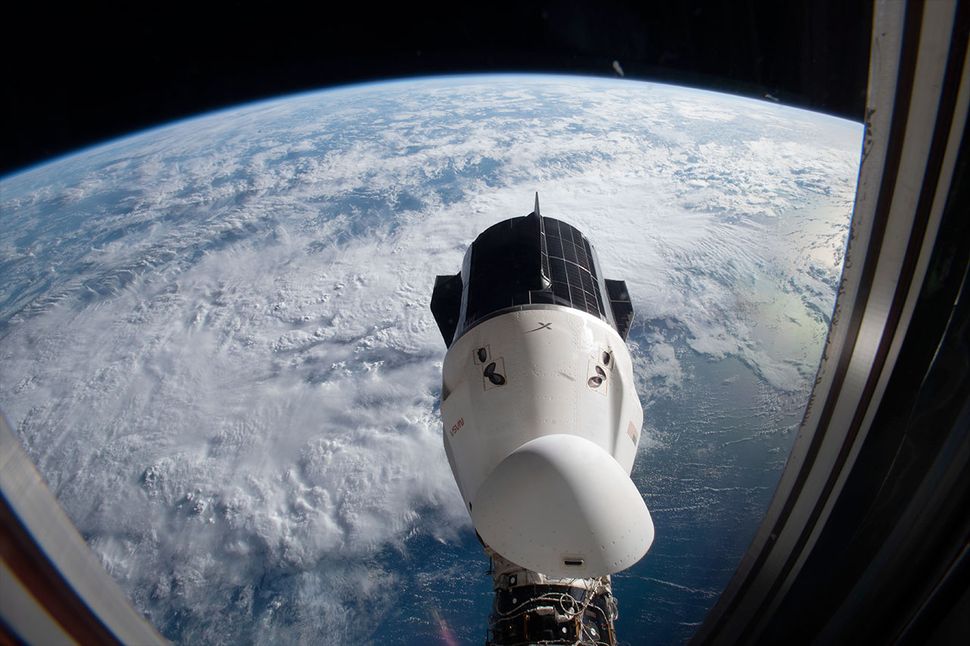 SpaceX Dragon Endurance docked at the forward-facing port of the International Space Station's Harmony Node. (Image credit: NASA)
Launched on November 10, 2021, Crew 3 astronauts helped conduct hundreds of scientific experiments, including testing new methods of growing crops, studying drought-tolerant cotton plants, and printing bandages from skin cells. Maurer also carried out the ESA Space Kiss mission, a payload of 35 European experiments ranging from human health to materials science benefiting life on Earth and the future of space exploration.
"The European Space Agency and the German Space Agency prepared most of the scientific work that I was able to do here," Maurer said before leaving the space station. "This is the end of a six-month mission, but I think the space dream lives on."
All four Crew 3 astronauts completed spacewalks to maintain the space station and prepare it for the addition of upgraded solar arrays.
"It was an exciting experience," Barron said. "We are very lucky to see the full range of operational and scientific operations here, and I can't wait to contribute to the development of all the amazing things that NASA is doing together with our international partners in connection with the return to the Moon. part of Artemis.
Barron and Chari are members of NASA's Artemis team, who, along with 16 other astronauts, have been selected to prepare for the return of the United States to the Moon. The experience they have gained aboard the space station is intended to prepare them for future missions, possibly including missions to the lunar surface.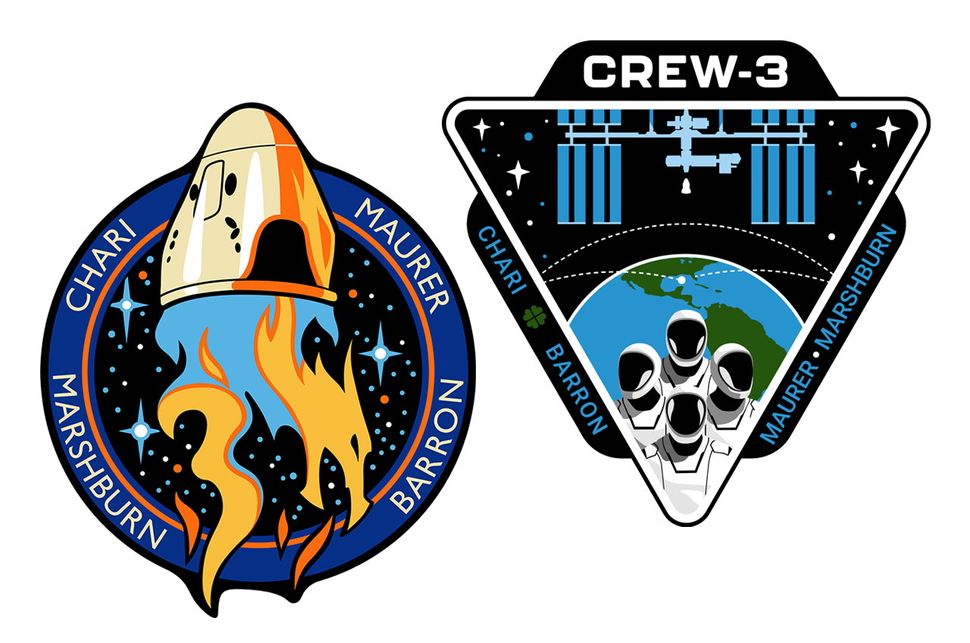 NASA patches (left) and SpaceX Crew-3 missions. (Image credit: NASA/SpaceX)
Marshburn, 61, was the only veteran astronaut on Crew 3. He previously flew the Space Shuttle in 2009 and the Soyuz to the station in 2012 and has spent a total of 337 days, 10 hours and 43 minutes in space to date. As an Endurance pilot, Marshburn is among the few people to have flown three different types of spacecraft.
Chari, 44, Barron, 34, and Maurer, 52, spent 176 days, 3 hours and 40 minutes each off the planet. Maurer was the 600th person to go into space based on the US-established 50 miles (80 km) boundary.
on Facebook and Twitter at @collectSPACE. Copyright 2022 collectSPACE.com. All rights reserved.