Though considered an accessory by some "cool parents", the baby monitor/baby monitor remains a classic on the birth list and a valuable tool for monitoring baby's sleep. Now we meet models with video support, dual transmitter, temperature sensor, lullabies, night lights, etc.
Even more sophisticated new "parent-inspired" products are emerging, such as Cubo AI Plus, a smart and connected little bird that promises you sleep analysis, snapshot capture, crying alerts, and many more features. A proactive, safety-focused approach enough to reassure the most anxious parent? Let's take a look instead.
Beautiful bird: installation and handling of Cubo AI Plus
1 credit
Like any high-tech item of its time, the CuboAI baby monitor features careful packaging and an attractive design that ensures ease of installation. So the three mount kit we tested comes with a small white bird camera and three types of mount, namely floor mount, bed mount, and mobile mount. We chose a floor support, practical because it can be adjusted at any time and not so bulky. This one is weighted down with a water pocket and assembles in minutes. You can then change the carrier as the baby grows and moves, but we'll get to that later.
My Cubo AI Plus on a stand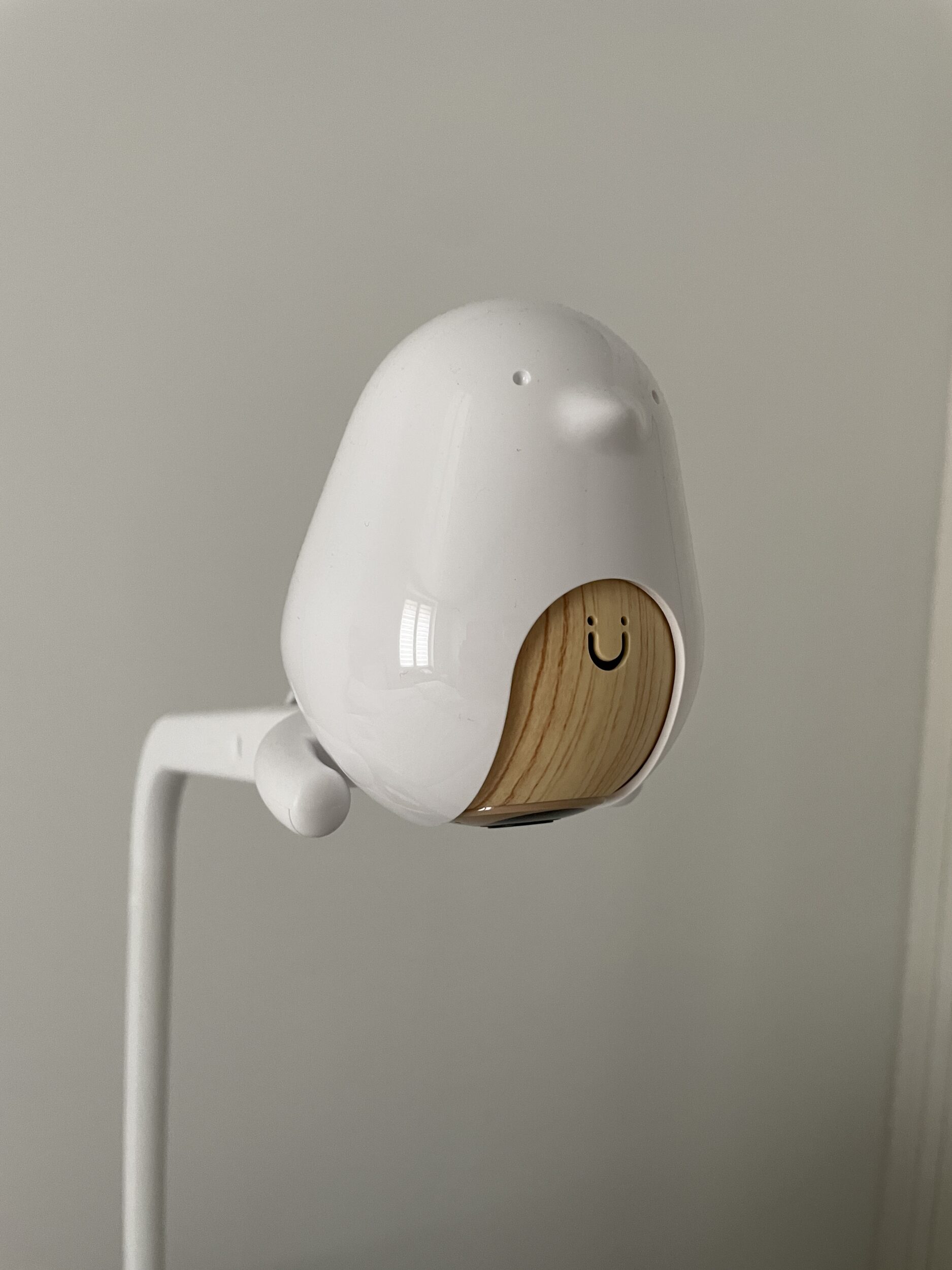 Admittedly, the device is cute and easily fits into any interior without giving away the hidden side of the camera. All hardware is made of good quality white plastic and the camera is set in a wood-finished swivel base. The bird is 11.1 cm long and 8.71 cm wide. In its upper part we find a built-in night light, while on the back we find a speaker, a microphone, a mini USB power port and a multifunction button. When pressed directly, this button puts the monitor into standby mode and also activates the night light. It also serves as a status indicator with an indicator light. Let's add to the installation topic that the device connects to the home Wi-Fi network in a few manipulations, guided step by step in the application.
Wall of Remembrance – Credit: Cubo
App, let's talk about it. Available on iOS 10 and Android 5.0 or later, it offers an intuitive and user-friendly interface. The house has a live video feed, temperature and humidity control and access to lullaby settings, as well as a photo button to take a picture of the baby. Scrolling down allows you to view a log of photo/video memories taken by the device. At the bottom, a tab concerns sleep analysis, another collects the notification log, and finally all device parameters. We didn't encounter any difficulties in use during the test, other than the well-hidden "talk to baby" feature in full-screen live video.
Safety and peace of mind: the child is under close supervision
Cubo AI Plus is first and foremost a very effective wide-angle night vision camera. Indeed, the clarity of the 1080p image day and night is one of the strengths of the device and allows for x4 digital zoom that detects the slightest open eye or a fly that threatens to wake up a child.
1 credit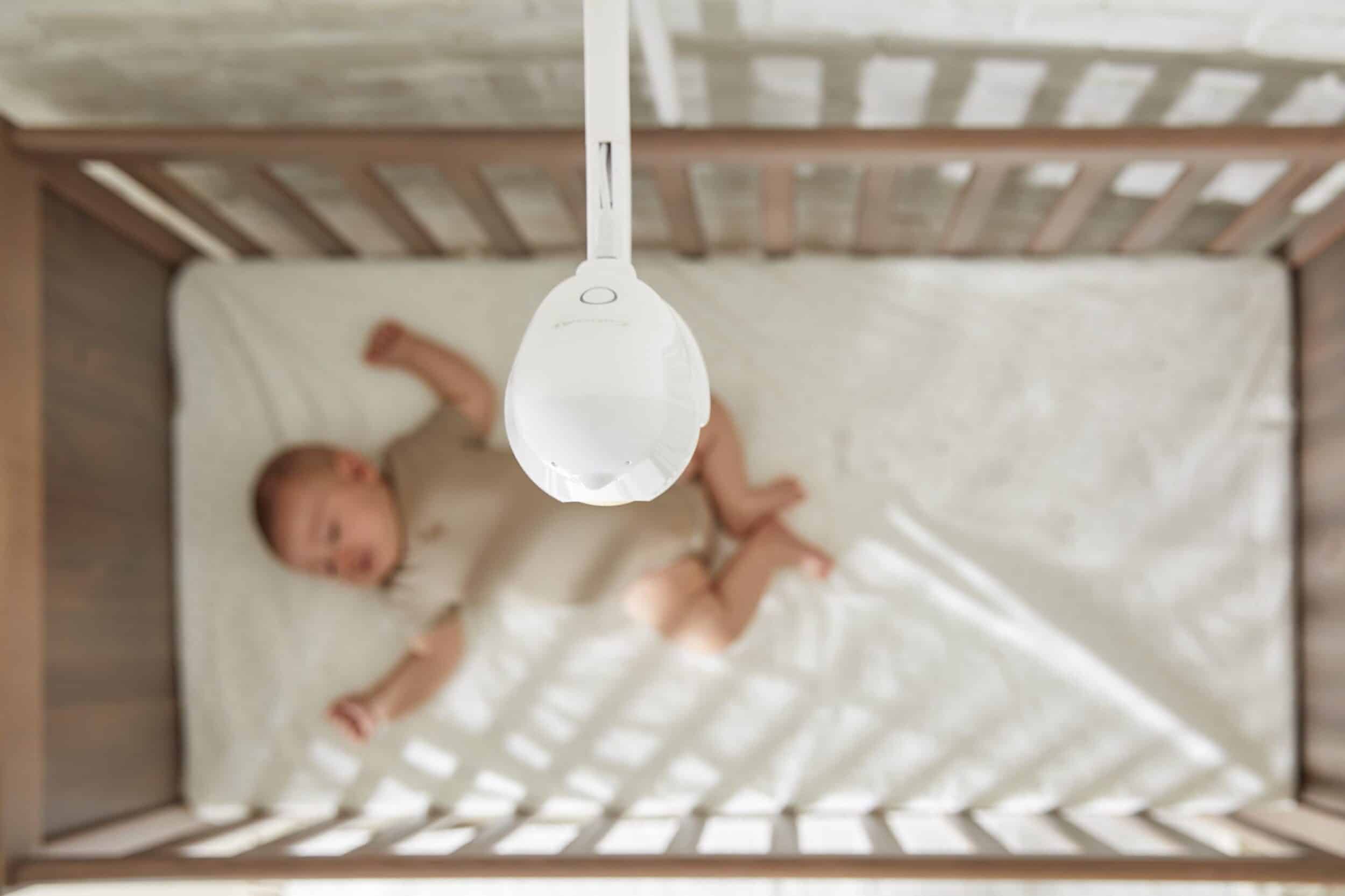 And then there are all these AI-related features that bring their share of convenience. The first is baby face detection, which can alert parents when the nose or mouth is covered, or when the baby is in the wrong position. There is also sleep tracking and analysis: every night, Cubo AI Plus records how many hours the baby slept or cried, as well as how often parents visited him. These statistics allow parents to better manage their child's sleep, optimizing it for the next day.
What's even nicer is that the baby monitor creates a wall of memories made up of photo albums and videos taken when the camera detects movement or a smile, all collected and available every day in the app. It's a feature that won us over, even though we got a picture summary of the rotten night with pictures of crying babies and a little comment like "we can't get enough of this little angel.
There's also cry detection with a notification, room temperature and humidity alerts, two-way audio that allows you to remotely hear and talk to your baby, and even a cough detection alert (in beta) during testing). The "Risk Zone" alert also lets you define a virtual barrier to be notified if your little one crosses it. Handy when he grows up and starts to move, even if you have to react to a quarter turn after receiving a notification.
family exchange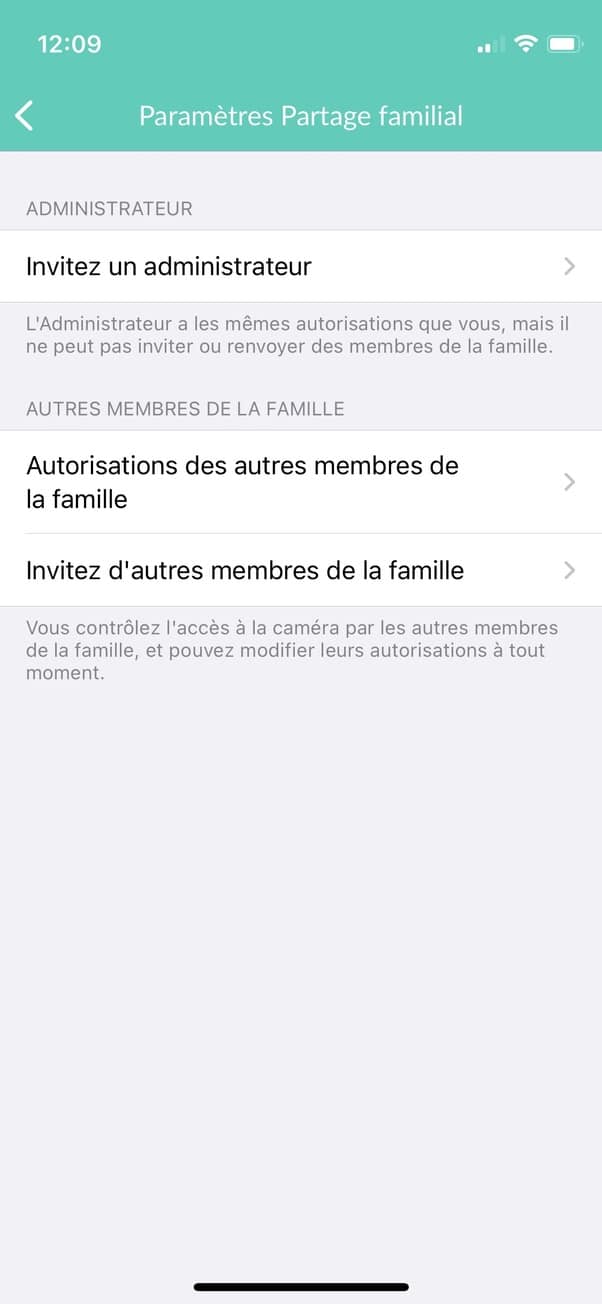 Finally, family sharing allows you to offer access to videos and/or full features of the Cubo Ai baby monitor to your loved ones, such as a godsend for grandparents.
Cubo AI Plus: buy or not?
As a baby monitor, the Cubo AI Plus does a great job. The picture is especially clear day and night, the sound is clear in both directions, and the Wi-Fi connection is (nearly) latency-free (at 2.4GHz). Installation is simple, the baby monitor's style and support are modern and discreet, and the app's interface is very easy to use. The question of elementary functions, so we have absolutely nothing to reproach him with.
My Kubo Eye Plus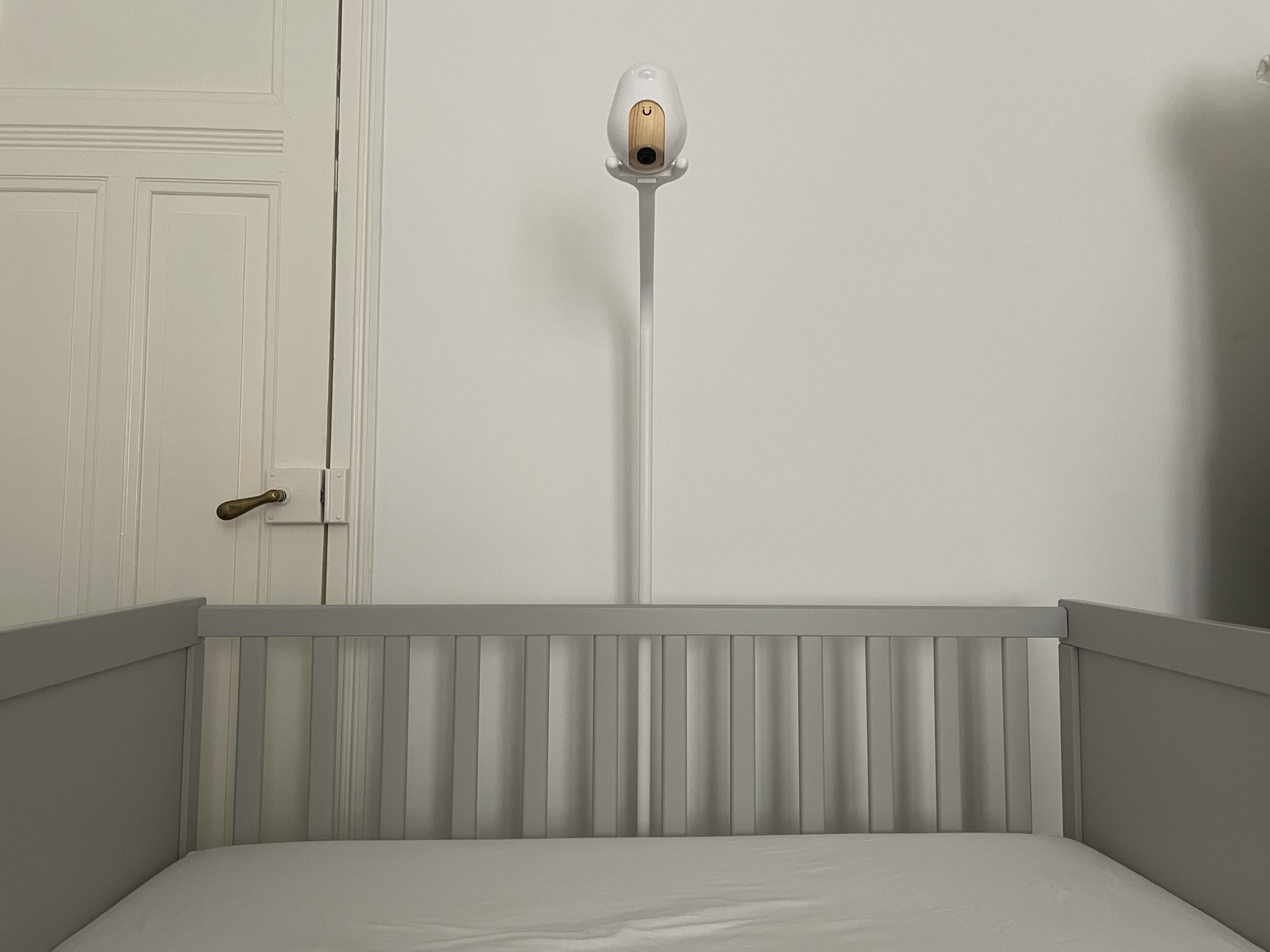 The "intelligent" features are numerous and work very well. The good thing is that all alerts are configurable, whether they are activated or not, with notifications or not. Cry detection sensitivity is also adjustable in 3 levels. For example, we decided to deactivate the cover face and scrolling alert for the duration of the test because the baby was no longer a newborn and was moving around a lot. Suffice it to say, the notifications were raining down… which was more of a concern than anything else.
1 credit
Well thought out for saving your phone's battery or using it with a keen ear, the "audio in background" option turns your phone into a baby monitor, streaming camera audio even when it's locked or out of the foreground app. A few words about the proposed lullabies, which are quite varied for our taste, even if their broadcast deactivates the crying warning. Shame.
Finally, video replay, possible until the last 18 hours, was invaluable for us to "live through" certain nights and take a few pictures along the way. Please note that the camera still remembers the video stream if you disable the internet box. On the other hand, this does not apply to the study of sleep.
There is a question (which strains) of the price. Cubo AI Plus with three brackets is priced at €249 or €199 with wall bracket. As with any good, self-respecting connected entity, a service package is added knowing that the Premium package is offered for 1 year with the purchase of a Cubo AI Plus baby monitor. Thereafter, two formulas are available: Ai Care for €4.99 per month or Ai Care Premium for €7.99 per month. Luckily, most of the features remain available at the end of the year even without a subscription.
The advantage of Cubo Ai Plus is that it is very complete and offers anxious parents and families all the tools to calm their thoughts.
We liked
Image quality
Very accurate analysis (sleep, closed face, sensors, etc.)
Family Sharing (invite a loved one to connect to the camera)
Competent selection of pictures and souvenir videos
We love less
Quite expensive package (with subscription)
Crying detection does not work when lullaby is on
Requires Wi-Fi / smartphone app
Cubo AI Plus – Set of 3 Holders
The best prices




€249.00




See




Amazon




These prices were updated by All4affiliates on 09/09/2022. They are listed in ascending order, excluding shipping costs. Only the prices indicated by the sellers are genuine.

Cubo AI Plus – Wall Mount
The best prices




€199.00




See




Amazon




These prices were updated by All4affiliates on 09/09/2022. They are listed in ascending order, excluding shipping costs. Only the prices indicated by the sellers are genuine.

The best prices




€129.00




See




Amazon




These prices were updated by All4affiliates on 09/09/2022. They are listed in ascending order, excluding shipping costs. Only the prices indicated by the sellers are genuine.