Cybercriminal gangs are posting multiple job offers on the Dark Web to hire hackers, developers, and other IT professionals. In addition to arranging real job interviews, these criminal organizations offer more attractive salaries than companies. When Tor replaces Pôle Employ, take a look behind the scenes of the booming illegal industry!
At a time when digital technologies are ubiquitous in our lives, cybercrime has become a potentially very, very profitable business. Stolen data can be sold for a fortune, and ransomware attacks can fetch millions.
For this reason, cybercriminal groups are increasingly organized as real enterprises. A real business whose leaders are willing to pay fabulous salaries to attract the best hackers and developers to their services.
Based on an analysis of 200,000 job openings posted on 155 dark web sites between March 2020 and June 2022, hacker groups mostly recruit software developers, according to a new report from Kaspersky Lab. This profession makes up 61% of advertising.
And to encourage these experts to cross the illegal barrier, to join the dark side of IT, these gangs don't hesitate to offer competitive monthly salaries with paid holidays and sick days!
The most attractive job offer discovered by Kaspersky Lab offered a salary of $20,000. Rates for cyber attackers peak at $15,000 per month.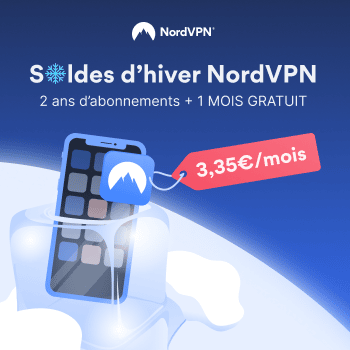 Hacker gangs recruit representatives of all IT professions
At the same time, cybercriminals are also looking for data analysts, malware developers, reverse engineers, phishing email writers, testers, or even IT administrators.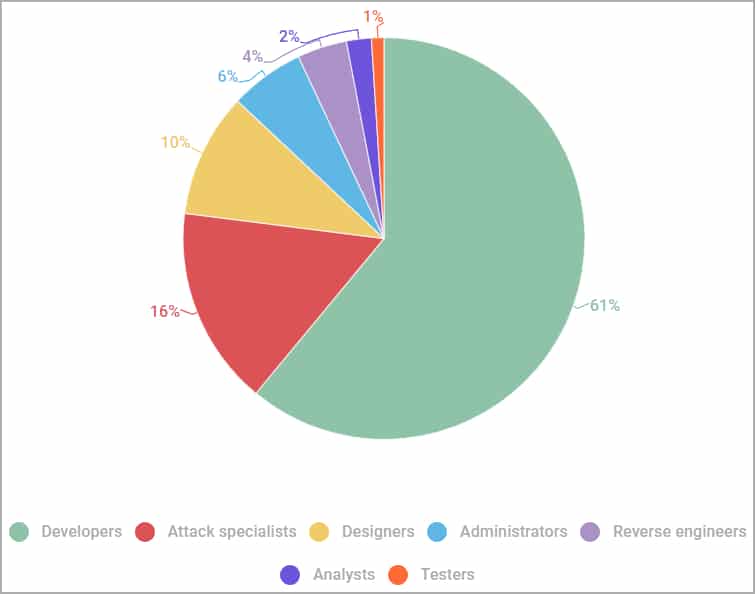 The average salary for all these occupations is between $1,300 and $4,000 per month. The lowest paid job is a designer, and the highest paid is a reverse engineer.
About a third of the vacancies are full-time positions, and another third are flexible hours. In 8% of cases, employees working from home can take advantage of paid vacation and sick leave.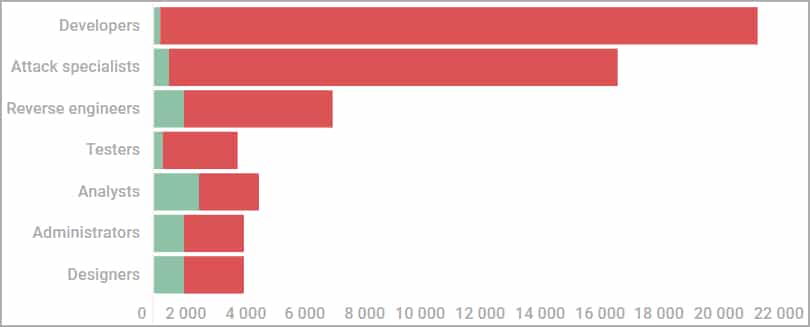 Interview, resume and portfolio
The hiring process is also similar to the process in a real company. Among other things, candidates must pass test exams to determine their level of qualification.
In some cases, the employer is also interested in the resume or portfolio of the candidate. An interview was organized for a quarter of the advertisements. The study doesn't show if they also organize "team building" or team dinners between hackers…
In a promotional offer discovered by Kaspersky Lab, applicants could be paid $300 in bitcoin just to pass a test assessment. Another announcement mentioned a test requiring applicants to encrypt a DLL test within 24 hours to make it undetectable by antivirus.
More attractive salaries than in business
Compared to similar positions in the legal labor market, salaries and benefits offered are competitive. Many job seekers or young graduates trying to find a job may be tempted by such achievements…
The peak of the number of published vacancies occurred in the first quarter of 202. This appears to be in line with the changes brought about by the Covid-19 pandemic, which has led to many layoffs around the world.
However, Kaspersky notes that the risks of working for an employer from the dark web far outweigh the benefits. Needless to say, hackers don't force their recruits to sign permanent contracts…
Trusting a criminal can be a big mistake. There is no guarantee that the salary will be paid and the risk of being arrested or even betrayed and handed over to the authorities!