⇧ [VIDÉO] You may also like this partner's content (after ad)
The future of transportation is meant to be self-sufficient, and it's not just on the road that you'll have to get used to seeing driverless vehicles. Finally, especially in China, where the EHang company is about to obtain certification for its EH216 electric vertical take-off and landing (eVTOL) aircraft, an unmanned quadrotor with capacity for two passengers.
If all goes according to plan for EHang, who says he's very confident in getting his EH216 autonomous vehicle certification, which he thinks he'll get "in a few months," the company would make its flying taxi commercially operational for several years. ahead of its European and American competitors, marking a world first for this type of autonomous vehicle. EHang gave several summaries of his progress at a company results conference.
"EHang and CAAC (Civil Aviation Administration of China) have reached a consensus on the guiding principle that operational test flights can be performed gradually, while progressing with certification," said founder, president and CEO Huazhi. Hu.
More than 2,800 test flights with passengers
This statement explains why EHang was able to conduct so many manned flights before full certification, as eVTOL companies from the US and Europe continue unmanned testing under stricter legislation. The company claims to have completed nearly 2,800 operational test flights as part of seven "Air Mobility Test Operations" providing air tourism and short-haul mobility services to Guangzhou, Hezhou, Shenzen, Zhaoqing and Sanya.
EHang's EH216 during a tourist test flight in the city of Zhaoqing (China). © EHang
In addition to this, the company has conducted more than 20,000 autonomous test flights with the EH216 to date in 11 different countries. Much more than any other manufacturer, according to the company. "Thanks to the abundant accumulated operational experience and the established safety records", can be read in the results report. "The company plans to convert these operational test flights into commercial flights after obtaining type certificate approval for the EHang 216."
"After several rounds of discussions with the CAAC team of experts, our certification work has entered the final stages of verification. So far, the progress of the works seems satisfactory, so we hope to obtain the approval of the CAAC on the certification of the EHang 216 in the coming months ", stated Edward Huaxiang Xu, director of the strategy.
What does the rest of the world say? " Slow but safe… "
Meanwhile, the American company Joby Aviation expects its main model to become the first eVTOL certified by the Federal Aviation Administration (FAA) in 2023. The German company Lilium, for its part, does not plan to put its aircraft into commercial operation sooner. from 2024. slower progression to deduct from your calendar.
In a kind of race for technological innovation, China is far less "cautious": Its flying taxis will be deployed directly as autonomous aerial vehicles, unlike competing countries. Indeed, in the rest of the world, as with road vehicles, air taxis will likely begin their service with pilots on board, before evolving into autonomous operation only several years later.
Once again, thanks to these less stringent laws, China appears to be far ahead. EHang already conducts unmanned operations and integrates eVTOL with helicopter services and local air traffic considerations. The possibility of freeing up a seat offers a great economic advantage for the operation of these vehicles, allowing operators to save a lot of money while generating additional income for each flight, and this from the first phase of entry to the market – unlike Europe and Competitors Americans. China, therefore, could win this technological race without hesitation, thanks to the administrative procedures that it is willing to ease and the "spirit of innovation" adopted by the CAAC.
An autonomy that leaves much to be desired?
On the technical side, the EH216 can reach a speed of about 130 km / h and has a range of about 35 km. It may seem low, but for the short trips that the vehicle will make, according to its manufacturer it is largely sufficient for a first application of its technology, especially since according to the technical data sheet, the aircraft can be fully recharged in just two hours . , without waiting for the charging devices to communicate in real time with the vehicle's battery management system to optimize stops and relays.

Artist's impression of an EH216 next to its fast charging station. © EHang
In addition, the company has some additional surprises in store for us, especially with its long-range autonomous aircraft, called the VT30, which is currently in development. According to EHang, the latter can already fly stably and is reportedly preparing for a flight demonstration. The VT30 can cover much longer distances than the EH26: 300 km! This in particular thanks to its ability to transition to a much more efficient winged flight. It is also likely to be much faster than the EH216.
EHang VT30 seen from above. © EHang
The flight routes will be studied in advance in order to predefine several viable plans for the user, which we can read on the company's website. The AAV d'EHang uses the 4G / 5G as a transmission channel without filing in order to communicate with the command center and control, allowing transmission in time of the time of the données de vol et le control à distance de l'appareil if required. Based on the previews on EHang's website, it will be possible to request a ride in their flying taxis through an app, just like ordering an Uber.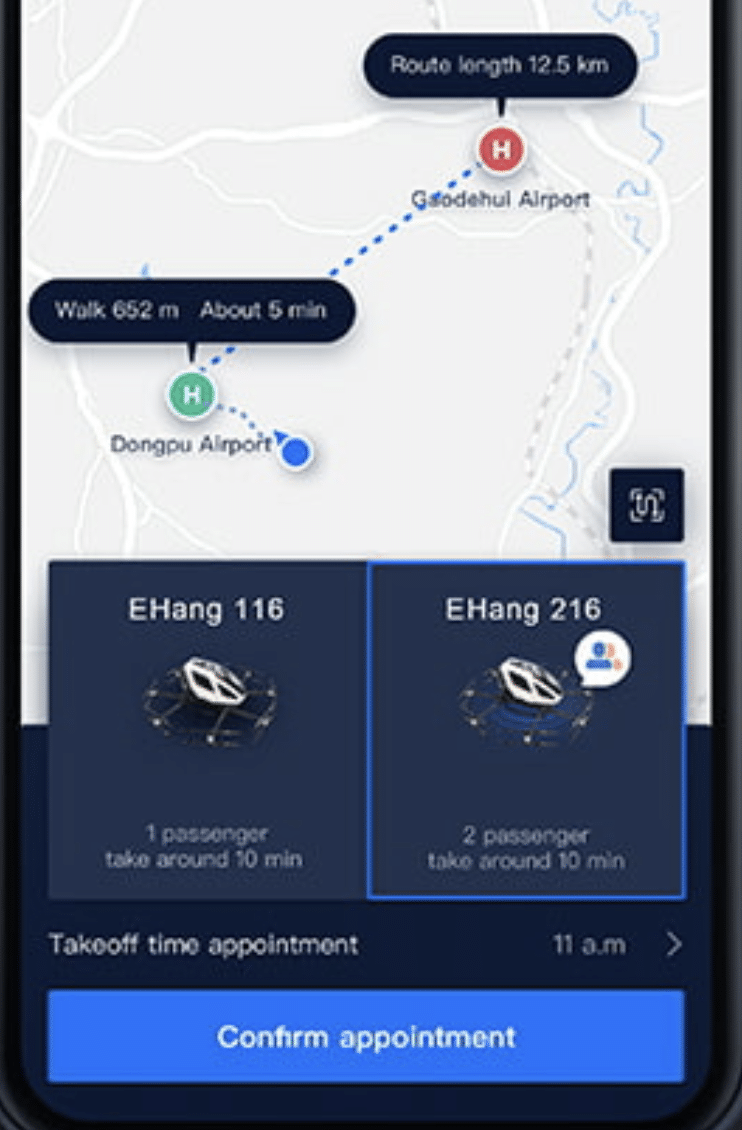 Preview of what the EHang Flying Taxis app interface would look like. © EHang
Taking all these claims into account, it therefore seems correct to estimate that commercial operations of the first unmanned aerial taxis will begin in China in mid-2022, more than four years earlier than in other countries. Surprisingly, it also appears that this frenzy for autonomous flying taxis has not caused any mishaps at the moment.
Anyway, we can only rejoice in the future, to see how these autonomous vehicles will gradually integrate into the panorama of large cities a few years after China, now one of the most innovative countries in the world.
EH216 Passenger Testing Video in Zhuhai City:
EHang
PHP Script, Elementor Pro Weadown, WordPress Theme, Fs Poster Plugin Nulled, Newspaper – News & WooCommerce WordPress Theme, Wordfence Premium Nulled, Dokan Pro Nulled, Plugins, Elementor Pro Weadown, Astra Pro Nulled, Premium Addons for Elementor, Yoast Nulled, Flatsome Nulled, Woocommerce Custom Product Ad, Wpml Nulled,Woodmart Theme Nulled, PW WooCommerce Gift Cards Pro Nulled, Avada 7.4 Nulled, Newspaper 11.2, Jannah Nulled, Jnews 8.1.0 Nulled, WP Reset Pro, Woodmart Theme Nulled, Business Consulting Nulled, Rank Math Seo Pro Weadown, Slider Revolution Nulled, Consulting 6.1.4 Nulled, WeaPlay, Nulledfire