During the closed beta launched to test the Elden Ring network infrastructure, we were able to put our shaking hands on one of the most anticipated games of 2022. Our hopes are high as previous From Software titles have left their mark on the entire gaming industry. video games for a decade. The final release of the title is scheduled for three months from now, and although we can already foresee part of the Elden Ring's potential, it is likely that several points mentioned in this article will be modified, improved and / or optimized.
After a few minutes of a tutorial that teaches us the basics of the game, we finally get there. The Entre-Terre and its open world are at our disposal. About a hundred meters away, a great horseman greets us with a halberd and sends us back to the starting point. We are in a From Software game, no more doubts. We begin to explore this fascinating and dangerous expanse, and a first influence comes directly to mind. The Legend of Zelda: Breath of the Wild has been there. As in the Nintendo title, we explore a huge world without restriction, randomly discovering various secrets.
The change of scenery is total, less bucolic of course, but tremendously addictive and this first area that we were able to relieve is very rich. Despite the ten hours dedicated to this fragment of the final game, we have not yet discovered all the surprises that the developers have in store for us, such as this NPC transformed into a tree that greeted us when we were about to stop our session, the feeling of a duty accomplished in mind.
Elden Ring is very generous, its open world is full of content whose rewards are far from trivial as they offer us new possibilities in our gameplay, far beyond simple teams with the best statistics. Usually the caves and other catacombs that are regularly found in our path reward us at the end of their exploration of new capabilities (we will return to this). However, let's hope that these mini-dungeons are much more elaborate than the ones we have been able to discover.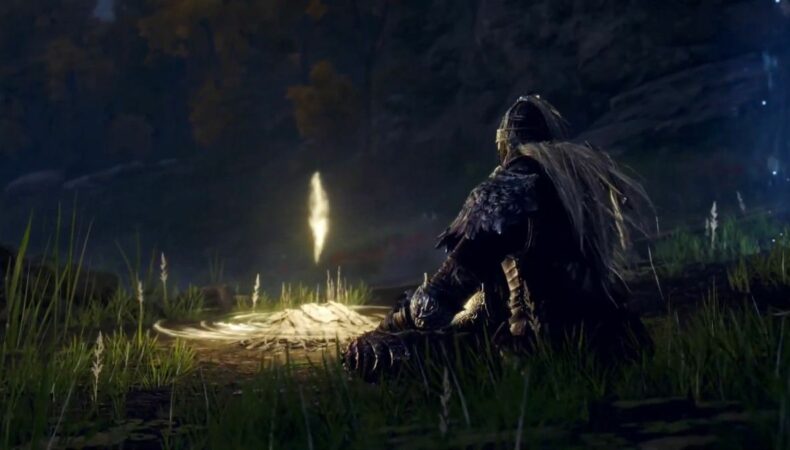 From Software wanted to make their game as flexible as possible for newcomers. There are many possibilities to make life easier in our exploration. In addition to our ghost mount, which can be summoned at any time, the Elden Ring card allows the player to teleport at will from one discovered grace site (equivalent to campfires) to another, without any restrictions. We hope this convenience / accessibility option doesn't reduce too much the tension one felt desperately searching for a point of control and the joy that flowed from its discovery at the time.
A kind of cross between a horse and a cow (therefore a horse), our mount (called "Torrent") allows us to accelerate our movements in the Inter-Earth, but also to offer new approaches to combat in the face of this. during the 15 minute presentation a few weeks ago. Thus it is possible for us to fight the monsters and bosses of the Elden Ring on the back of Torrent, and although our attack flexibility suffers, this is a very viable option and even recommended for certain confrontations. Be careful though, because if you pass away when we no longer have a suitable potion, we will immediately follow you to the grave.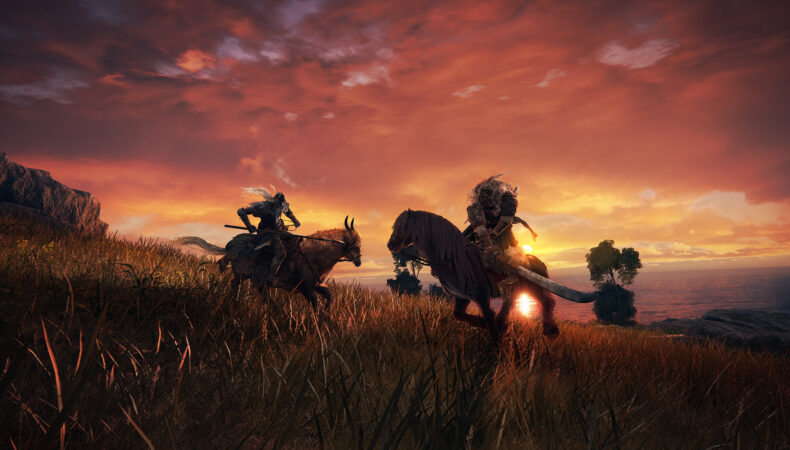 One of the great novelties of the open world of Elden Ring is the much more organic integration of bosses in the area. These fights come by surprise and add additional apprehension to our every step. We continue to be impressed by the quality of the From Software silversmiths to design bosses of such quality.
No one can blame them for being just reruns of previous studio creations, like this rider of the union between Gyobu (Sekiro) and the armor of the dragon slayer (Dark Souls 3), or the dragon, mix between Kalameet (Dark Souls) and Midir. (Dark Souls 3), but on our side, we continue to salute the presence of such creatures in the world of video games.
By the way, it's not the only thing in the Dark Souls bloodline in the Elden Ring. All gameplay from previous productions seems to have found its place, including everything from the game's interface to the source. Fans of From Software titles clearly won't be misled. That's not a flaw in and of itself, but you have to admit that describing Elden Ring as an open-world Dark Souls 4 is not without merit. Those who are allergic to this somewhat stark formula will therefore not necessarily find a better value.
However, if it's just the supposed difficulty of your games that puts you off, you'll be happy to know that the teams at From Software have you covered. Summoning Ashes, for example, allow one or more AI-controlled fighters to be revealed during a fight. Enough to distract enemy troops and bosses while dealing critical damage in peace. The powerful magics are very numerous and are still a possible option to fight from a distance.
Along the same lines, the weapon arts inherited from Dark Souls 3 have also gained in power and flexibility. Assignable at will to a weapon as long as we have found the right object, it is possible to modify its special movements according to our needs. On top of all this, the brewing system allows you to brew a custom potion, in addition to our traditional Estus jars.
So during this beta, we were able to create a mix that restores both health and stamina regen. There is no doubt that there will be many additional options available when the game is fully released, many solutions to help each player's profile advance in the Elden Ring.
The legacy of Sekiro: Shadows die Twice lies in the infiltration aspect of the game, however we found it far less interesting than we might have imagined. Complicated "emptying a camp" of the Elden Ring as we do in Assassin's Creed, killing each opponent as a shadow.
Even if the artificial intelligence is terribly weak (its vision cones are particularly small), at the slightest suspicious noise, like that of a sword between a knight's ribs, all surrounding enemies will be aware of your presence, inevitably leading to a fight. much more frontal. Infiltration is more about reducing enemy troops by a few infantry than anything else.
Aside from the fighting, everything is done in the Elden Ring to promote player immersion. Therefore, the user interface is erased during our wanderings through Entre-Terre. Nothing more to invade our screen than a discreet compass to have a minimum of reference points. Enough to benefit from a high-level artistic direction, as often happens in the creations of Miyazaki Hidetaka.
Impressive panoramas that, unfortunately, cannot hide the numerous technical problems. This is a beta, and chances are high that the final rendering will be much more refined, but as it stands, we can only notice the graphical weaknesses of the textures, a very present clipping, and the regular slowdowns.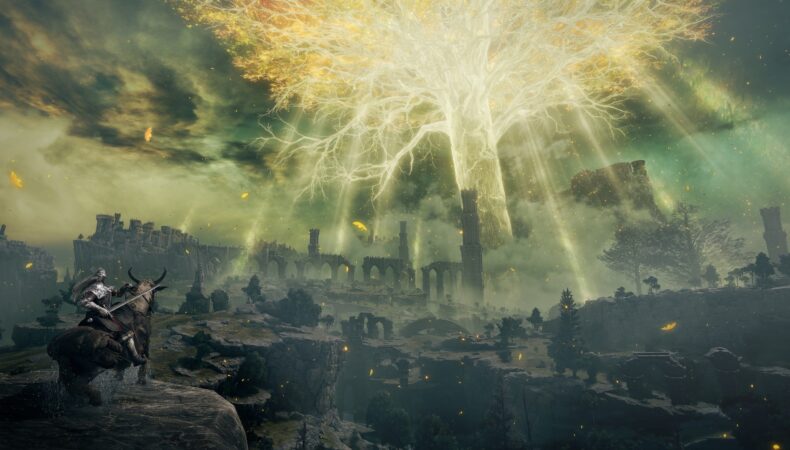 This already extremely rich first glimpse of the Elden Ring nonetheless left an excellent impression on us and we are very excited to finally be able to play the full game. The game promises to be the culmination of more than 10 years of knowledge initiated by the release of Demon's Souls in 2009. However, From Software will have to pay close attention to the technical aspect of the title and its balance, which is not always optimal at this stage. test.
Despite this, most of the lights are green, so Elden Ring, drawing inspiration from the flashy formulas of recent years (The Legend of Zelda: Breath of the Wild at the helm), succeeds in transitioning to world play. opened. We will get to the bottom on February 25, and the least we can say is that we can't wait.
Astra Pro Nulled, Woocommerce Custom Product Ad, Nulledfire, Yoast Nulled, Slider Revolution Nulled,Woodmart Theme Nulled, Wpml Nulled, Rank Math Seo Pro Weadown, Wordfence Premium Nulled, Newspaper 11.2, Fs Poster Plugin Nulled, Plugins, Elementor Pro Weadown, Consulting 6.1.4 Nulled, Avada 7.4 Nulled, WordPress Theme, Elementor Pro Weadown, WP Reset Pro, WeaPlay, Business Consulting Nulled, Woodmart Theme Nulled, PW WooCommerce Gift Cards Pro Nulled, Newspaper – News & WooCommerce WordPress Theme, Flatsome Nulled, Jnews 8.1.0 Nulled, Premium Addons for Elementor, Dokan Pro Nulled, Jannah Nulled, PHP Script