Elon Musk has several plans for Tesla brand superchargers. Some owners of these gas stations did not wait until they developed quite innovative concepts.
Tesla's general meeting of shareholders was held on August 4, 2022. Among the many topics that Elon Musk touched on in his long talk (which you can find a summary of here), the topic of superchargers caught our attention.
The issue of recharging is the tendons of war in the electromobility ecosystem. Tesla immediately realized this by developing its own charging network, which the brand continues to want to improve. V4 superchargers, new locations, and a desire to make some charging stations friendlier were the topics discussed during Elon Musk's keynote.
Towards the deployment of V4 Superchargers
Ironically, this part of Tesla Live appears to have been edited before the replay aired. Despite the late hour of the broadcast, we certainly heard Elon Musk talking about the next generation of superchargers from the V4 brand.
Pending more concrete information from Tesla on the start of the introduction of these new V4 superchargers, the plans have already been leaked and can be viewed at Electrek.co. These new terminals will change their appearance, but above all they will be more powerful (up to 350 kW) and more suitable for opening the charging network to other brands with a longer cable.
Figure to remember for superchargers: 99.6%
Availability (uptime) of Tesla terminals reaches 99.6%, which is enough to make all competing operators turn green with envy.
Availability level 99.6% of terminals. // Source: Live Tesla Screenshot
Worldwide, Tesla has already installed more than 35,000 superchargers distributed at more than 3,500 stations. There are 800 stations and 9,000 blowers across Europe in more than 30 countries. Only France offers Tesla vehicles, and sometimes other brands, a choice of 120 charging stations to cover the area.
Tesla may ask its users about the location of new locations
At the moment, the creation of new charging stations meets the logic of territorial association and demand. Elon Musk does not hide the fact that the use of superchargers is being carefully studied. New stations are being used to complete supply in the white zone, or to double capacity in very high demand areas where current stations reach saturation regularly.
At a general meeting, several Tesla owners asked Elon Musk to develop superchargers in Alaska. I must say that at the moment the manufacturer has forgotten about this region. To which the main stakeholder responded, "Maybe we should do an online survey to find out where we should put the superchargers? Yes, let's do it. »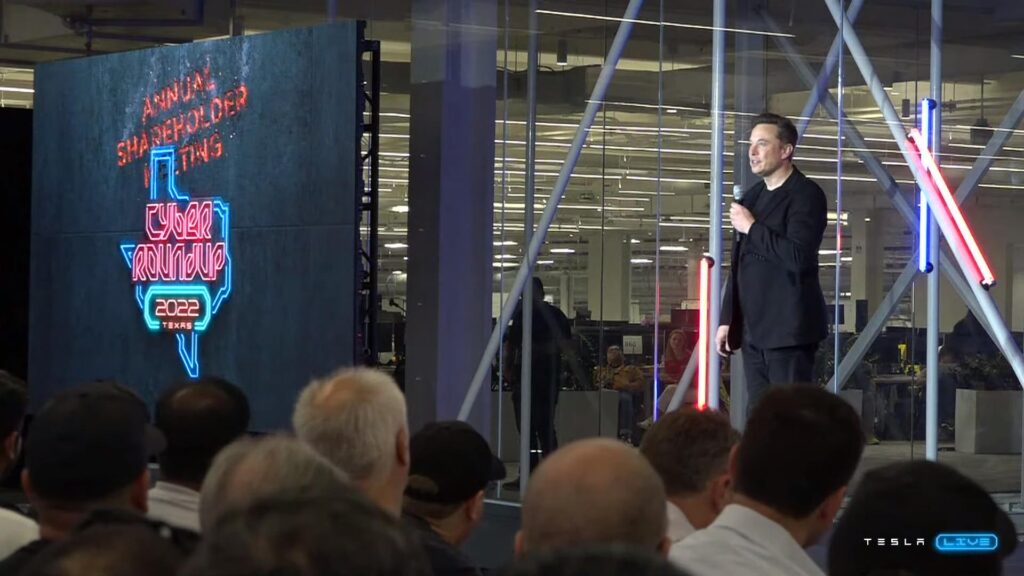 Elon Musk Tesla Annual Shareholders Meeting. // Source: Live Tesla Screenshot
Finally, it is not enough for Elon Musk to ask where to set up supercharger stations, he must still be able to find land to place the terminals. He did not hide the fact that in some sectors, for example, in California, in Malibu, it is especially difficult to find free land.
Elon Musk wants more fun charging stations
It must be said that not all charging stations are the same. Most superchargers will not deliver an unforgettable customer experience. Some even offer rather spartan comfort. Elon Musk would like to change that.
During his speech, he shared a vision for a charging station that would be like typical old eateries in the US. There, the customer could come in and connect, nibbling on a good cheeseburger and watching a video on the big screen. Half car theater, half diner from the 1950s, but all with a futuristic twist. Why not.
In the meantime, some gas stations have been keen to develop a more pleasant take-over offer. This is especially the case for two stations in Germany. The first offers a lounge of sorts with several vending machines, pizza to be eaten on site, private call places, and restrooms, all of which can be accessed with a QR code to restrict access to this waiting room.
Another multi-brand charging station has a pool in a container. At the initiative of Tesla, this pool is available for about ten minutes for customers making a payment. These initiatives are in any case of particular interest to electric vehicle users.