A notable reduction in energy consumption after the merger could allow some institutional investors to buy ETH for the first time. (Photo: 123RF)
LES KEYS DE LA CRYPTO is a section that patiently deciphers the world of cryptocurrency and its stock market, industrial and media turmoil. François Remy's mission is to identify promising entrepreneurs, decipher technological progress and anticipate the impact of this digital currency on industry and society.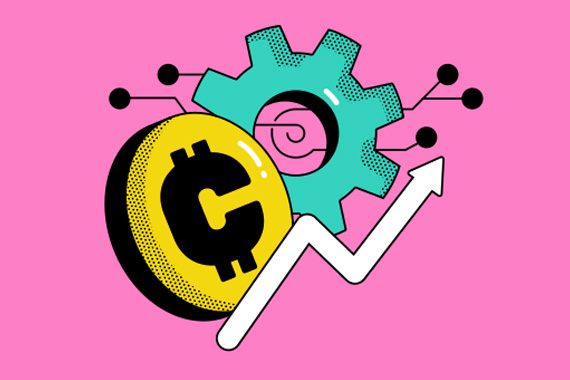 (Illustration: Camille Charbonneau)
A new historic chapter in crypto is being written this week, and green promises are likely to drive institutional adoption. Especially since it sounds like a boon in terms of financial returns.
One of the biggest events in the history of cryptocurrencies is taking place this week: The Merge, a risky update aimed at greening the Ethereum blockchain. Without going into the details of the infrastructure, this is a kind of merger between the main network and the new system, which will reduce energy consumption by "about 99.95%," the Ethereum Foundation assures.
This move from a so-called proof-of-work (PoW) consensus mechanism like Bitcoin to a proof-of-stake (PoS) algorithm eliminates the need for energy-intensive mining and secures the network with its own cryptocurrency. ether (ETH), in deposits. This in no way eliminates concerns about blockchain scalability or prohibitively high transaction fees.
High-flying techno
The "fusion" is an act of reconciliation between the technology and philosophy of Ethereum, which intends to become "environmentally positive technology". This update will result in almost unspeakable differences in processing speed, which will also prepare the system for the big performance improvements to come.
However, if successful, this software mutation would be a computer feat as no other major working blockchain has made such fundamental changes. "Imagine that you need to replace the engine of a space shuttle in flight," the American magazine Forbes recently wrote. So much so that anyone who discovers a critical vulnerability or bug can qualify for a reward of up to $1 million.
investment incentive
The groundbreaking upgrade has implications that go beyond simply greening the world's second-largest blockchain and heralding the next steps in process modernization, Bank of America analysts say.
A notable reduction in energy consumption after the merger could allow some institutional investors to buy ETH for the first time. Some were not allowed to buy tokens running on blockchains using the PoW mechanism.
"It can also facilitate institutional adoption," BofA says. After the upgrade, investors will be able to deposit ETH as validators and thereby earn "higher quality returns with lower credit and liquidity risk."
This higher quality expected return will also have a cascading effect across the entire ecosystem of Web3 decentralized applications, the so-called "dapps". For reference, "dapp" is an application that uses blockchain technology to protect user data from the organizations that develop it.
Keep cool
Do not succumb to the euphoria of change and novelty, the DecenTrader trading platform reminds, calling for caution. "It is important to remember that there are several potential headwinds that could turn the tide in favor of [spéculateurs à la baisse]namely errors in the code or the separation of a significant part of the Ethereum network participants who would prefer to continue working with the legacy chain.
Not to mention that, in general, systematic macro and geopolitical risk remains, which can stop the most optimistic ETH scenario. As of this writing, the second largest cryptocurrency on the planet by market capitalization is trading at $1,717 per unit. And DecenTrader concludes, "Let's see if the price can hold after the merger."
.