Game news Fall Guys: Season 4 officially launches
Tube of the summer of 2020, Fall Guys is launching its fourth season today, a few weeks after the acquisition of Mediatonic by Epic Games.
As in every season, the objective of the developers of Fall Guys: Ultimate Knockout is to add new content, a point on which the title had been singled out when it was released. While continuing its fight against cheaters, the studio details the new features by the new season. To begin with, there are seven new general tests, presented as follows by Mediatonic:
Skyline Stumble – The new 60 player gauntlet offers an assortment of innovative futuristic obstacles like zero gravity zones, force fields and lasers!
Hoverboard Heroes – Set sail on slimy waves to dive and stumble over perilous obstacles. Surf the surrounding chaos with the help of a hoverboard to the finish line. Watch out for disposal!
Basketfall – Play as a team for some low gravity streetball. It's Fall Guys in the future, so be prepared for an unlikely number of balloons and triple baskets!
Short Circuit – A new kind of race that swings funny beans on the track to defy gravity in a series of laps dotted with tough obstacles!
Power Trip – Roll onto a futuristic dance floor and light up the boxes in this high-spirited disco battle!
Big Shots – How do you stay balanced on a platform when you are being thrown in your face with magnets, inflatable stars, giant donuts and miniature Saturn planets? You will soon find out!
Roll On – Roll Out… but in the race ?! In this revisited classic, 60 players race to the finish line through a gaggle of stirring rotating drums. Don't … fall …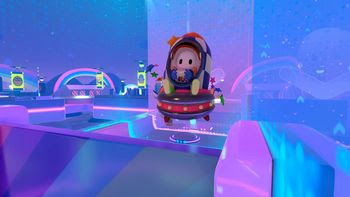 The studio also presents other original elements, with in particular the Squad mode. The latter invites players to group together in fours, knowing that the whole team wins if one of the members manages to recover the crown. This mode is also accompanied by two new events, Squad Race and Squad Survival. For the first, it is about score points for the whole team by finishing as high as possible in the ranking. The team that scores the fewest points are eliminated in its entirety.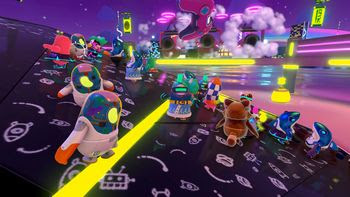 Regarding the Squad Survival event, it is avoid slime, but also score points to avoid elimination. Along with all this, players can discover new daily challenges, and earn Crown Shards. The developers present these to us as a new in-game currency, to be obtained through challenges and team trials. The players who will get a total of 60 shards will turn them into a new Crown.
By MalloDelic, Journalist jeuxvideo.com
MP