Hardware news Fanatec: PC, PS5 and Xbox Series wheel maker takes the competition to speed
We had the opportunity to meet the Fanatec teams at the brand's stand at the GT championship, the Fanatec GT World Challenge. The opportunity for us to discover their new CSL DD, a wheel in partnership with BMW, and some other surprises kept secret.
Summary
CSL DD: Fanatec switches exclusively to Direct Drive

Steering Wheel Podium BMW M4 GT3: The "real" steering wheel

A new wheel in the manufacturer's collection

Pressure on Thrustmaster, Logitech, and smaller organizations
We were therefore present this weekend alongside the teams of the German brand to cover the Fanatec Esport GT Pro Series event, the eSport part of the European GT3 championship events. And it is in the space reserved by Fanatec that we were able to get our hands on some new features, some announced and eagerly awaited, and others still confidential. Here is a small assessment of this warm-up round with the brand's novelties.
CSL DD: Fanatec switches exclusively to Direct Drive
We were already telling you about it in May, the CSL DD is a reality on which we were finally able to lay our hands for a few laps of the circuit. The servomotor which will serve as the basis for future bundles, has the double particularity of being placed in "Entry level" of the brand, at 349 € all the same, but with a direct drive motor, that is to say without a transmission system between the engine and the steering wheel axis. An obvious technological choice if we are to believe the words of Thomas Jackermeier, CEO of Endor, which owns the Fanatec brand:
If you use a belt or a gear, you lose information either by absorption or by adding artifacts. Direct training is therefore for us the only possible way for the future of simracing. The only way to offer faithful sensations and the information necessary for piloting. With CSL DD, we intend to offer this technology to as many people as possible, without compromising on quality. Thus, the CSL DD uses an engine that we have developed specifically for simracing, and not an engine from another industry.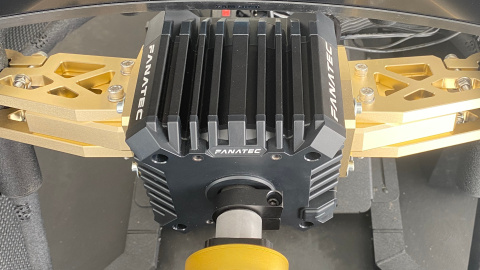 It should be noted however that we were able to try this steering wheel throughout the day, on Assetto Corsa, in excellent conditions (Fanatec cockpit, BMW wheel), with the power supply which allows the engine to reach 8 Nm against 5 with the basic diet. And clearly, under these conditions, the result is a success. The sensations are those of a direct drive, with an engine that reacts with precision, opposing us a fairly substantial force. The feeling is close to that of a DD1 which would have been set at 50%, with all the same a limit in terms of resistance which, in certain critical moments when the force of the arms exceeds that of the motor, gives the CSL DD some accents of brushless motor.
So no, the CSL DD is not able to compete with the DD1 or DD2 in terms of power, but it explodes everything we have known so far at Logitech and Thrustmaster with regard to the accuracy of the information provided. However, we will need more in-depth testing and face-to-face comparisons to really give our opinion. Which shouldn't be too late, the first models arriving in June. Moreover, Fanatec immediately announced the arrival of a new crankset from the CSL range. Crankset that we haven't been able to try yet but which should be part of the next test.
Steering Wheel Podium BMW M4 GT3: The "real" steering wheel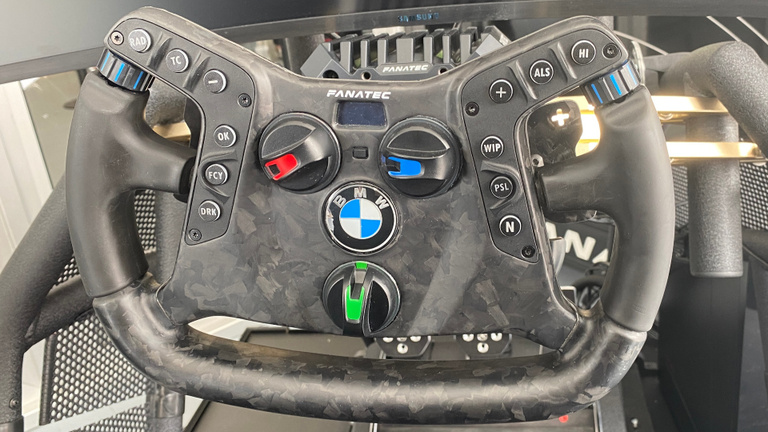 This is clearly a first in the world of simracing. Firstly, Fanatec has developed a steering wheel for a prestigious car manufacturer, in this case BMW, which is quite incredible. But in addition, this wheel designed to fit in the real BMW M4 GT3 can also be connected to a Fanatec base. We also had proof of this at the Castellet circuit since the BMW M4 GT3 Podium Steering Wheel was installed on the CSL DD base for our tests.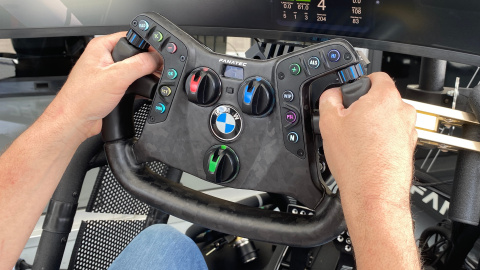 So obviously, here is a product that will only concern a small part of the players, the price of this wheel being probably closer to 1000 € (or even more, we did not have the exact information) than already substantial € 400 that Fanatec practices with its replicas. But the, there is no replica since the wheel is precisely the same, whether you buy it on the Fanatec site, as a spare part from BMW, or have one delivered with your BMW M4 GT3.
However, we did not shy away from our pleasure with this wheel in our hands, its feel clearly designed for use with gloves, its thick buttons but with rather pleasant resistance, its notched wheels which voluntarily require two fingers to not be operated. by mistake, and that finish that goes beyond anything we've seen so far, promising exceptional durability. Great art.
A new wheel in the manufacturer's collection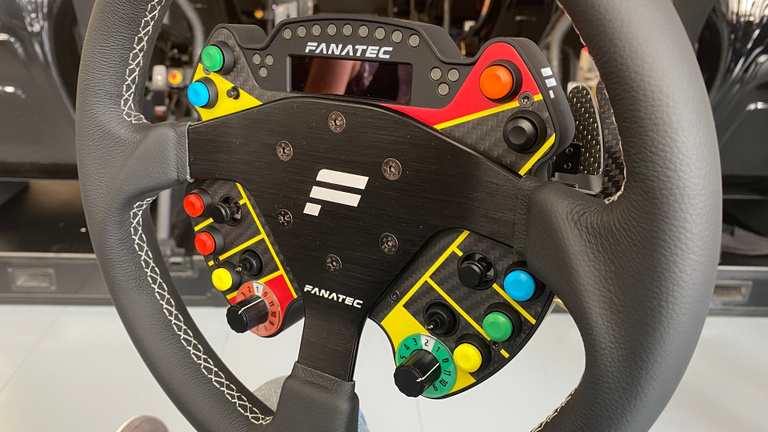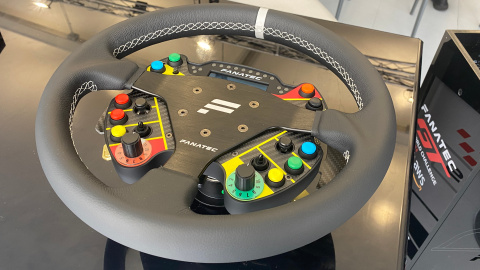 To end this visit to the Paul Ricard circuit, we met a new wheel model, not yet announced and which can be paired with a Podium HUB. This is'a GT-type wheel, well round, with a diameter that appears to be 32 centimeters. To confirm. On the finish side, this wheel offers a thick stitched leather which is reminiscent of the Leather 28 GT Wheel Add-On model from Thrustmaster which accompanies certain T300RS packs. The controls we had in front of us, however, were taken from the brand's existing catalog, with a HUB and pallets from the Podium range. The result is a model very focused on comfort, particularly versatile, and which seems to be suitable for rallying, GT races, as well as F1 and protos thanks to its advanced paddles. While waiting to learn more about its name and its price, it is not difficult to imagine that this classic but really well-made wheel will be one of the models acclaimed by players.
Pressure on Thrustmaster, Logitech, and smaller organizations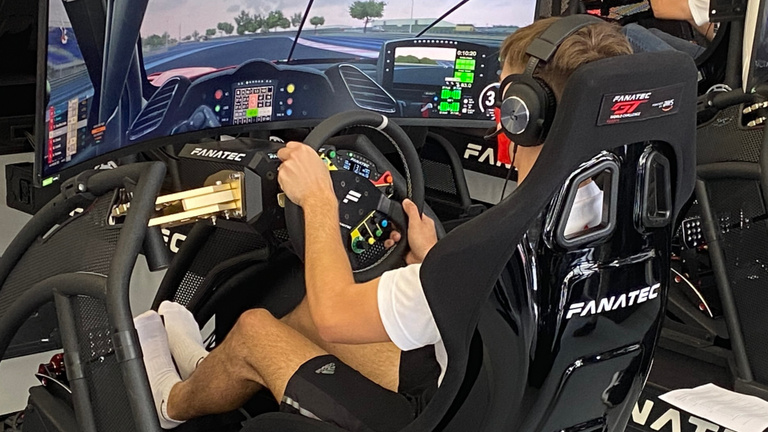 With the release of its Direct Drive at € 349, Fanatec is clearly putting consumer manufacturers under pressure. While persistent rumors speak of a direct drive model at Logitech and that a new eSport-style base could well emerge at Thrustmaster, the German manufacturer has taken everyone out of gear and imposes direct drive as a standard for confirmed simracers. But at the same time, with its extended range to more professional models, its numerous accessories, and its links with the automotive industry, Fanatec also succeeds in establishing itself more and more in the face of more specialized and more specialized structures. modest. We can bet that its future products in the Podium range will be able to compete with those of Simucube, Heusinkveld, and other brands at often exorbitant prices. Especially that Fanatec maintains compatibility with consoles as a determining advantage, much appreciated by pilots who do not want to go through the configuration on a PC.

Through oliveroidubocal, Writing jeuxvideo.com
MPTwitter