Game news FIFA 23: EA hit the hearts of football fans very hard by signing two legendary voices
Published on 20.07.2022 at 20:50
FIFA 23 is the star of the evening! After showing the first trailer and its game modes, the Electronic Arts name reveals two French commentators who will succeed Hervé Matou. Good news: these are two iconic voices!
Two legendary voices in the cast
Following the broadcast of Marie Portolano's "I'm not a whore, I'm a journalist" documentary on Canal+, Pierre Menes was dropped from all Electronic Arts projects, leaving Hervé Matou as the only commentator for FIFA 22. The publisher to find a new duo of voices to commentate on FIFA matches 23. And what we can say is that they found a size duo.
FIFA 23 players will hear the voices of two beIN Sports journalists, Omar da Fonseca and Benjamin da Silva, comment on their actions. This much-awaited new addition will set a new pace for FIFA games.
We cannot complain about this experience. We are more than tired, we are happy that we did it. The voice was overloaded, this is a recording that lasted almost a year, several sessions a week. But we were very well controlled, there were many people around us who helped us. Now we can't wait to see the result. (…) For me, this is a childhood dream come true. This is the game I used to play when I was a kid, I spent my nights playing it with my cousin. Benjamin da Silva, via The Team
At the same time, we learn (thanks to an interview conducted by L'Équipe) that the iconic duo had carte blanche to bring their characters to life, allowing fans to rediscover their special touch.
I think we were chosen knowing who we are. And they also allowed us to be ourselves: we had no restrictions, we had complete freedom, and we thank them for that, they were friendly. So we tried to give our color, but without coercion. One way or another, we are like that, we were born and that's how we will die. Omar da Fonseca, via The Team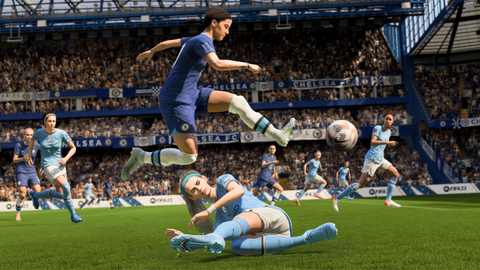 Herve Mato returns the ball proudly
For his part, Herve Mato took the news well, as the Canal Plus host, who has voted for the FIFA license for 17 years, said on his Twitter account that he was happy to pass the baton.
As a reminder, FIFA 23 is coming to PC, PlayStation 4, PlayStation 5, Xbox One, Xbox Series X|S and Nintendo Switch on September 30th.