>> Mid-Autumn Festival: solidarity cakes
>> The Mid-Autumn Festival at the time of COVID-19
Volunteers and children sing during the Mid-Autumn Festival in Thoi Hoa COVID-19 Treatment Area, Binh Duong Province.
Photo: Zing / CVN
The Mid-Autumn Festival (the eighth full moon of the year) this year falls on September 21 of the Gregorian calendar. Due to the pandemic, many children have to celebrate it in field hospitals, health centers or in isolation areas.
Overcoming difficulties, front-line medical staff in collaboration with the authorities of Ho Chi Minh City and neighboring provinces, but also volunteers, organize activities for children in order to offer them an unforgettable celebration. Moon cakes, lanterns, fruits, sweets, milk and many other things are offered to the children for the occasion.
Although volunteers must wear protective suits and strictly respect the message called "5K": Khâu trang (Mask), Khu khuân (Disinfection), Khoang cach (Distance), Không tu talp (No meeting) and Khai bao y tê (Declaration of the state of health), they continued to enthusiastically organize traditional Mid-Autumn Festival activities for children. With their skillful hands, the medical staff and all the volunteers came together to make beautiful decorations, including a tray with animal-shaped grapefruits, watermelons carved into cute flowers, etc.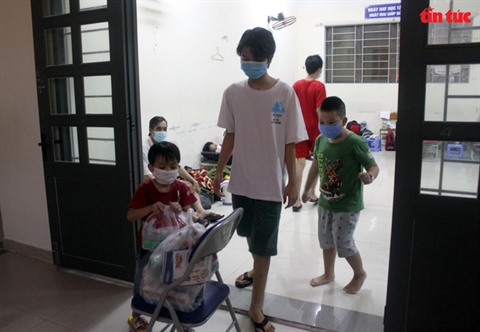 Children receive gifts from the Mid-Autumn Festival at a hospital in the Nha Bè district of Ho Chi Minh City.
Photo: Manh Linh / CVN
On the occasion of this important holiday, Vietnamese President Nguyên Xuân Phuc sent a letter to adolescents and children: "The Mid-Autumn Festival is an opportunity for children to rejoice in a warm and joyful atmosphere, meet their parents and grandparents, having fun gazing at the moon and tasting seasonal delicacies. However, in some parts of the country, many children have to celebrate the holiday in isolated areas due to social distancing to prevent and control the COVID-19 pandemic. I admire the bravery of all these children who have to leave their families to remain in the hospital or quarantine zone. I wish that they overcome difficulties while continuing to work diligently at school. I also have a thought for all hospital staff that they do not You will be able to celebrate mid-autumn with your children. "
"We promise to do everything possible to take care of the children so that they are all healthy and reunited with their families quickly," said Dr. Lê Ngoc Vu, medical director of the COVID-19 patient treatment area. From Thoi Hoa, Binh Duong Province.
"I want the children to stay healthy so that they can start their new school year normally," said Nguyên Lôc Hà, vice chairman of the Binh Duong People's Committee.
This year, all national activities related to the celebration of the Mid-Autumn Festival are taking place virtually due to the COVID-19 pandemic.
.