In China, a major video game developer recently appointed an AI-controlled humanoid robot as head of one of its subsidiaries. Her name is Madam Tang Yu.
🇨🇳 FLASH – #China: An AI-controlled humanoid robot has been appointed CEO of a major company. Her name: Mrs. Tang Yu. Outstanding First in the World. #AI (Cnews) https://t.co/YoedP9nWHp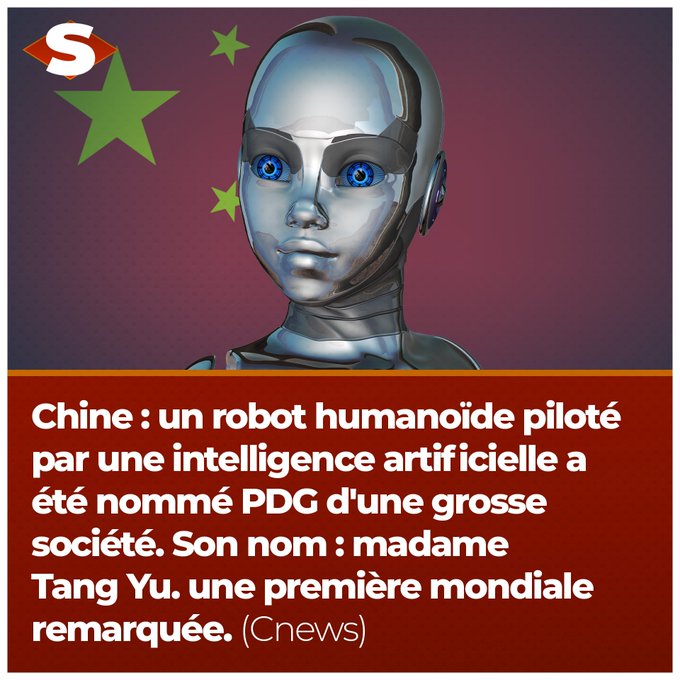 This globally unprecedented decision, sometimes considered bold, sometimes risky, was commented by NetDragon Websoft, who preferred a risky management strategy.
"We believe AI is the future of business management, and the appointment of Ms. Tang Yu shows our commitment to truly using AI to transform the way we do business," said Dejian Liu, President of the multi-billion dollar company.
Although NetDragon Websoft has yet to reveal specific details about the new "Madame Tang Yu" feature, the company has listed many benefits that AI control will bring.
Among them are the improvement of work tasks, and the gain in the speed of their implementation. This productivity will be enhanced by an efficient and fair workspace. Ms. Tan Yu's employees will also be able to rely on the constant availability of the robot, which will not need to rest.
Day by day, the robot CEO will see his managerial skills improve with real-time data storage capacity, enabling him to make the best decisions. Also, optimal risk management will be possible thanks to powerful algorithms.
The company behind famous video games like Eudemons Online, Heroes Evolved and Conquer Online is a great pioneer of this strategy that tends to get closer to the metaverse.