Ford F-150 Lightning
Release date: Available now
Price: from $39,974.
Power: 2 motors, four-wheel drive
Battery range: up to 320 miles
0 to 60 mph: average range 4 seconds
Smarts: BlueCruise Autonomy, Android Auto, CarPlay, Advanced Voice Control, Smart Hitch Assist, Phone as Key.
The Ford F1-50 Lightning is here, and we got a really good look at Ford's first all-electric pickup truck. Clearly, the F-series has been America's best-selling car for decades, so the fact that it's taking its first steps towards electrification is a big deal.
And Ford knows exactly why people love the F-series so much. The F-150 Lightning almost completely mimics its gas and hybrid counterparts and is available at an affordable price of $39,970. A range of up to 320 miles is also on offer, and it looks like Ford could come out with one of the best EVs out there. Here's everything you need to know about the Ford F-150 Lightning, including release dates, lineup, specifications and more.
We're looking at a truck that's on par with the likes of the Tesla Cybertruck or the Rivian R1t, not the over-the-top excess of the $110,000 GMC Hummer EV.
It's certainly in line with Ford's overall flair and emphasizes that the company isn't trying to alienate its existing customer base with an extravagant take on the F-150. Below you will find everything you need to know about the Ford F-150 Lightning.
Ford F-150 Lightning: price and availability
The all-electric Ford F-150 began arriving earlier this year and will be available in three configurations. The base "Pro" model starts at $39,974, the XLT model starts at $52,974, the Lariat starts at $67,474, and the all-inclusive platinum version starts at $90,874.
The XLT and Lariat come with an extended range that adds $20,000 and $10,000 to their respective price tags. Platinum comes standard with extended range.
This means the F-150 Lighting will be noticeably more expensive than the 2021 petrol F-150, which starts at $30,870.
Reservations were opened on Ford's website with a $100 deposit, but the popularity of the F-150 Lightning meant the automaker had to shut it all down. Ford CEO Jim Farley confirmed that this was done to get 200,000 orders and full production capacity is between 70,000 and 80,000 units. However, Ford promised to double that figure by next year.
The car is so popular that Ford even took steps to avoid aftermarket sales by scalpers by offering dealers the opportunity to sign paperwork that would prevent them from selling the car for the first year.
The first deliveries of the truck are already underway, and Ford CEO Jim Farley tweeted. (will open in a new tab) video showing trucks being loaded into car carriers. However, the truck's popularity means it could arrive before yours.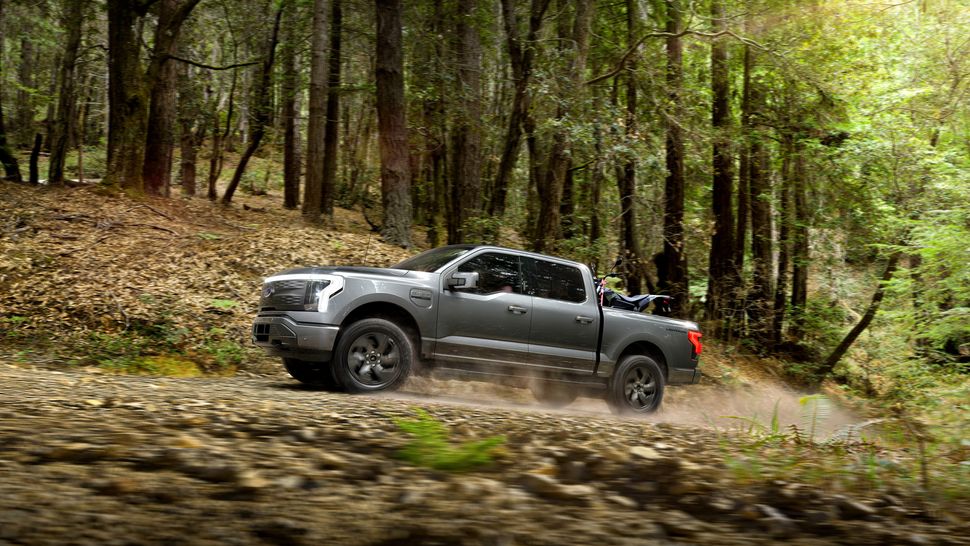 (Image credit: Ford)
Ford F-150 Lightning: power and performance
The Ford F-150 Lighting is powered by two electric motors, providing all-wheel drive. The truck is also more powerful than Ford originally promised when it was announced. The standard model offers 452 horsepower up from 426, while the extended range model offers 580 horsepower up from 563.
Ford also said both models will be able to carry up to 2,235 pounds of cargo, more than the originally announced 2,000 and 1,800 pounds. The standard range F-150 will also be able to tow 7,700 pounds, while the extended range model can tow up to 10,000 pounds.
Ford still hasn't released official data on the F-150 Lightning's 0 to 60 times, even after the truck started shipping. All we need is that Ford estimates the time will be in the average 4 second range.
Ford F-150 Lightning battery and range
The base model F-150 Lighting will offer up to 230 miles on a 98kWh battery, Ford said, while extended range models will offer up to 320 miles on a 131kWh battery — 20 miles more than originally. promised.
Some high-end EVs have started offering 350kW charging speeds, the F-150 Lighting is limited to 150kW DC fast charging. That's not bad, since 350kW chargers are damn rare, but on paper it puts the car at a disadvantage.
Fast charging the extended range model can restore 54 miles of range in 10 minutes and charge from 15% to 80% in 41 minutes. The standard range model takes slightly longer: 41 miles in 10 minutes and 44 minutes to go from 15% to 80%.
Ford has also applied for a patent for a detachable range extender that will sit at the rear of the truck and provide extra power on the road where it's really needed. It is not clear if such a device will be released and when, but Ford has been spotted. (will open in a new tab) testing the F-150 Lightning with something that surprisingly looks like the device in the patent.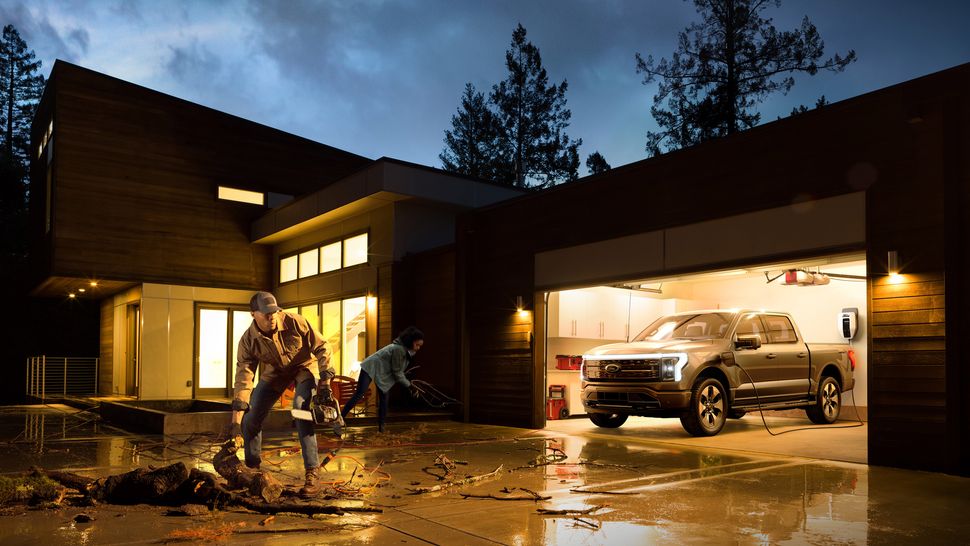 (Image credit: Ford)
The Ford F-150 also offers up to 19.2kW AC charging, allowing the vehicle to be fully charged in about eight hours. The car will also come with a 32-amp mobile charger as standard, which allows users to plug into a wall outlet and recharge if a faster charger is not available.
Ford will also sell the Pro Charging Station. (will open in a new tab)a home charger that will provide a full 19.2 kW charging rate that a truck can handle. To do this, however, you'll need Ford's "Home Integration System" which will set you back $3,895 before installation costs. Add $1,310 to the Charge Station pro price and you have $5,200 worth of hardware.
As expensive as it is, it's a bargain compared to the cost of installing a dedicated battery backup system in your home. The 13.5kWh Tesla Powerwall costs $8,500, not including installation or the fact that Tesla won't sell it to you without a solar installation.
But for that $5,200, you can use a 98/131kWh battery in your truck as a means of storing electricity. This means you can use it as a backup power source in the event of a power outage, or sell it back to the grid – as long as your electricity supplier offers it. Ford says the car can deliver power at up to 9.6kW.
Ford also allows drivers to use their car as a "generator". This means that other devices and even other vehicles can connect to the truck and be powered by the main battery. There are 10 120V sockets inside, as well as an additional 240V socket in the rear of the body. Ford has also packaged the truck with an adapter that allows drivers to plug in and charge the Tesla.
While using a car to recharge another car sounds like a joke, it has been tested with amazing results. Judging by the video from Out of Spec Reviews (will open in a new tab)The F-150 Lighting was able to recharge five EVs overnight and still had power left.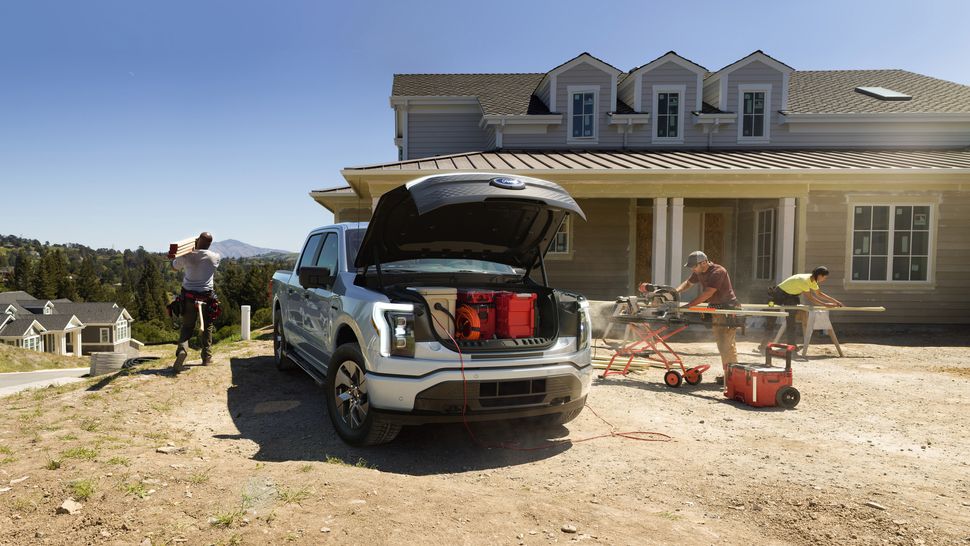 (Image credit: Ford)
Ford F-150 Lightning: Design and Interior
If you like the current design of the Ford F-150, then the F-150 Lightning should feel incredibly familiar. While some EV manufacturers want their EV lineup to stand out, Ford has clearly embraced the idea that you don't have to fix what isn't broken. So, the F-150 Lighting looks like a hell of a gas model.
Ford CEO Jim Farley even spoke to The Verge's Decoder podcast. (will open in a new tab) that "There are many flavors of soda, but there is only one Coke, and there will be many electric pickup truck tricks, [but] there is only one F-150."
In other words, Ford knows how iconic its truck is and isn't about to jeopardize that. Presumably he doesn't want the New Coke situation on his hands.
There are some changes, of course. The front grille should not let air through, so it has been redesigned. There is also a continuous light bar on the front of the truck, which was not available on gas or hybrid models. But aside from those two things, you'll probably know it's an electric car just by noticing that it doesn't have an exhaust.
In terms of cargo, your front trunk has a capacity of 14.1 cubic feet and can hold up to 400 pounds of stuff. That's why Ford calls it "Mega Power Frunk". The rear bed is the same size as other F-150s, which also means it should be compatible with any other accessories you may have or want to buy.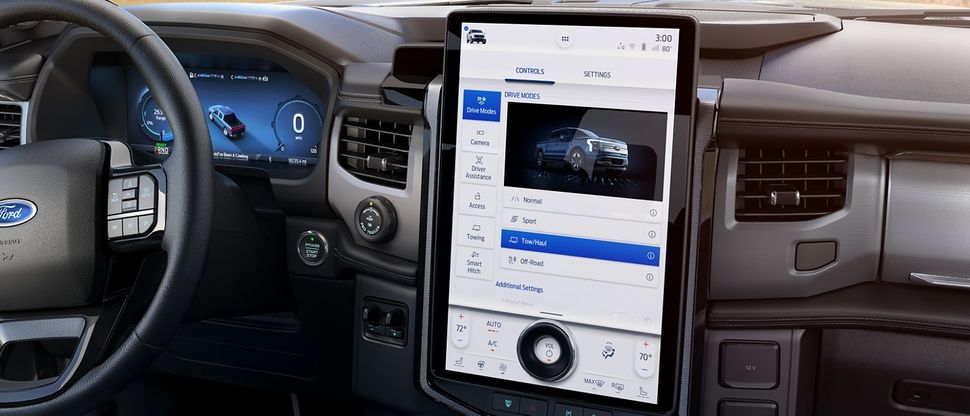 (Image credit: Ford)
Like many EVs, Ford opted for a large touchscreen infotainment system, although like the Mustang Mach-E, this 15.5-inch display is portrait rather than landscape. The company hasn't ditched all physical buttons either, which is a very valuable design choice.
This includes a physical dial built into the display that will allow you to control aspects of the vehicle without taking your eyes off the road. Of course, this larger display from the Ford Mustang Mach-E is only available on the Lariat trim.
Naturally, it will also have voice control options, connected navigation, Apple CarPlay, Android Auto, and cloud connectivity.
Inside, there is also a fold-out workspace in the center console, and the two front seats can be folded down completely. In other words, if you spend a lot of time in your truck, Ford will make sure that the F-150 has everything that can make it more comfortable and convenient.
Ford F-150 Lightning: autonomous driving and features
The F-150 Lightning doesn't skimp on smart features either. To counter Tesla, it will be equipped with a hands-free driving assistance system called BlueCruise. The system was supposed to launch on the F-150 and 2021 Mustang Mach-E later this year, but its launch has now been delayed. (will open in a new tab) sometime in 2022. This feature allows you to take your hands off the wheel when driving on the highway.
However, this is not a completely standalone feature. And while BlueCruise can manage steering and acceleration, it will also include an infrared camera to track the driver's eyes and make sure they're actually paying attention to the road.
The F-150 Lighting will also feature Ford's new intelligent hitch assist system, which will allow for near-effortless trailer hitching from the rear. The truck also features Phone as Key, which connects to your smartphone via the FordPass app and allows you to start the engine without a conventional key fob.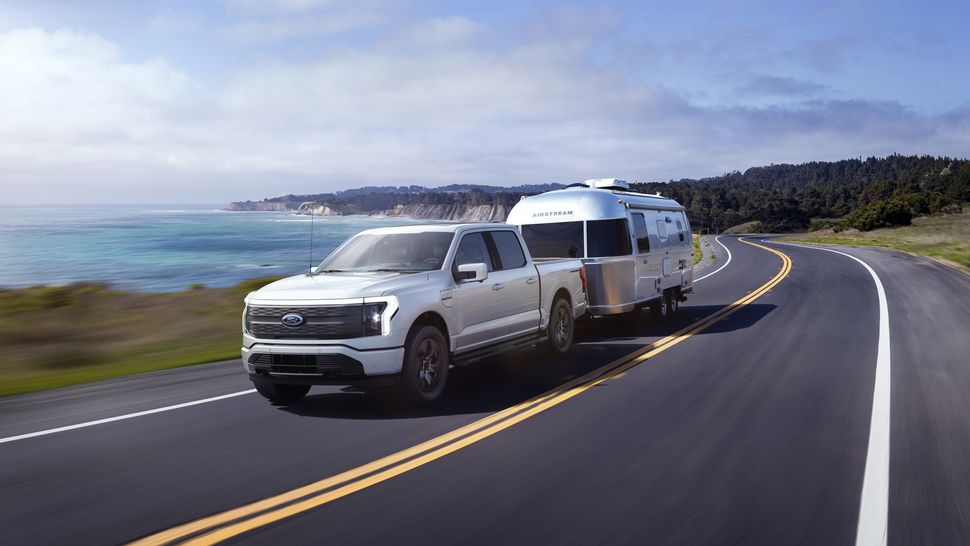 (Image credit: Ford)
Ford F-150 Lightning: Perspectives
It's clear that Ford knows who the F-150 Lighting is targeting. The gasoline-powered F-150 was America's best-selling car for 44 years. (will open in a new tab)and Ford is making sure these loyal customers are not alienated from the transition to electric vehicles.
So we end up with a truck that looks and performs just like current F-150 models. That doesn't mean it won't have all the features you'd expect from an electric vehicle, which will certainly play into Ford's hands. Also, as electric vehicles go, the base model isn't particularly expensive.
The F-150 Lightning certainly deserves close attention.
Today's Best Apple AirPods Pro Deals