Resident Evil 4, a remake of the Capcom game of the same name, is due out next week, and the Japanese studio has teamed up with Epic Games to add two of the franchise's heroes to Fortnite. After Chris Redfield and Jill Valentine, Leon S. Kennedy and Claire Redfield arrive at the Battle Royale store.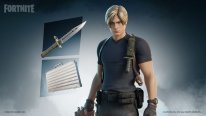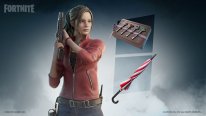 Resident Evil 2 Heroes is now available in the store for 2100 V-Bucks, complete with back accessories and collection tools. Here are the contents of the package as detailed by Epic Games:
Leon S. Kennedy and Claire Redfield, survivors of Raccoon City, know how to protect themselves. Escape the horrors of Raccoon City and join Mega City with newcomers to the Legends of Gaming series, available now in the Item Shop!

"WE'LL GET THERE": LEON S. KENNEDY'S OUTFIT AND ACCESSORIES

From a mere RPD cop to now an elite agent, Leon S. Kennedy is hard to get rid of. The small back of the briefcase is part of her outfit. Also check out the store for the RPD veterans' favorite combat knife, Leon's Combat Knife Collection Tool.

CLEARLY ABOVE: HOPE AND ACCESSORIES CLAIRE REDFIELD

A determined young woman looking for her brother, Claire Redfield hopes to find him on the island. There are strange doors in the RPD: to open them, equip the keys on the RPD's back, which are included with her costume! The umbrella collecting tool is also available in the store (don't these colors ring bells?).

Finish your next game safe and sound with the new Raccoon City Survivors Pack!
If you need V-bucks to buy these outfits and accessories, you can find them on Amazon.
Read also: Fortnite: Unreal Editor for Fortnite, the tool that will revolutionize creative level creation, launches very soon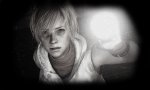 Clint008
Writer – Tester