This article originally appeared on Conversation. The publication posted the article on Space.com. Expert Voices: Commentary and Insights…
Ian Whittaker, Senior Lecturer in Physics, University of Nottingham Trent
When Oscar Wilde said that "talking about the weather is the last refuge for the unimaginative," he was unaware of some of the more extreme weather conditions on planets and moons other than Earth.
Since the discovery of the first exoplanet in 1992, more than 4,000 planets have been discovered orbiting stars other than ours.
Ongoing research on exoplanets includes attempts to determine the composition of their atmosphere, in particular to answer the question of whether life could exist there. However, in this quest for life, astronomers have discovered a huge number of potential worlds.
Here are four examples of unusual weather on other astronomical bodies – to show how diverse an exoplanet's atmosphere can be.
1. Iron rain on WASP-76b
WASP-76 is a large, hot exoplanet discovered in 2013. The surface of this monster planet – about twice the size of Jupiter – has a temperature of about 4,000 degrees Fahrenheit (2,200 degrees Celsius). This means that a lot of material that would be solid on Earth melts and evaporates on WASP-76b.
As described in a particularly famous 2020 study, these materials include iron. On the daytime side of the planet facing its star, this iron turns to gas. It rises in the atmosphere and flows towards the night side.
When this gaseous iron reaches the night side of the planet, where the temperature is lower, the iron condenses back into liquid and falls towards the surface. This is currently the only example we have of a temperature change on a planet specific enough to literally rain down at night.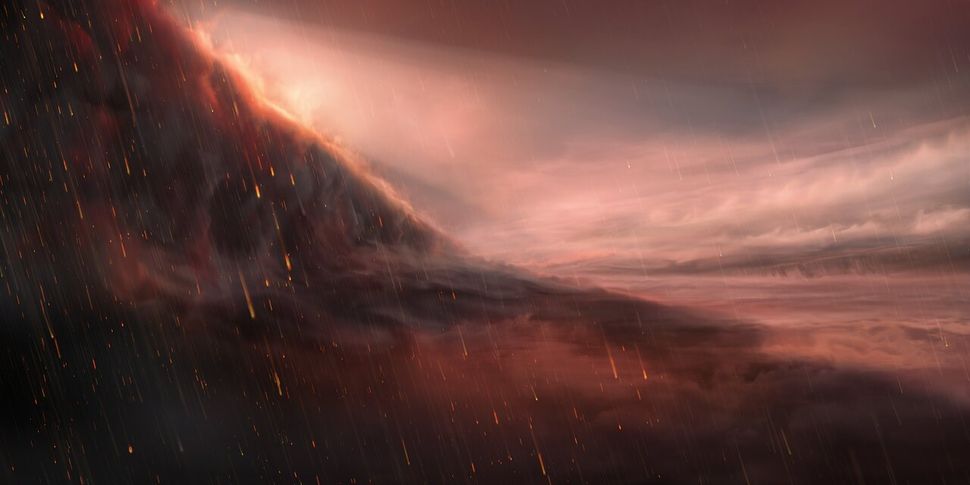 2. Methane lakes on Titan
Titan is not a planet, but Saturn's largest moon. This is especially interesting because it has a substantial atmosphere, which is rare for a moon orbiting a planet.
The Moon has a surface where fluids flow like rivers on Earth. Unlike the Earth, this liquid is not water, but a mixture of different hydrocarbons. On Earth, we would use these chemicals (ethane and methane) as fuel, but on Titan it is cold enough for them to remain liquid and form lakes.
Ice volcanoes are believed to occasionally eject these hydrocarbons into the atmosphere as gas to form clouds, which then condense and form rain. This precipitation is unlike normal showers that we might experience on Earth – it only occurs about 0.1% of the time, with larger (about 1 centimeter) droplets falling five times slower due to a decrease in gravity and an increase resistance.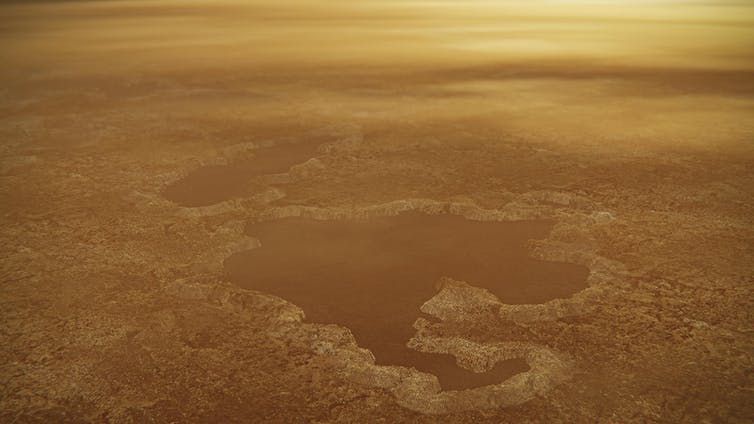 3. Winds on Mars
Mars has a completely different weather system than Earth, mainly due to how dry the planet is and how thin the atmosphere is. Without a significant magnetic field, the atmosphere of Mars is open to the sun's magnetic field, which removes the upper atmosphere. This left a thin atmosphere composed mostly of carbon dioxide.
NASA's recent first flight to Mars The ingenuity was astounding – not only in terms of research, but also because the rotor blades provide very little lift in a thin atmosphere, which is about 2% of Earth's surface lift. Its counterbalance to this rarefied atmosphere is a double set of large blades spinning at about 2,500 rpm, which roughly matches the rotor speed of a drone, but much faster than that of a passenger helicopter.
While the Martian atmosphere is thin, it is definitely not calm. An average wind speed of 30 km / h (20 mph) is sufficient to move material on the surface, and early observations from the Viking lander indicated wind speeds of up to 110 km / h (70 mph).
The prospect of high-speed sand and dust storms may seem like a major challenge to explore the planet, but the atmosphere is thin so the pressure is low. For example, the scene in the movie "The Martian", where the rocket explodes, simply would not exist. Mars is also known for large-scale dust storms that obscure the view of the surface and can last for weeks.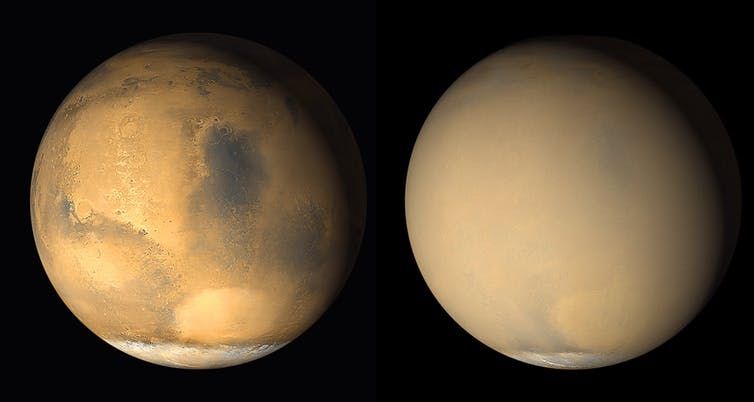 4. Lightning on Jupiter.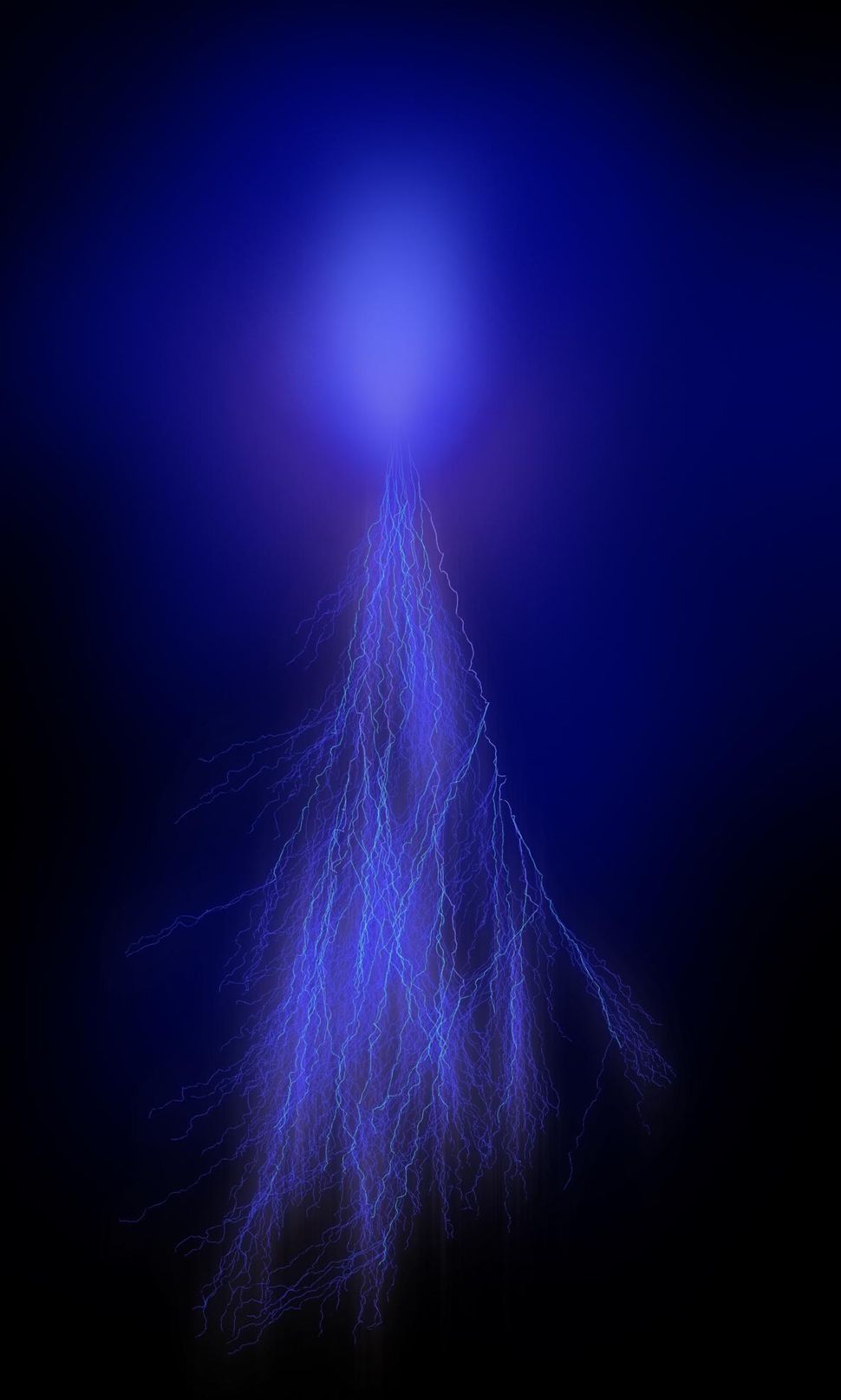 In 1979, Voyager 1 flew past Jupiter and saw lightning strikes. Then in 2016, the Juno mission studied thunderstorms on Jupiter in detail.
On Earth, most of the lightning is concentrated near the equator. But on Jupiter, the stability of the atmosphere means that most of the convection and turbulence occurs near the polar regions, where most of the lightning strikes occur. Instead of the terrestrial method of generating lightning, when droplets of supercooled water collide with ice, Jupiter accumulates a charge in the form of snowballs of ammonia. This ammonia acts as an antifreeze for water, keeping it liquid at high altitudes.
Jupiter even has lesser-known lightning bolts called sprites and elves. Sprites are formed from lightning that rises from the clouds into the upper atmosphere and creates a short-lived reddish glow, while elves are rings that form when lightning reaches the charged part of our atmosphere (ionosphere). They were predicted in 1921 but were not photographed on Earth until 1989, mainly due to storm clouds.
Read more: How can some planets be hotter than stars? We started to solve the mystery
These so-called short-term light phenomena have now been observed on Jupiter, providing important information about Jupiter's atmosphere and how these lightning-fast formations are created and maintained.
While there are many different weather conditions on exoplanets, the biggest challenge is observing them in sufficient detail to determine what their atmosphere is – if they have one.
The next discovery of an exoplanet's weather system could be terrestrial, it could be similar to one of the examples above, or it could be something even more incredible.
This article is reprinted from The Conversation under a Creative Commons license. Read the original article.
Follow all Expert Voices issues and discussions – and participate in discussions – on Facebook and Twitter. The views expressed are those of the author and do not necessarily reflect the views of the publisher.