French startup Galeon, specializing in medical data, is launching an ICO (initial coin offering) to raise funds. We explain the ambitious and original project behind this initiative.
Galeon is a young French company specializing in medical data that aims to create a universal patient record for hospitals and research. But what does this French startup really want to do by mixing blockchain, medical data and medical research?
Who is Galeon?
Galeon is a French company founded in 2016 by 5 experts from the healthcare, IT and blockchain fields. His first project consisted of developing a cloud platform to manage patient records in hospitals, but also to share them in a territory between different hospitals or caregivers in the city.
This first development is important, because the Galeon project is based on this. Aujourd'hui, l'entreprise has the possibility of experience for proposer aux patients et aux hôpitaux a dossier patient hospitalier capable of being superposer aux solutions leave existing dans les hôpitaux et de proposer des outils de data visualization et des outils de pilotage aux professionnels de health.
Today, Galeon is used by 3 hospitals in France that have about 85,000 patient files. Approximately ten additional hospitals will use Galeon in 2022. The service is growing rapidly.
Galeon doesn't just collect data. It is also capable of analyzing them to derive structured data. After anonymizing the data, Galeon is able, with algorithms, to draw trends to help caregivers and researchers improve their procedures or facilitate research.
Galeon's core business is aggregating, processing, and protecting medical data.
Galeon's goal is ultimately quite simple: to provide hospitals with a universal, protected, CNIL and GDPR-compliant patient record whose data can be easily exploited (and structured) to facilitate medical research. For this, Galeon needs funds and that is why he has just launched an ICO.
Why is Galeon launching an ICO?
To achieve his goal, Galeon could have done quite a classic fundraiser, going through more or less wealthy banks or investors. Galeon did not make this decision for two reasons.
La première, c'est qu'en passant par cette méthode, Galeon garde son indépendance et permet de se développer en France et à l'international, sans risquer de perdre le contrôle et d'être revendu a acteur majeur de la santé ou data.
The second is that Galeon has an ambition to go beyond simply storing medical data in the cloud. The French company enables patients and hospitals to share value transparently and decide on future (non-profit) medical research funded by a Decentralized Autonomous Organization (DAO).
Therefore, Galeon decided to launch an ICO, an initial coin offering, or the first token issuance to finance itself. Specifically, it will raise funds by issuing its own cryptocurrency, the $ GALEON. In exchange, investors will be able to use this cryptocurrency to decide in which research field (systematically non-profit) they will find (their) medical data.
Galeon launches an ICO to finance its project
The Galeon ICO will allow the company to raise funds and develop its universal patient medical history. In return, $ GALEON token holders will be able to:
For token holders and patients: choose in which non-profit research area your data will be used
For hospitals: access structured data and develop new patient monitoring tools
For Researchers: Access secure and anonymized medical data.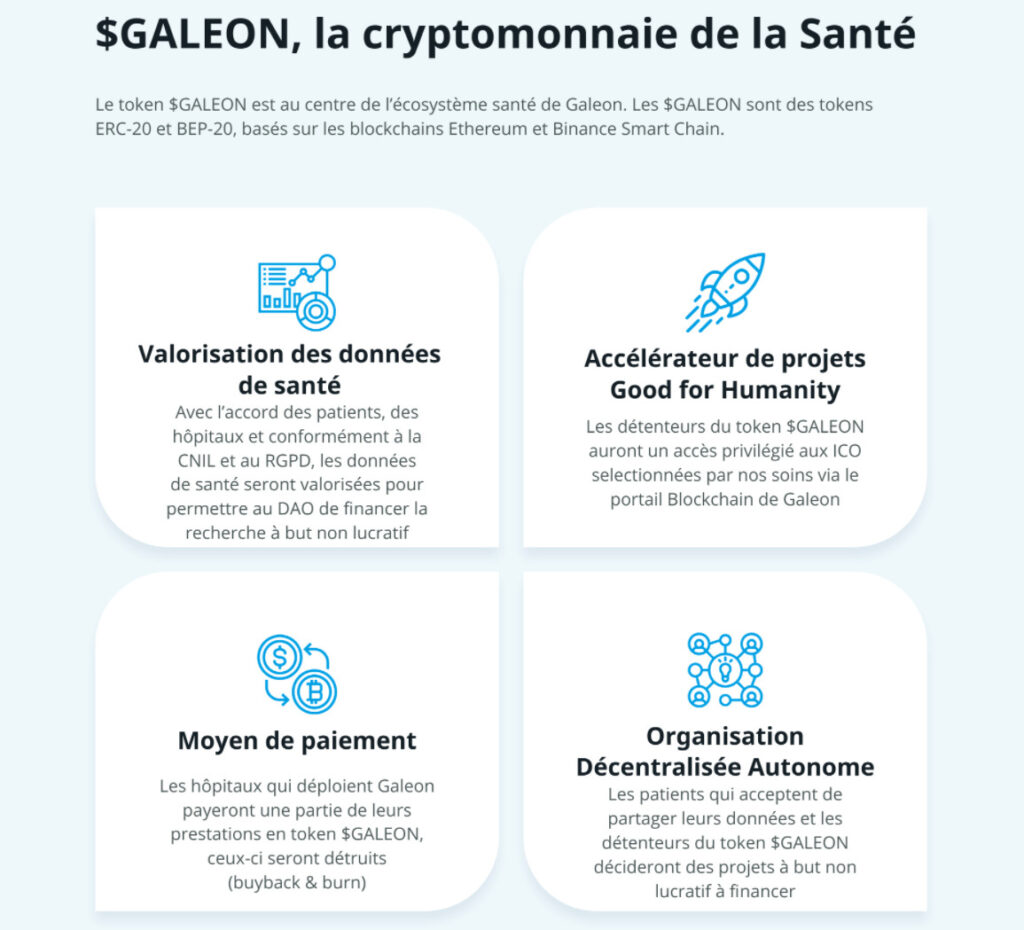 The $ GALEO token will be used for researchers, hospitals and patients to decide to invest in research projects.
Galeon's project is vast and is very well documented in a very clear and completely French whitepaper. You can also participate in this ICO by going to the page dedicated to the Galeon ICO.
If you have specific questions, you can also ask them on the company's French Telegram channel.
This is content created by freelance writers within the Humanoid xp entity. Numerama's editorial team was not involved in its creation. We are committed to our readers so that these contents are interesting, qualitative and correspond to their interests.
Rank Math Seo Pro Weadown, Wordfence Premium Nulled, Yoast Nulled, PHP Script, Fs Poster Plugin Nulled, Astra Pro Nulled,Woodmart Theme Nulled, Wpml Nulled, Avada 7.4 Nulled, Woodmart Theme Nulled, PW WooCommerce Gift Cards Pro Nulled, Elementor Pro Weadown, Newspaper – News & WooCommerce WordPress Theme, Nulledfire, Slider Revolution Nulled, Elementor Pro Weadown, Jnews 8.1.0 Nulled, WeaPlay, Business Consulting Nulled, WP Reset Pro, Newspaper 11.2, Flatsome Nulled, Woocommerce Custom Product Ad, Premium Addons for Elementor, Jannah Nulled, Consulting 6.1.4 Nulled, Plugins, WordPress Theme, Dokan Pro Nulled