Retrogaming and pixel art have been on the rise lately, as we've seen in particular the return of old productions, ports/remasters or even unexpected sequels, or almost. Today we cover the sequel, which after more than two decades of absence (released in 1999 on Neo Geo MVS based) returns with the second part: Ganryu 2 – Hakuma Kojiro.
Originally developed by Visco, this sequel to Ganryu, Ganryu 2 – Hakuma Kojiro, this time comes from the developers at Storybird Studio. French team founded in 2008 by sound engineer and graphic designer Julien Rocca and developer Sylvain Nove. The studio got its start through a brick-breaking mobile app released on iOS and Android: Space Buster.
The studio subsequently focused on developing software for consoles, mainly Action, Platform with Golden Force, Guns of Mercy, Finding Teddy 2, or co-development with Aggelos among others. They also co-published Pixel Heart for Wallachia – Reign of Dracula, a game developed by Migami Games. Their last internal name is known as it is a continuation of Ganryū. Fans of the first will also enjoy finding Musashi, as well as those very fan service references to the first opus.
payback
This new adventure takes place after Miyamoto Musashi defeats his opponent Sasaki Kojiro. Back in the province of Hokkaido in northern Japan, Musashi meditates. It is there that he receives an impromptu spiritual visit from his enemy.
Indeed, Kojiro's spirit has survived, and he intends to take revenge thanks to a pact made with the demons. Musashi has no other choice, he must cross Japan again to reach Ganryujima Island, and that's in less than a few weeks to defeat Kojiro, otherwise Japan will be destroyed…
In this sequel, the story is inspired by the famous swordsman Takezō Musashi. Remember that this legend was the subject of films, the novel ("Stone and Saber") by Eiji Yoshikawa, or the manga by Takehiko Inoue: The Tramp.
Scoring, variety and different visual themes
The game part of Ganryu 2 uses the concept and formula of Action, Platformer and Arcade games typical of old school apps.
In other words, if the evolution of each level is done in 2D scrolling using vertical walks, we also find all the time requirements. Thus, as shown in Shinobi 3, Shadow Dancer or The Second Samurai, patience, precision, and learning from one's own defeats are three keys that appear regularly in this epic.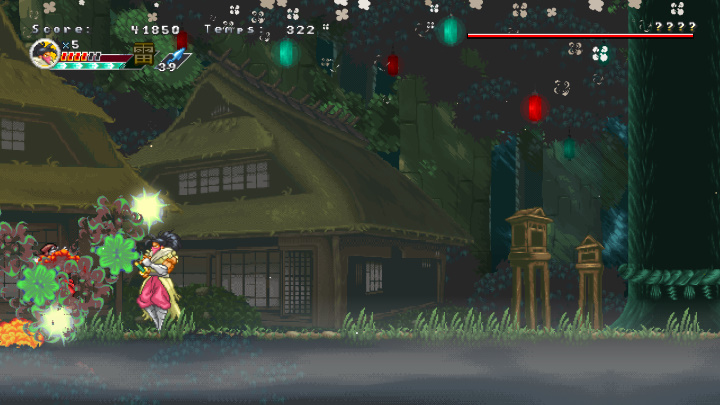 If you are new to this kind of retro/old school games, you should know that there are two goals. The first concerns crossing the level from point A to point B, by eliminating or missing various opponents, avoiding the traps present and especially getting rid of the boss at the end of the level. While the secondary mission is to have the highest possible and unimaginable gain while keeping the maximum "lives". So a good replay value idea for scoring enthusiasts, especially since the software doesn't have a staggering lifespan, even if it will depend in part on your dexterity.
Please note that if some games use the Timer process, then in Ganryu 2 this concept is canceled, so there is no tangible stress caused by this. Then you can generally spend absolutely all of your time progressing, with the exception of some individual passes. But be careful, if you're aiming for perfect results, every second counts.
If we tell you about the importance, it is because each course, if it covers the topics of feudal Japan well, even if stage 3 convinced us less, offers problems. We think, for example, wagon races, which are quite treacherous the first time around, or slalom between moving rocks in vertical scrolling, which also requires a certain amount of skill to overcome, or even the Shmup phase. A good idea for an update from the developers, allowing for the welcome variety.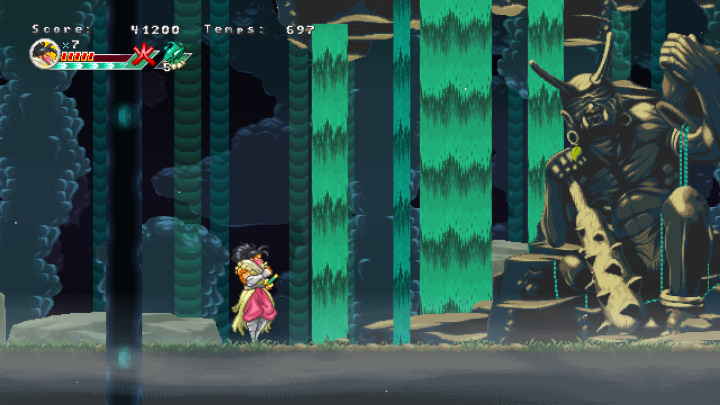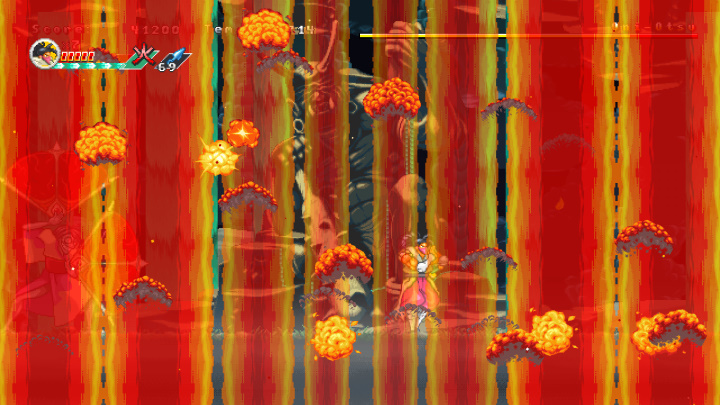 Dynamic, accessible and demanding gameplay
Musashi is a formidable warrior. Easy to handle, it can be made to perform single or double jump, melee saber strikes, throw a limited number of kunai, and use kami. These are regenerative or destructive forces associated with a certain scale. For example, a regenerating power can save the day and thus avoid a premature end to the game, which is very practical. Musashi's last move, dash on the ground or in the air.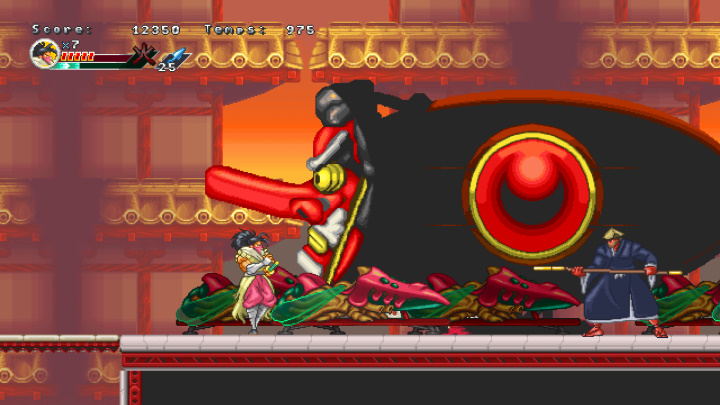 If the latter brings an additional dynamic axis, this is not only useful for "disarming" the defense of certain opponents, but also necessary in some sections of the progression. For example, you have to use it at the right moment to avoid sharp traps, advance on moving platforms, or even go back to find items (extra life, HP regeneration, kunai, etc.). But once again, be careful not to abuse it too much, risking foolishly taking damage by landing on an enemy, or outright losing a life by accidentally falling into the void due to an opposing kunai…
Now that you know the structure of the game, you know not to take this adventure too lightly, as traps and sneaky enemy spawns can quickly tip the game against it, especially against the boss when you're low on hit points. We repeat, but it takes perseverance, stubbornness and learning by death to reach the end of this epic and get a sense of satisfaction, as in the "old times".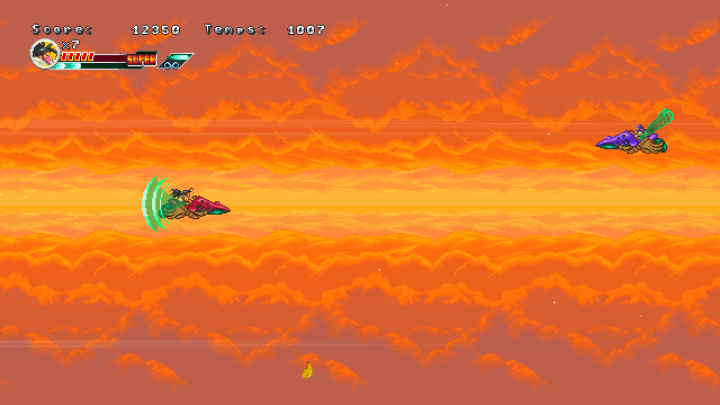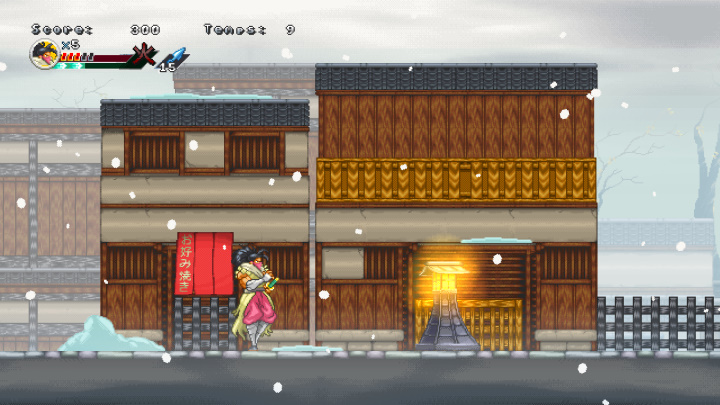 Return of the era of Megadrive, SNES and Neo Geo
In terms of graphics, as we said earlier, Ganryu 2 is based on a very well transposed universe of quirky 17th century feudal Japan. With this pixel art created in Unity, all sets take us right back to the Megadrive, SNES and Neo Geo years with well-chosen colors.
However, there are some technical bugs in this version of the Xbox Series X. For example, during the confrontation with the level 1 boss, if you perform a whirlwind strike in the air while the boss is at the far left of the screen, it will simply disappear. off the map, forcing you to exit and restart the current level from the beginning.
Or, more bizarrely, at the beginning of stage 4 of act 1, losing a life while climbing the cliffs causes the foreground to disappear completely during the recovery. We made several death retries to find that this error put us in two situations. First: waiting on the spot for several minutes (even more than the time required to ascend) does not solve anything, second: the jump instantly takes life, and returns us to this very "empty" screen. Needless to say, if you have multiple lives, under these conditions, it's best to exit the game and restart to find a "normal" move on the first try.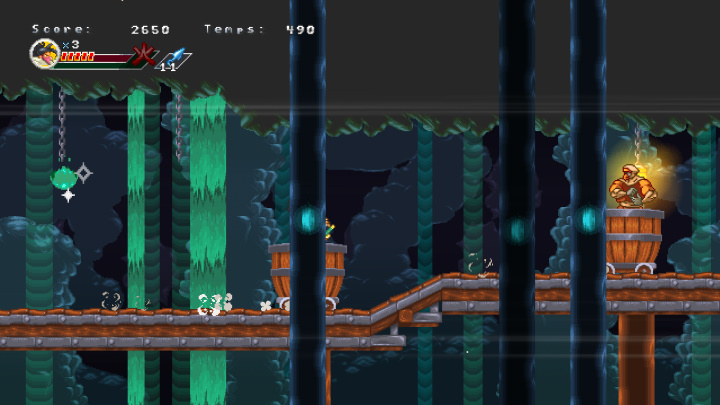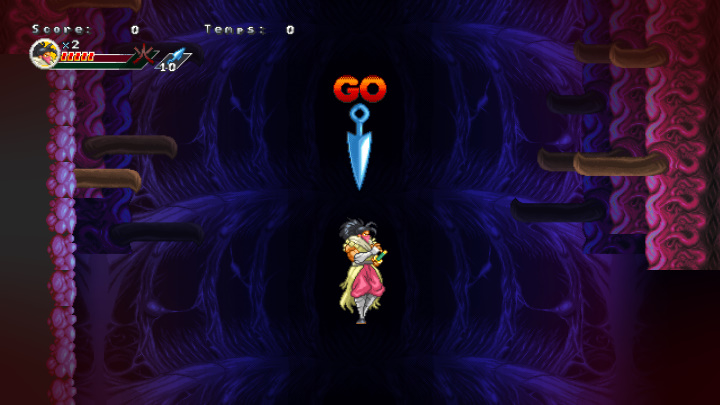 "Gems of bugs" like at the time, which can probably be easily fixed today with a future patch.
In terms of sound, again, the app draws on tradition. Stef Sirra's compositions range from retro, classical or Japanese instruments such as guitars, taiko, koto, chiptune synths to the Japanese flute of Chinese origin: the shakuhachi. In this completely consistent typical atmosphere, we even notice certain inspirations from TMNT, Demon Slayer, Naruto, Onimusha Warrior or even Secret of Mana. Generally good. Finally, note that the texts displayed on the screen are in French.
Tested on Xbox Series X
With its difficulty, its fast-paced yet accessible gameplay, its frustration with sneaky traps/enemies, and its sense of fulfillment after a tough playthrough, Ganryu 2 breathes old-school work. The French studio, endowed with very well done pixel art and sounds with various sources of inspiration, was able to light up this bizarre universe of Japan in a very beautiful way. However, if there are all the ingredients to satisfy the regulars, the most demanding and persistent, we find it unfortunate that this set does not have a similar experience from one level to another, some of the courses are less inspired or have bosses that are too easy, at times uneven difficulty, which won't convince everyone. Reserved, however, for fans of retro games, arcade games, and/or pixel art lovers who appreciate scoring. The note explicitly addresses an act 1 step 4 error that can be very annoying. An additional point can be added to its correction.
.