At a glance
Expert rating
pros
Extra large touch display
First class navigation
Online Snapshot Storage
Phone connection
Minuses
poor video stabilization
Doesn't connect to Wi-Fi networks without an ID
Our verdict
Garmin's DriveCam 76 caught our attention simply because the large touch screen makes it easy to see and use. It offers top-notch navigation, but it ran into serious stabilization issues in our dash cam capture tests.
Best Price Today: Garmin Drivecam 76
Since most people use their phone or existing vehicle technology to navigate, a dedicated third-party GPS navigator like the $450 Garmin DriveCam 76 might seem a bit odd. Well, that may be in the past, but if you have a car without built-in navigation, a third-party device is better than using your phone.
The larger, much more readable (and therefore safer) display and, frankly, clearer driving directions just make for a superior experience. And the Garmin DriveCam 76 will really help with phone calls.
Navigation and phone calls aren't really our thing, so we're looking at the DriveCam 76 as the dash cam it doubles as. Unfortunately, this aspect proved to be less than satisfactory due to video stabilization issues. A shame, because otherwise we loved the device, right down to the color and detail of the shots.
This review is part of our ongoing review of the best dash cams. Go there for more reviews and buying advice.
Design and Features
It's also important to know that the DriveCam 76 is listed on the company's website as part of the DriveSmart series. Only one version of the 7-inch DriveSmart includes a DVR and is called the DriveCam. Without a DVR, that's $150 less. 5-inch, 6-inch and 8-inch models are for navigation only.
The 7-inch product designation refers to both the size of the device (measuring 6.97 inches wide, 4.17 inches high, and 1.38 inches deep) and the display size, which measures 6.95 inches diagonally. . business as a 7-inch class. Yes, sellers always round up.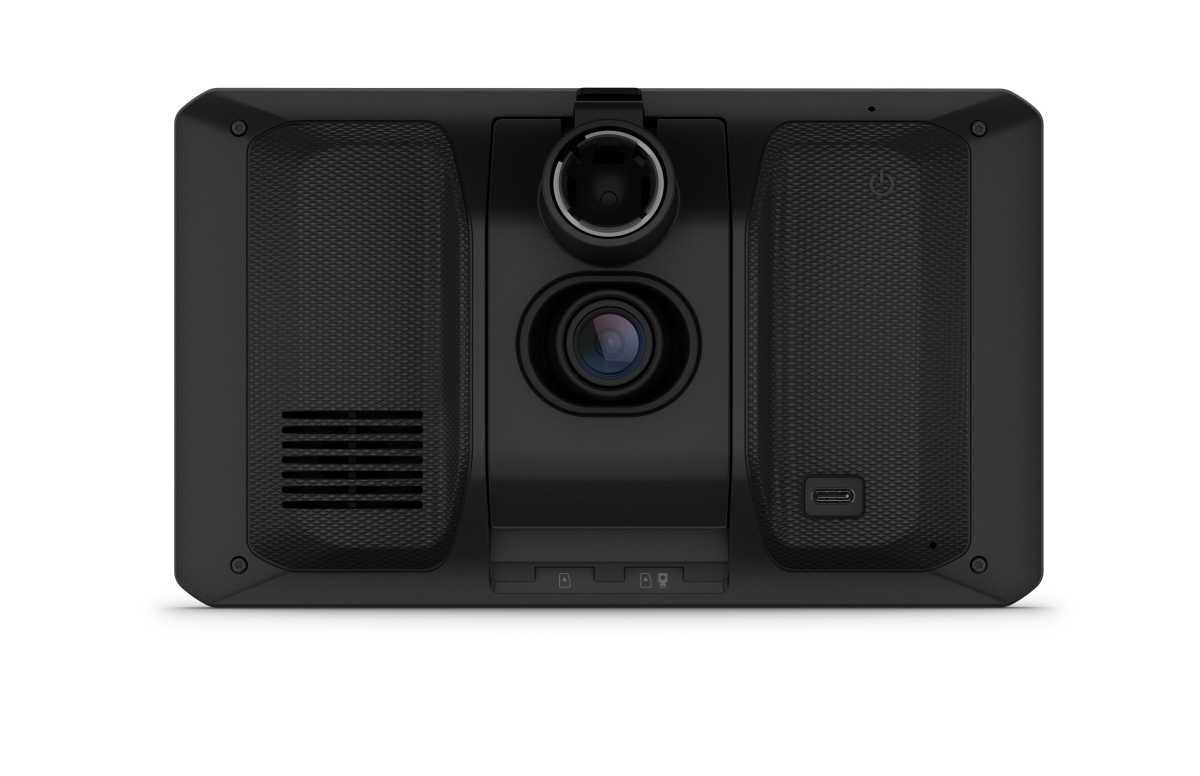 The said touch display has a resolution of 1024×600 pixels, so it's unlikely to be Retina; however, it didn't strike me as overly pixelated in my testing, and it's a quality panel with good viewing angles. I also found it to be very sensitive to touch, which is not always possible with the callused fingers of a musician (me) or a worker.
Camera 30 fps, type 1080p (the best balance between quality and memory requirements in our opinion) with a 140 degree field of view. One thing I really like about the Garmin DriveCam 76 is the big battery (mAh not provided). This allows the device to shoot video for up to half an hour in the off state without external power. Yes, we all have phones these days, but who knows.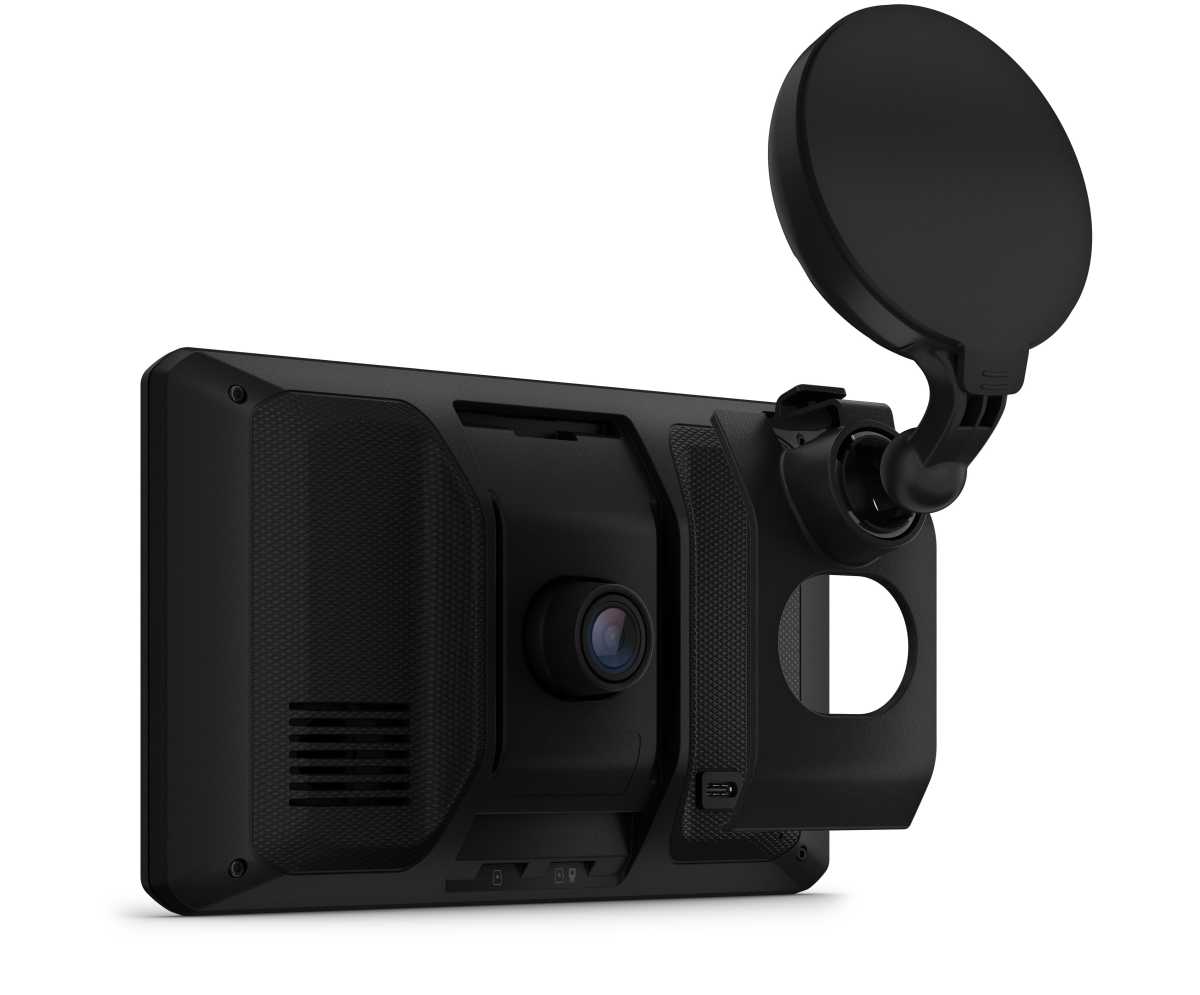 Our DriveCam 76 comes with a 16 GB SD card installed. There are two card slots on the back of the device, but only the one on the right, as you look at it, is for the camera. The other is for additional map data, boosting the 16GB of internal memory already dedicated to maps, etc. Also on the back are a power button and a Type-C charging port.
To use the Garmin Drive app, you must sign up with a Garmin account. Not my favorite requirement. However, when you do, you can upload and save your videos to Garmin storage for safe keeping. This can be a key point in case of disputes in your travels. You also have access to various settings, including bad driver aids such as lane departure and imminent collision warnings.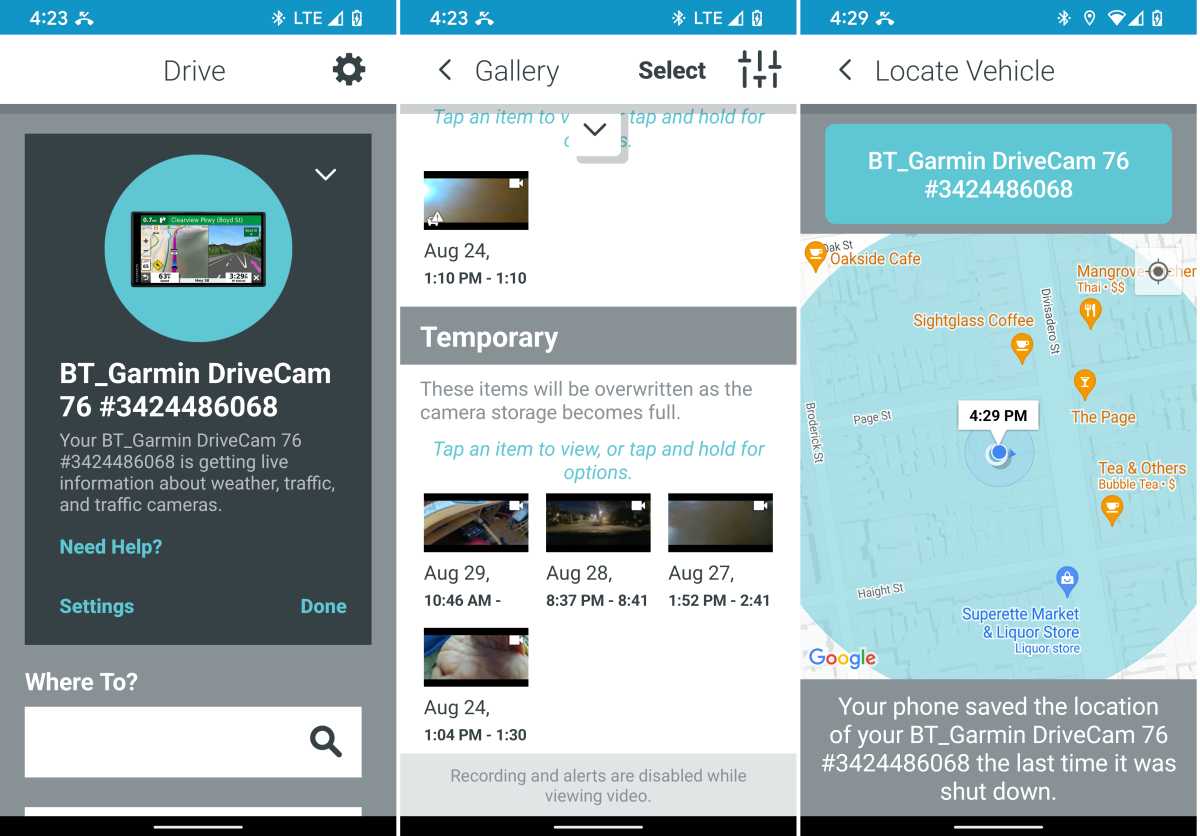 Three screenshots of the Garmin Drive app.
The DriveCam 76 can also use one of the company's backup cameras, such as the $200 BC 50 included with our test unit. Expensive, but it can be handy for parking if you need it, as well as checking six hours in pedestrian areas.
I won't go into the DriveCam 76's navigation and other travel features, as that's out of our remit. However, I will tell you that they are countless and modern. Equal to or better than what you get from car manufacturer navigation devices (some of which are based on Garmin). Garmin has been doing this for a long time.
Performance
The DriveCam video took me by surprise. It's colorful and detailed enough both day and night, however there was a big problem: wobble (yes, a very technical term). Garmin has had issues with motion stabilization in the past, but that was a few years ago.
Seeing them again, and even worse, on the DriveCam 76 was a bit of a pain. Especially since I really liked the large display, navigation features and ease of use of the device.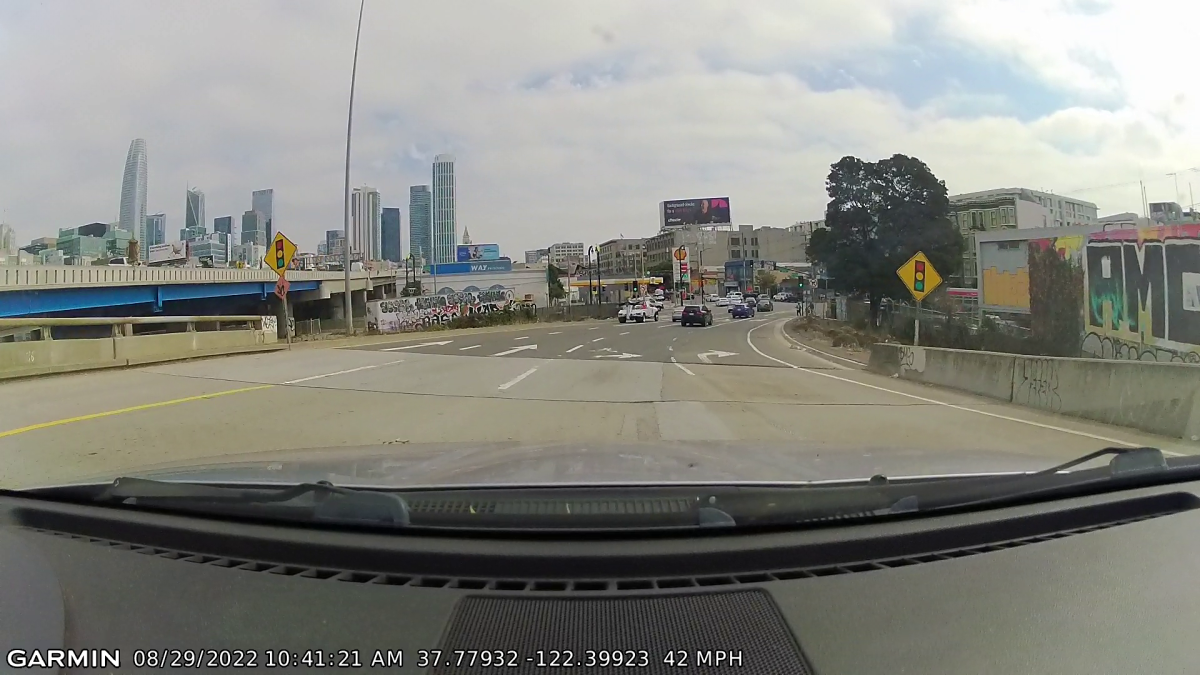 Looking at this shot, you'd think the video from the DriveCam 76 was top notch. In color and detail it is, but in motion it often looks like you're looking through jiggling jelly.
As for this wobble, it's a slow side-to-side undulation of video fragments, which is more like a shift without actually shifting – like you're viewing a slowly jiggling jelly. I do not give this phenomenon due attention, and you obviously will not see it on the frames. The artifact was ubiquitous, but most noticeable when the vehicle was moving slowly or stopped.
In the company's defense, my car doesn't idle very smoothly and has stiffer-than-usual suspension. This caused the camera to noticeably vibrate on the large suction cup mount, which I've never seen before, even with the stiffest mounts.
Sometimes things just interact or resonate the wrong way. Look at the Tacoma Narrows Bridge. I immediately reported the video problem to Garmin and installed the latest firmware over Wi-Fi, but there was no improvement.
Among other things, if your car does not vibrate the camera in the same way, you may never get hurt or notice an artifact. Despite this, all other cameras I've tested over the past couple of years can easily compensate for movement and vibration, producing smooth and stable video.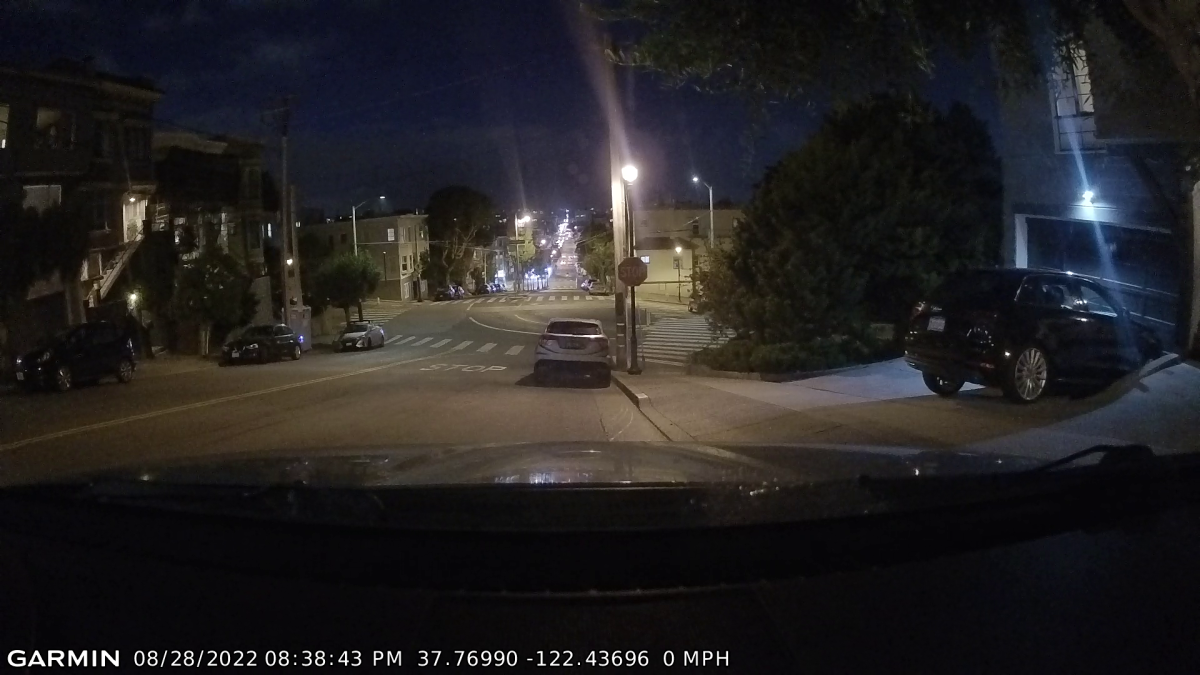 When you're not on the move, DriveCam's night shots are pretty good.
In addition, the collision warning was too late. I pulled tight (to be honest, too tight) behind another car to exit the freeway, and the alarm only went off when the vehicle in front swerved left into the adjacent lane. I immediately disabled driver assistance.
In my book, driver assistance tools, timely or not, Garmin or not, have as much of a chance to distract you at the wrong time as they do to warn you. Drive better and don't rely on aids.
Also note that the DriveCam 76 doesn't want to connect to my hidden Wi-Fi network, only those that have IDs advertised.
Aside from the aids and Wi-Fi IDs, it's the stabilization that kills the DriveCam 76's usefulness as a DVR.
bottom line
The DriveCam 76 is a great concept that goes back to the 2017 DriveAssist 50MLT, but I can't recommend it at the moment. If you're looking for a top-of-the-line (4.5-star) nav box, then the $300 DriveSmart 76, which is the exact same unit without a DVR, is a great fit. Use the extra $150 to buy a better DVR like a Garmin 47 or 57. The latter I use regularly.
Please note that if and when Garmin fixes the video, we will revise the review and update the rating accordingly. With acceptable stabilization, this can reach 4.5 stars.