Studio HoYoverse sketches Genshin Impact 3.3 update "Free feelings and lost identity". Expected on December 7th, it unlocks new playable heroes and integrates the collectible card game into the gaming universe.
The HoYoverse group continues to put together content patches to enrich Genshin Impact. Update 3.3, titled "Freed Senses and Lost Identity", will be released this Wednesday, December 7th, and promises both new playable characters and new mini-games, including the universe-integrated collectible card game, Invocation of the Seven . .
New characters: Nomad, Faruzan
Completely classic, the update offers its fair share of new characters to unlock. However, she stands out for integrating Scaramuccia/Nomad into her gallery of playable heroes – players have already crossed paths with her several times in Genshin Impact's story, notably as one of the main antagonists of certain events. As such, he becomes a playable character that players can unlock as the owner of a 5-star catalyst. According to the developer, "Nomad has gained the ability to hover and attack from the air, and his abilities can be boosted when he comes into contact with Hydro, Pyro, Cryo, or Electro elements."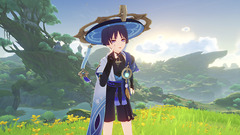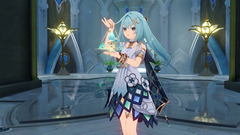 Meanwhile, Faruzan (4-star character) is an Anemo archer, a mechanical genius from the Academy who uses his bow to support his teammates, granting them a bonus to Anemo damage while lowering opponents' Anemo resistance.
With the return of Arataka, Itto the Nomad and Faruzan form the banners for the first three weeks of Patch 3.3. The next three weeks will allow you to try and unlock Shogun Raiden and Kamisato Ayato.
KKI "Summon of the Seven"
Among other new activities integrated into Genshin Impact, Update 3.3 introduces a collectible card game that players can play with or against NPCs while holding a deck. The mini-game, titled Summoning the Seven, aims to "combine the fun of Genshin Impact's rudimentary combat system with strategic elements."
To win, the player will need to destroy all of the opponent's character cards using normal attacks, skills, or elemental release of their own character cards. Therefore, it is necessary to be strategic in choosing character cards in order to trigger elemental reactions and apply bonus effects thanks to various action cards. However, the use of action cards requires a certain number of elemental dice of the respective element: the dice roll at the start of each round is thus an important variable during the game, and you will need to know how to use it tactically. As the game progresses, the player will be able to unlock new cards, which can also be personalized with dynamic illustrations available in the store.