News tip Genshin Impact, update 1.2: content of the first banner and announcement of a return campaign
Genshin Impact version 1.2 is very near, so information is starting to fall. We now know the banner that will be available for this update, and the least we can say is that it is quite interesting. MiHoYo also announced the establishment of a comeback campaign. As part of our Genshin Impact guide, we tell you about it.
Who is the character limited on this banner?
This is'Albedo, new type 5 star character Geo who wields the one-handed sword. He is the Chief Alchemist, as well as the Captain of the Knights of Favonius. He will be able to summon a platform that will also serve as an elevator, and can perform an area attack. Geo.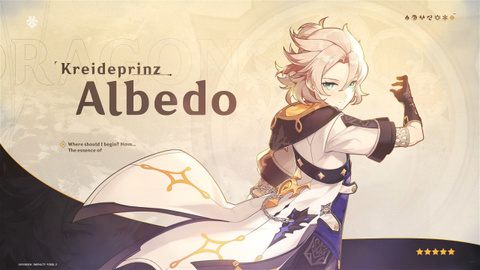 Which characters are in increased chance of obtaining on the new banner?
More Albedo, you will find on this banner:
Fischl, 4 star type character Electro. She is often considered to be one of the best characters in the game, due to her versatility.
Sucrose, 4 star type character Anemo. Support that can quickly turn out to be very interesting with several constellations unlocked.
Bennett, 4 star type character Pyro. Excellent support too.
It is therefore a very oriented banner support waiting for you. We will obviously talk to you about'Albedo more details as soon as it is released.
The "Stellar Reunion" return event

Once the update is in place, players who were no longer playing the game will be able to reconnect and receive a reward: the one-handed sword Stonemason (prototype).
Conditions to benefit from it
An adventure level greater than or equal to 10.
No connection to the game for 14 consecutive days or more.
More than 45 days have passed since the last activation of the event Stellar reunion.
Other bonuses
This event actually contains 4 parts:
The Return reward : During the duration of the event, you will be able to collect Prime Gems, Fragile Resins and other rewards. You can only claim this reward once.
The Passage of time : Log in to get First Gems, Fragile Resins, Hero's Lessons, Reinforcement Ore and other rewards.
The The way back : Complete certain quests every day during the event to get rewards and points, which you can redeem for the One-Handed Sword Stonemason (prototype).
The Meeting wish : Participating players will have 3 opportunities to get double the loot from Petrified Trees in dungeons, as well as Flowers of Fortune and Flowers of Revelation by using Original Resile.
Welcome back to you if you are eligible!
Also read:
Genshin Impact: Our Complete Guide

By Tridash, Writing jeuxvideo.com
MP