At a glance
Expert rating
pros
DDR5, PCIe Gen 5 is here
Unique keys like M.2 latch for easy access
Lots of USB ports and connectivity
Overkill VRM performance easily handles 7950X
10GbE network and Wi-Fi 6E
AM5 socket should last for years
Minuses
The $699 MSRP should include a few extra features.
No USB 4 and only one Ethernet port for advanced users.
Fewer visual touches than other Xtreme motherboards
The cost of the AM5 platform is generally higher compared to the previous generation
Our verdict
AM5 motherboards are expected to cost more, but even so, we expect more features from something branded "Xtreme". Also, for those looking to show off their builds, the design of this motherboard leaves a lot to be desired – it lacks the flashy feel you'd expect from high-end boards. Regardless, the Gigabyte Aorus Xtreme is overall a well-designed motherboard with a decent feature set that offers good value for money for anyone looking to invest in DDR5 and PCIe Gen 5 hardware.
Best Prices Today: Gigabyte X679E Aorus Extreme
After what seems like a millennium, the venerable AM4 platform has finally been replaced by the AM5, along with powerful AMD Ryzen 7000 processors. This new chipset offers tons of features as well as incredible performance.
These powerful processors need a place to call home, and today it's the Gigabyte X670E Aorus Xtreme motherboards. Yes, E also means "extreme", which makes it "Extreme Xtreme". We will discuss pricing, new features, performance and features of this motherboard. Will it live up to its name? Let's find out!
Gigabyte X670E Aorus Xtreme Specifications
Rich set of Gigabyte X670E Aorus Xtreme ports.
Thiago Trevisan
AM5 is offering brand new motherboards with the new LGA 1718 socket. This time around, the pins are on the motherboard itself rather than the CPU, which is a welcome change. The socket can now also support up to 230W, although the powerful 7950X Ryzen 9 we tested currently maxes out at 170W. DDR5 and PCIe Gen 5 are also here with improved I/O and connectivity. AM4 processors will not work with the new AM5 socket, so you will need to upgrade this generation of processor. The good news is that AM5 will be supported for years to come, making these motherboards long range warriors!
Let's take a look at some of Xtreme's features and then discuss how important they are.
Form factor E-ATX
Support for Ryzen 7000 processors only
18+2+2 digital VRMs 105 amps
DDR5 RAM
PCIe Gen 5
Four PCIe Gen 5 M.2 slots with updated latch
HDMI and DisplayPort output
12 USB rear: 4x USB 2.0, 6x USB 3.2 Gen 2 Type A, 1x USB Type C Gen 2 10Gb/s and 1x Type C 20Gb/s USB 2×2
Intel WiFi 6E
LAN 10GbE
RGB fusion titles, animated logo display
6 SATA 6Gb/s ports
10 PWM fan headers
Q Flash More BIOS, More Clear CMOS
Audio: Saber Reference ESS 9118 DAC with Essential USB Front DAC included
AM5 is backwards compatible with AM4 coolers
Suggested retail price $699.
Gigabyte X670E Aorus Xtreme Specifications
Let's get this out of the way: The Gigabyte Aorus X670E Xtreme retails for a suggested retail price of $699. Combined with more expensive Ryzen 7000 processors and the need for next-gen DDR5 memory, this is an expensive platform until B650 motherboards arrive. Keep in mind that this is "Xtreme" – Gigabyte's higher-end offering – but most mid-range motherboards have also gone up in price compared to their predecessors.
Despite the budget, this AM5 motherboard offers some enticing features that might make a difference to you. First, you're ready for the future with support for DDR5 RAM and PCIe Gen 5. On the downside, this increases costs. Currently, performance has its limits compared to cheaper DDR4 memory, which is not available for AM5.
Where can you benefit? While even Nvidia's new GeForce RTX 4000 GPUs only support PCIe Gen 4, 28 PCIe Gen 5 lanes gives you access to the fast M.2 SSD capabilities, up to four on this motherboard. They also have a neat M.2 "latch" system that allows modules to be secured without the micro screws we're used to, which prevents some headaches. Similarly, the PCIe GPU slot can also be opened with a button, greatly improving the quality of life.
The variety and number of USB ports is vast, from USB 2.0 to ultra-fast 20Gb/s USB 3.2 Gen 2×2 Type C. Unfortunately, this motherboard does not have USB 4, while some of its price-point competitors such as Asus X670E Hero, do it. That's a whopping 40 Gbps, like Thunderbolt 4, and it would be nice to see the standard on an Xtreme motherboard.
Network connectivity is good, with Wi-Fi 6E expected, as well as 10GbE Lan. Gigabyte also includes two Wi-Fi antennas to improve signal strength. However, some users may miss the second Ethernet port as some higher end motherboards will optionally include 2.5GbE or at least one more 1GbE port.
Great audio connectivity with the high-end ESS Saber Hi-Fi ES9118 DAC and included USB DAC.
Another plus: high-performance Ryzen 7000 processors already come with integrated iGPUs. This means that if you need to troubleshoot your system without a graphics card, you will be able to do so.
Gigabyte X670E Aorus Xtreme: design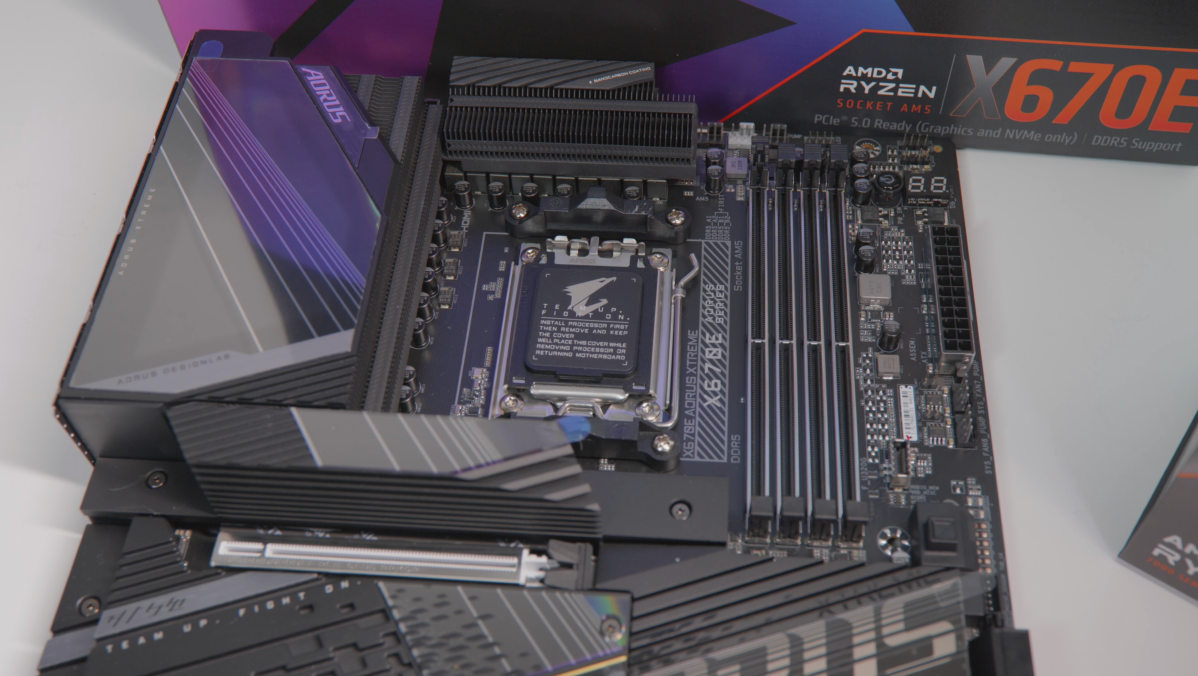 The design of the Gigabyte X679E Aorus Xtreme is admittedly a little bland.
Thiago Trevisan
Don't worry, Xtreme isn't overly bold. Anyway, this Xtreme motherboard has a very understated and understated design language.
Having had various Gigabyte Xtreme motherboards in the past – along with other high-end offerings from Asus, MSI and others – it should be noted that the X670E Gigabyte Aorus Xtreme generation looks more modest in comparison. Compared even to its Intel cousin Z790, the X670E version has nothing to do with the right side. It's mostly just an exposed PCB here, as opposed to more of the "shields" and "armor" you'll find on other motherboards of a similar caliber.
The packaging design is also more like what you might get in the Gigabyte Aorus "Master" of previous generations, but with less fanfare. Perhaps this was done to target a certain price in ever-changing markets, and it must be said that $699 is $300 less than the $999 flagship Asus X670E X670E flagship motherboard.
The build quality remains good though. The included back panel is attractive and offers good weight overall.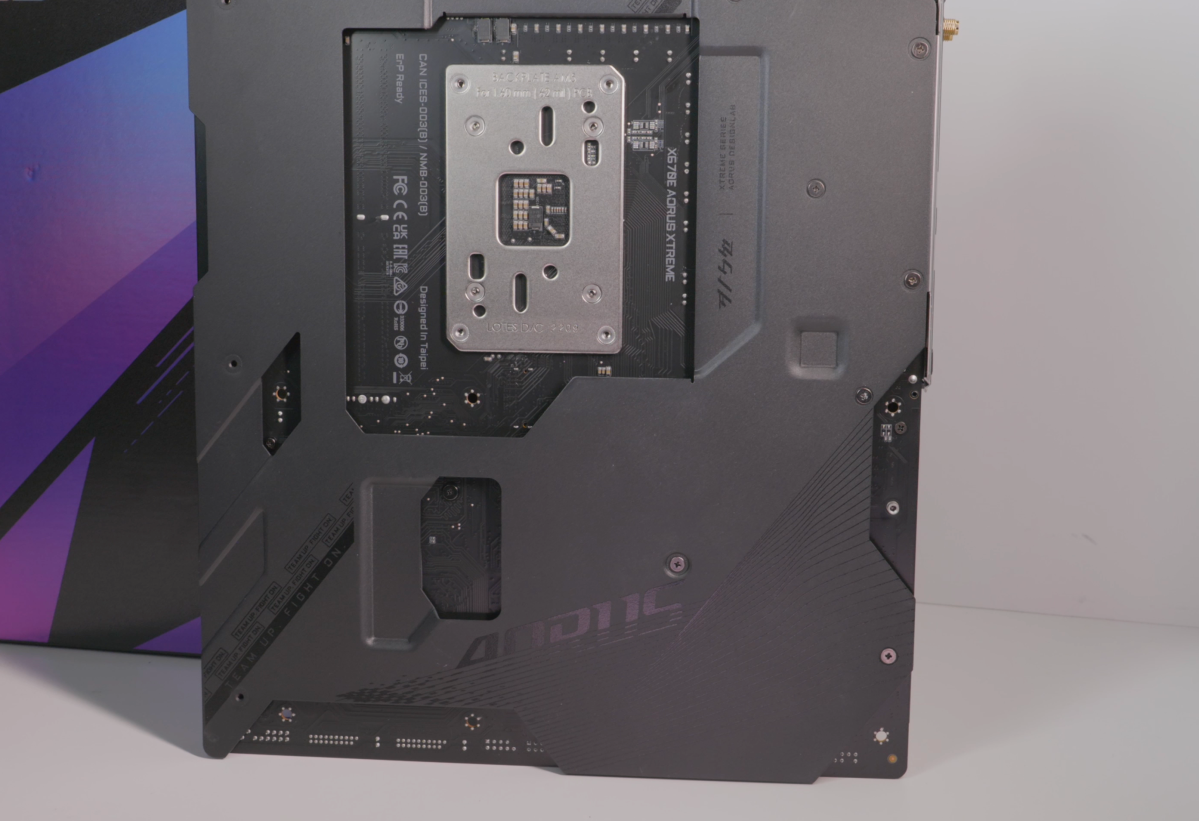 Thiago Trevisan
The RGB is tasteful too, with a few hints at important areas. The shroud on the left also includes simple and effective RGB lighting with the Aorus logo. You also get RGB headers to complement your system with Gigabyte Fusion software control.
Gigabyte X670E Aorus Xtreme: performance and BIOS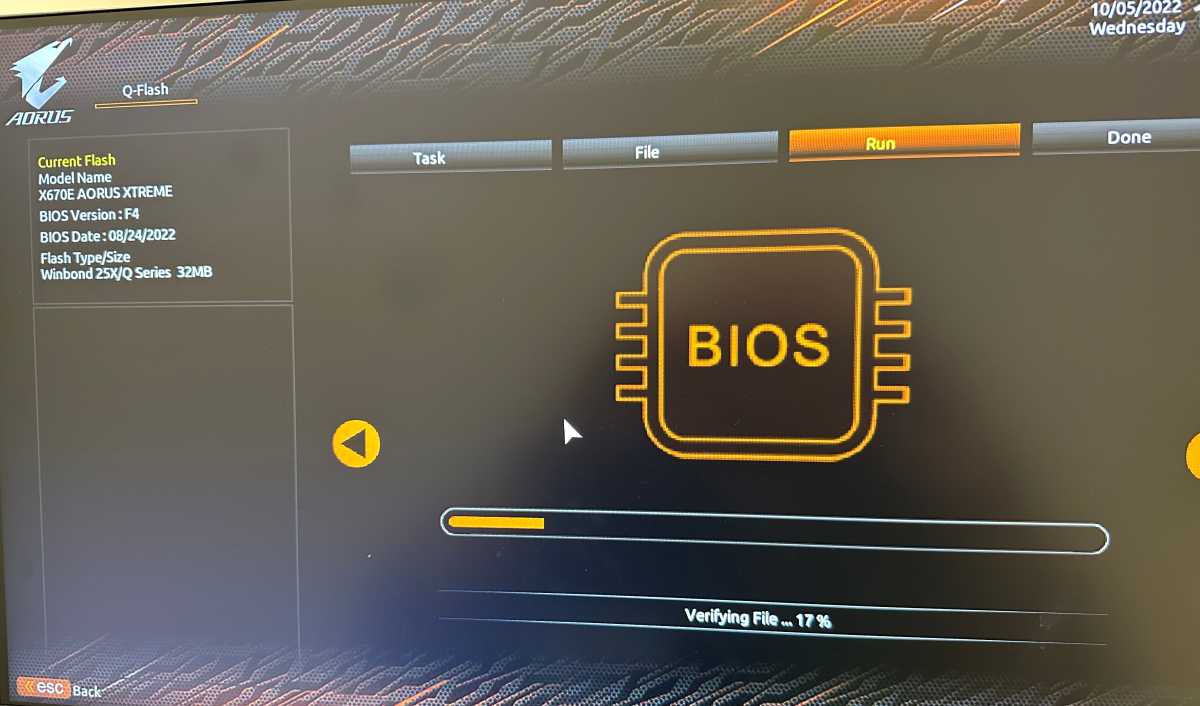 Thiago Trevisan
The Xtreme brand is evident here, with overkill VRMs and a beefy build. 18 + 2 + 2 with 105A sounds like a lot – and it is, even for the powerful Ryzen 9 7950X. This processor is designed to run regularly at temperatures up to 95°C, which may be intimidating for some users at first, but this motherboard handles it without issue.
DDR5 RAM increases your performance, but of course it comes at a higher cost these days. AM5 only supports DDR5, so you won't be able to save money by choosing DDR4 as is common with competing Intel systems.
PCIe Gen 5 is also present and counts, but you'll only likely use it if you have a lot of fast M.2 drives. GPUs like the RTX 4000 are PCIe Gen 4, so you're more than protected.
The BIOS is easy to navigate, it has a convenient structure. However, I had a problem updating the BIOS through the BIOS itself when the system was just rebooting, but luckily you can use the Q-Flash button on the back with a USB drive as an alternative method to update the BIOS. (For a new platform, there are usually early issues that are eventually resolved.)
Should I buy the Gigabyte X670E Aorus Xtreme?
The Gigabyte X670E Aorus Xtreme is in an unusual place: it carries the popular "Xtreme" brand with a better $699 price tag than competitors' flagship motherboards of this generation, but it's not as feature-packed or flashy.
Compared to the upcoming Intel Z790 Aorus Xtreme, there's a visually noticeable difference, with the latter boasting more protection and RGB effects (as well as on-screen system readings). We don't know the price for it yet, but it's reasonable to assume that it will be more expensive than the X670E version.
The Gigabyte Aorus Xtreme is closer to motherboards like the Asus X670E ROG Hero, which cost the same price of $699. The $999 Asus ROG Extreme offers more features but at a significantly higher price.
Overall, the Gigabyte X670E Aorus Xtreme is a solid, well-designed motherboard with a good feature set. At $699, we wish it had more built-in features (like the USB 4 that the $699 ROG Hero has) and a bit more visuals, like the Z790 Aorus Xtreme. Most users will probably be better off with the cheaper $499 Gigabyte Aorus X670E Master if you don't need all the Xtreme features. Otherwise, you will have to spend more money on one of the more expensive offerings on the market.