God of War Ragnarok, available November 9th, is a very tight game. We help you find your way around.
The wait for God of War Ragnarok has come to an end, available from November 9th on PlayStation 5 and PlayStation 4. This sequel to the 2018 masterpiece is very, very rich, and you might be afraid to be overwhelmed by its density.
In this guide, you'll find eight tips to get you off to a good start on this multi-hour epic. These, in addition to the six things to know, tie into key elements of the previous adventure.
Eight tips for getting started in God of War Ragnarok
Swap the Circle and Cross keys on the controller
By default, God of War Ragnarok uses a controller configuration that may seem odd: the Circle button is used to interact, while the Cross button is used to dodge attacks. This layout is so atypical that Santa Monica Studio allows you to quickly swap two controls for ergonomics closer to what we normally know (most video games use the Cross button for interaction). In short, if this bothers you, feel free to reverse it.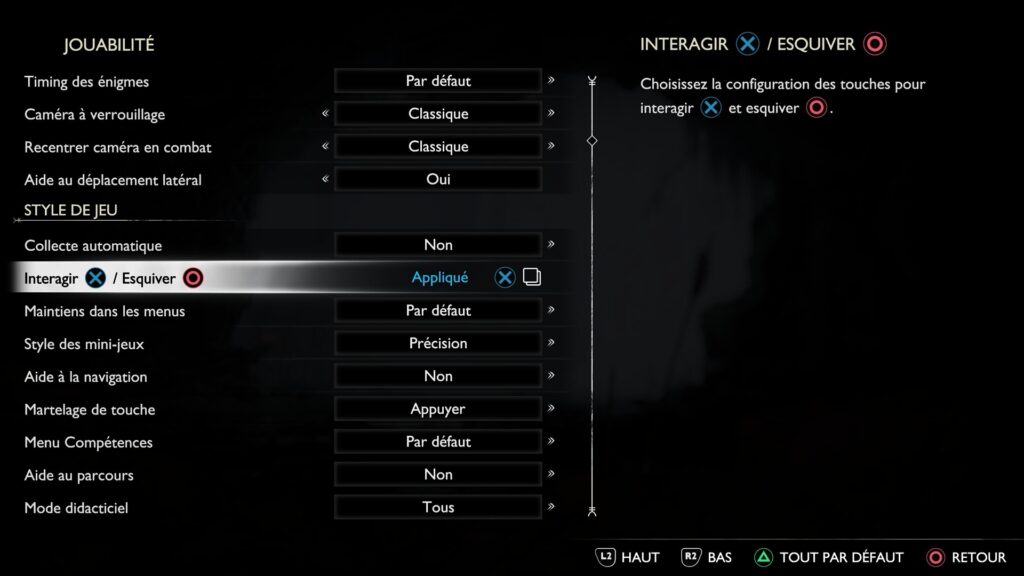 Swap these controls for better ergonomics. // PS5 screenshot
Note that you can customize the touchpad to respond to commands (for example, swipe up to activate Spartan Rage). A way to get some effective shortcuts.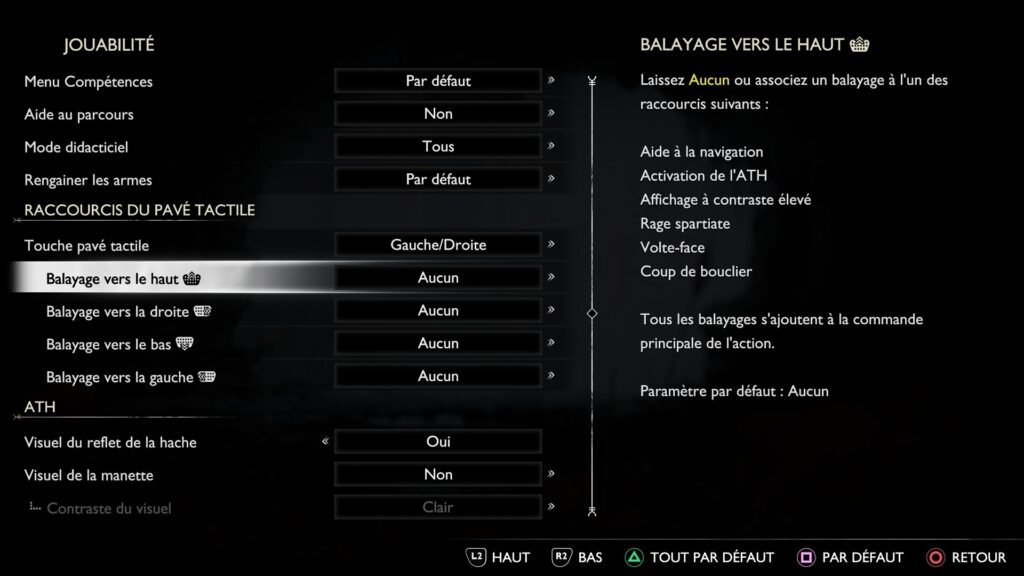 The touchpad may suggest shortcuts // Capture PS5
Keep a good eye on God of War Ragnarok dialogues
God of War Ragnarok is a very narrative game. Therefore, the characters talk a lot, no matter what happens on the screen. We can only encourage you to play around with the French dialogue (sorry Christopher Judge's hoarse voice) and activate the "Voice Boost" option so you don't lose anything you've said. In God of War Ragnarok, a lot of immersion comes through dialogue, and it would be a shame to miss some of it.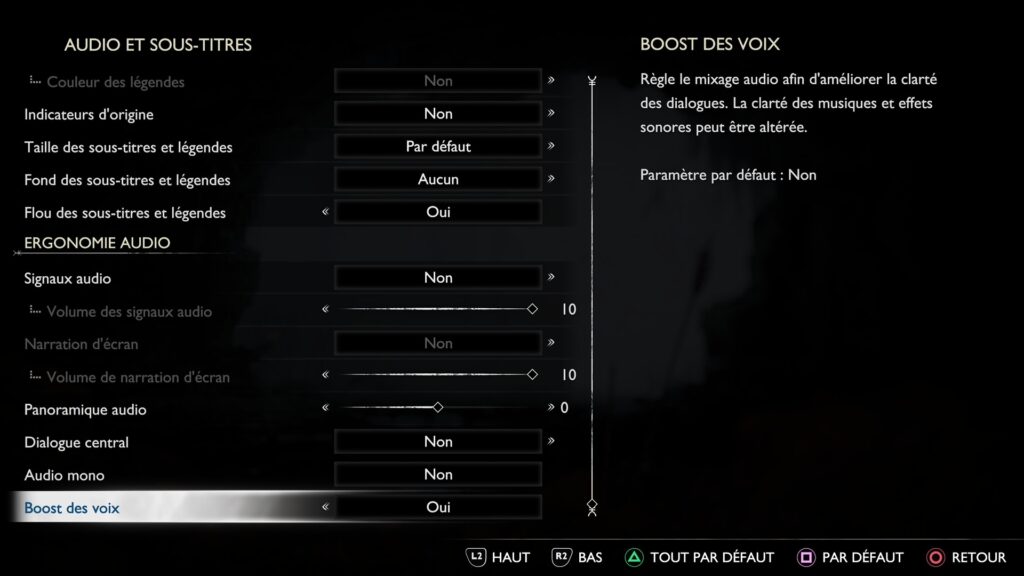 How to improve dialogue clarity // Capture PS5
Use both weapons
In 2018's God of War, Kratos begins the adventure with an axe, which he can throw at will. Then, at a pivotal moment, he replenishes his arsenal with the signature blades of Chaos, his weapon of choice. In God of War Ragnarok, we start directly with these two weapons, and this should not be overlooked. You can easily switch from one to the other, and each of them has its own advantages: the ax can deal frost damage, and the blades can catch fire. Depending on the enemies, one must be preferred over the other. In other words, feel free to diversify your pleasures.
As a bonus, weapons are used to solve certain puzzles. An ax can, for example, stop the flow of water or freeze a mechanism; blades can set fire to brambles.
learn to parry
During encounters, God of War Ragnarok's gameplay focuses defense on your ability to parry (Kratos is too heavy to dodge effectively). The principle is simple: wait until the last moment to raise your shield and be able to fight back effectively. The risk is high, but so is the reward. When facing bosses, Parry is a weapon to master to make things easier. And you can train with the main enemies.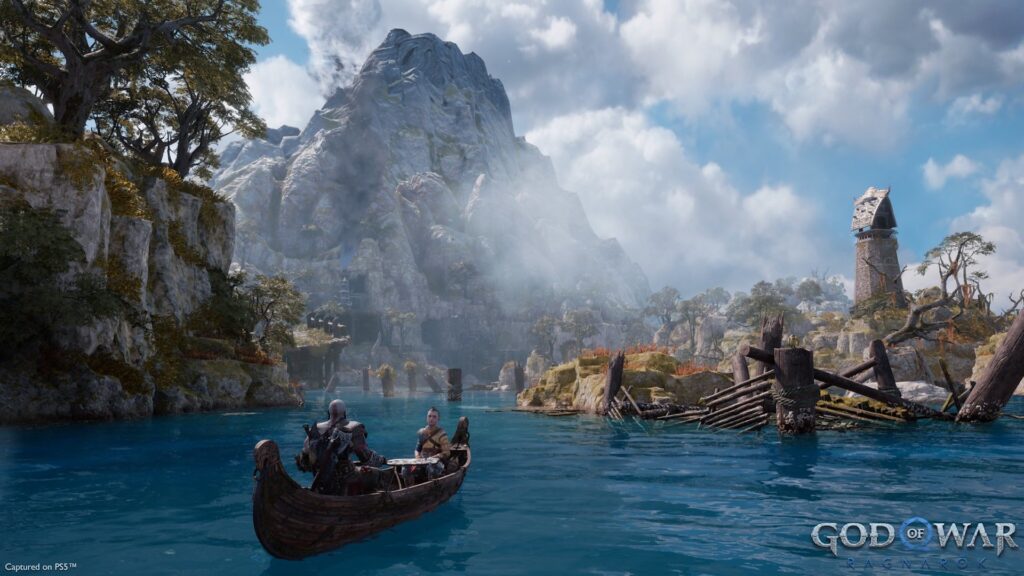 Image from God of War Ragnarok. // Sony
Recognize enemy attacks
This point is related to the previous one: not all attacks can be parried – otherwise it would be too easy. Therefore, you must learn to recognize them thanks to the colored circles that appear on the enemies when they are preparing their shots.
They are here :
Yellow: powerful attack that must be parried at the right time;
Blue: powerful attack that can be canceled by hitting with a shield (press L1 twice);
Red: Powerful attack that cannot be parried (requires dodge).
Enemies also have a basic attack that can either be parried or easily absorbed by a shield (by holding the L1 key). It is not symbolized by any circle.
Don't Forget Your Companion
We are constantly escorted into God of War Ragnarok, and your ally is not here to join the ranks. During the battle, he provides significant assistance. You can control some of his actions (shoot arrows), which allows you to stun enemies faster. There is even an option to create synergy with an equipped rune system. Because yes, we can tweak the equipment of allies to make them even more formidable. At the moment, the interface of God of War Ragnarok is downright obnoxious, which is not conducive to viewing.
Allies are also used in puzzles:
Shoot green arrows at elements of the same color to destroy them;
Shoot purple arrows to multiply the elements of ice (axe) or fire (blade).
Complete God of War Ragnarok side quests
Advising you to complete side quests seems like a no-brainer. This is even more true for God of War Ragnarok. Not content with memorable episodes, the game's secondary content allows you to recover pieces of equipment and/or resources to keep them evolving. A little tip: quickly get the armor called Nidavellir's Perfect Breastplate, which allows you to restore some health when you grapple a stunned enemy (by pressing the right stick). You will find her in Svartalfheim, the realm of the dwarves.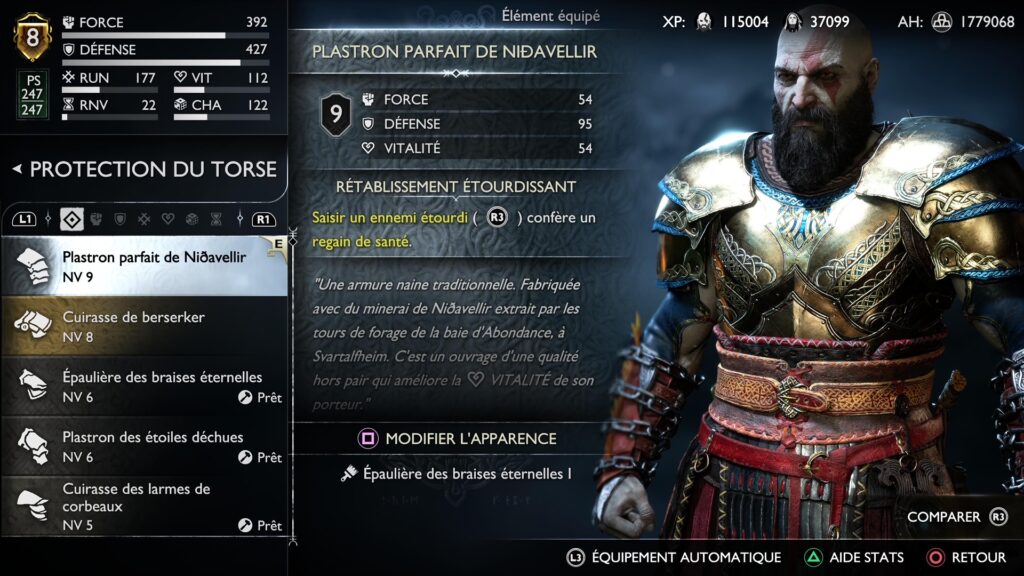 This armor never left me // Capture PS5
Spend experience points
While traveling, Kratos gains experience points, but does not level up like in a traditional role-playing game (the level is determined by the power of the equipment). So we might forget to use them. In God of War Ragnarok, experience is used to buy skills as well as upgrade weapon special attacks. And do not forget to spend what your companions have accumulated. Have you been told that the interface is undrinkable?